"Potter" Stars Donate Jeans to Charity for Refugee Crisis
Emma Watson, Daniel Radcliffe, and Jim Broadbent are just a few names among a long list of celebrities who have kindly donated worn jeans to charity in aid of the current refugee crisis.
Designer Johny Dar has recently set up Jeans for Refugees, where 100 A-listers worldwide have donated their jeans in order to be auctioned off. Not only have they been well worn by the celebrities, but Dar has also added his own magical touch, hand painting unique designs that reflects the star who owned them. Talking to the Telegraph, Dar says,
I try to bring out the story of the celerity [sic] as much as I can and turn each jean into an art piece. I applied many different art techniques that I usually do in my paintings; mainly I used textile paint and my pen and the brush. I didn't want to add any embellishment or any extra decoration to the jeans; I wanted it to stay as art.
Speaking of Watson's jeans, which took over two months to design, he goes on to say,
Emma Watson's took the longest. Those look like a story, like a fairtytale that has emerged, with an eagle flying on one side of the pant and so many different elements and characters. I thought I'd do something to show her character in Harry Potter, but I based it on her own story. I just dive into the jeans and find those feelings that they left in the pants and surface them to bring out the story. Emma Watson's jeans were worn and ripped so there was definitely a lot of feeling in there.
You can view the finished product of Watson's jeans below!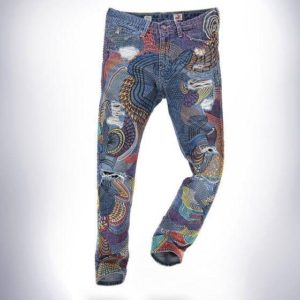 All jeans are on auction now until October and will end with a week-long exhibition in London. You may want to think before you bid, however – each pair is estimated to sell for anything between £14,630 and £20,900! In saying that, all proceedings will be going to an extremely good cause. Stating his gratitude toward Jeans for Refugees, the Vice President Europe of the International Rescue Committee (IRC) says,
We are grateful to Johny Dar and honoured to have so many high profile people lending their support and standing in solidarity with refugees.
Other big names to donate their jeans are Victoria Beckham, Ryan Gosling, Nicholas Hoult, Kate Moss, and many more.