"Harry Potter" Books: British vs. American English
Have you ever wondered about why there needed to be a translation of Harry Potter into American English? As an Australian, it always seemed very strange. Yes, I didn't know what "Sellotape" meant (J.K. Rowling's magical version is "Spellotape"), but it was pretty obvious it was meant to be "sticky tape" – or as Americans say, "Scotch tape."
We've all heard about how Arthur Levine (J.K. Rowling's American editor) convinced Jo that "Philosopher's Stone" as a title was "a bit too 'Indiana-Jones-ey' and more esoteric than the book actually was," so it became "Sorcerer's Stone." But apart from the title, what else changed?
As an Australian, I think I am in a unique position to look into this; our dialect seems to be a hybrid of American and British English, with a few uniquely Australian words thrown in. Therefore, most of both versions make complete sense to me. (If there are any Canadians/South Africans/other dialects of English out there who want to weigh in, please do so in the comments!!)
Apart from the obvious words like the UK "mum" and US "mom," or the UK "sweets" that became US "candy" (in Australia, we say "lollies"), there were some innocuous-sounding words that I was very surprised needed translating (especially when they're in context):
UK

Jacket potato

Tinned soup

Newsreader

Queue

Bullclips

Windscreen

Cracker hats

Clapping them

Quits

Drawn

Changing room

Do his nut

Revision timetable

Tank top

Candelabra

Treacle toffee

Straight away

US

Baked potato

Canned soup

Reporter

Line

Binder clips

Windshield

Party hats

Applauding them

Even

Tired

Locker room

Go ballistic

Study schedule

Sweater vest

Iron chandelier

Treacle fudge

Right away
Do you feel the same way about these words? As an American, would you have been confused by "changing room"? Or if you're British, would you have difficulty understanding "windshield"?
Most of the time (at least, in my opinion) the British words can be figured out from the context, but sometimes they will give completely the wrong impression. In American English, "jumper" means "pinafore dress," which gives a whole new twist to Molly's "Weasley jumpers." (As I was researching this, I had a sudden vision of the Weasleys in their Egypt picture looking like the Moppet and Mittens from Beatrix Potter's The Tale of Tom Kitten.) Levine appropriately translated "jumper" to "sweater."
After my certainty that Americans could probably figure these words out (in context), my American editor, Felicia Grady, promptly had a few things to say:
As an American weighing in, I've never heard the terms "jacket potato," "tinned soup," "newsreader," or "bullclips" and wouldn't know what they're supposed to be. Although now I find the idea of a baked potato being like a jacket for all the toppings adorable. I've never heard of a "windscreen" or "cracker hats" before, but I would have imagined a tent-like material set up to shield you from wind while camping (like a windbreaker) and a cardboard hat made out of an empty box of crackers… I've familiar with "queue," but it's very British. I can't image in what context I could replace the word "even" for "quits," and "clapping them" sounds like you are slapping/hitting someone between your hands.
I still think if you read the words in context, you would know what they meant. (Although Australians do have far more exposure to British television/books/media than Americans.) For the record, "call it even" means "call it quits."
Personally, there was one difference that cleared up a misconception I had had for years: The US "bangs" equates to the UK "fringe." I always thought "bangs" were the side bits of hair, and according to my (fellow Australian) friends, most of them thought so, too.
Here are some more words that got translated:
UK
US
Ice lolly

Jelly

Sweets

Puddings

Biscuits

Beetroot

Packet of crisps

Cine-camera

Video recorder

Boot (of car)

Bonnet (of car)

Torch

Cinema

Football

Holiday

Dressing gown

Trainers

Fringe

Sack (a worker)

Nutter

Fortnight

Mad

Father Christmas

Cock-crow

Ice pop

Jell-O

Candy

Desserts

Cookies

Beet

Bag of chips

Video camera

VCR

Trunk

Hood

Flashlight

Movies

Soccer

Vacation

Bathrobe

Sneakers

Bangs

Fire (a worker)

Maniac

Two weeks

Crazy

Santa Claus

Dawn
There were some really weird things that had been changed in the American editions that weren't individual words; entire paragraphs had been reworked, a few of the lines get given to different characters, and sentence structures are sometimes flipped around for apparently no reason. Some things are omitted completely; for example in the US version, you don't find out what number Sirius's vault is in Gringotts.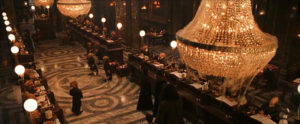 I'm biased, but in some ways I was very sad to see the US changes. Part of what was fun about Harry Potter was the Britishness of it. The vocabulary that was so particular to the UK added an intangible magic; it was recognizable to me, but slightly discordant, as if the Muggle and magical worlds really did live side by side.
If Harry had been eating "icy-poles" (Australian for the UK "ice lolly" and US "ice pop"), I suppose nothing would have changed, but I'm glad I read the UK version and not an "Australian" dialect translation.
What do you think of the differences between the UK and US versions? Let us know in the comments!