Daniel Radcliffe Reveals Executive Producer Role
Our Potter alumni are a talented bunch, and over the last few years, since the Potter films finished, we've grown used to seeing them take on all kinds of challenges and new adventures. Daniel Radcliffe in particular has taken on a wide range of roles that have left us all surprised and also rather pleased.
On his Google Plus page, Daniel revealed this week that he's added another string to his bow – by being named Executive Producer on an upcoming documentary. The documentary, Circus Kid, has been created by Lorenzo Pisoni, whom Daniel worked with on Equus. Daniel writes,
He is an extremely talented performer and filmmaker, and it has been a massive pleasure to be able to support him in his quest to bring his vision to the screen.
Here's a little bit about the film.
CIRCUS KID captures the unique stories of Lorenzo Pisoni's father, Larry, his mother, Peggy, his sister Gypsy (who recently created the circus work in the Tony-winning Broadway smash Pippin), (original Pickle member) Bill Irwin, Geoff Hoyle and many others in [t]he Pickles.  The film documents the spirit, the lunacy, the daring, the danger and the dynamics of growing up in a circus family.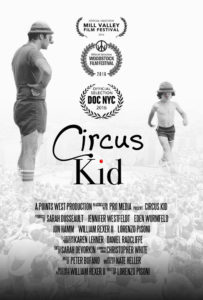 The documentary is due to be shown at DOC: NYC on November 15 and 17, and you can find out more about the documentary and get tickets here.
Have you gotten tickets? Let us know in the comments if you're planning on seeing the documentary!