Is Graves Grindelwald's Right-Hand Man?
Today, Entertainment Weekly released nine new character posters for Fantastic Beasts! Each poster is filled with little details that might clue us in on what we're in store for this November. Let's take a look!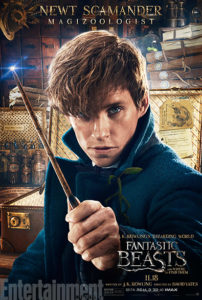 Here, we get a glimpse of Newt and his beloved Bowtruckle, Pickett. They're standing inside the cluttered office Jacob fell into through Newt's suitcase. Pinned to the inside of his suitcase are two pieces of paper: one with a drawing of a Niffler and another with some kind of list or chart. My question is: What is that bird-like object in the top-left corner of the poster?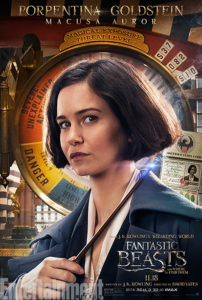 Tina is looking as fierce as ever, and she's standing in front of the magical exposure threat level device in the MACUSA building. It reminds me of the clock in the Weasley house! There are three unexplained numbers on the top right of the wheel, and Tina's hair is covering the words that correspond with each of them. What do these numbers represent? When Tina used the unauthorized magic that got her demoted to the wand permit office, did she cause some kind of commotion in the Muggle world?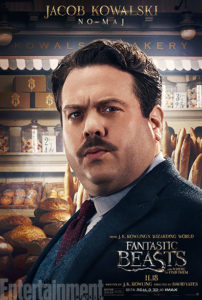 Jacob is standing in front of Kowalski's Bakery in this poster. "He dreams of becoming a baker but is unable to secure a loan." It sure looks like his dreams come true sometime after he swaps suitcases with Newt! How will his encounters with the magical world lead him to achieve his dreams? Will they be wiped from his memory, as the SpeakBeasty hosts theorized?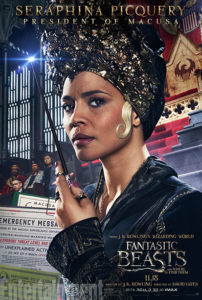 Seraphina Picquery is surrounded by the glorious MACUSA interior and a number of official government papers. The emergency message reads, "EXPOSURE THREAT LEVEL HAS REACHED: UNEXPLAINED ACTIVITY. DO NOT LET IT REACH LEVEL," and then it's cut off. In the background, we can see Graves and a number of other witches and wizards, all of whom can be seen sitting to the right of Seraphina's chair in the final trailer when Newt climbs out of his suitcase.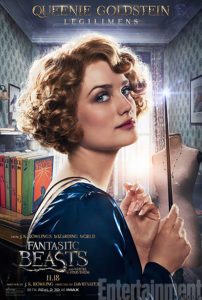 Queenie is pictured in the Goldstein apartment in front of a set of Chadwick's Charms spellbooks. Perhaps Queenie's primary interests are in studying magic independently. Her skills as a Legilimens will no doubt come in handy during her adventures with Jacob, Newt, and Tina.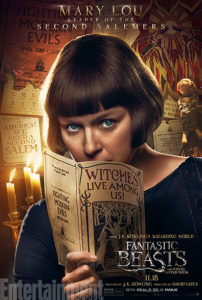 Mary-Lou Barebone looks especially threatening as she peers over the top of her "Witches Live Among Us" pamphlet. The wall behind her is plastered with anti-witch rhetoric; there's even a witch doll tied to a little broom ready to be burned at the stake. No wonder her three adopted children "live in fear of her wrath."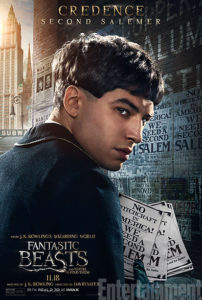 Credence is one of Mary-Lou's three adopted children, and here he's plastering the wall with Second Salem posters. On the left side of his head, a No-Maj wanted poster "claims Newt and Jacob are wanted for bank robbery." What on earth did Newt and Jacob do to get themselves accused of robbing a bank? I wonder if an escaped Niffler had anything to do with it.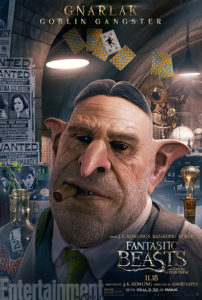 Gnarlak is surrounded by bottles of alcohol, playing cards, and wanted posters indicating Newt and Tina have broken the Statute of Secrecy. It looks like Pickett has stopped by Gnarlak's speakeasy to have a drink! There are big band instruments in the background; will they be magically enchanted to play themselves?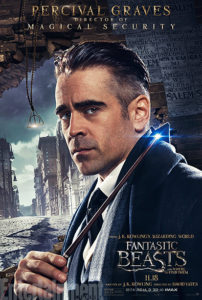 Graves's poster is probably the most intriguing of all of these new images. What is the meaning of the Deathly Hallows necklace hanging above him? The trailer has already hinted that the Deathly Hallows might somehow be involved in the plot; during the final trailer, Seraphina says, "If this is related to Grindelwald's attacks in Europe, this could mean war." Is Graves merely searching for the Hallows, or is he in league with the century's Darkest wizard? He seems ready for some kind of change as he says, "I refuse to bow down any longer" during the final trailer. Is he abandoning MACUSA to help Grindelwald spread his following across America? How will his relationship with Credence play into all of this?