The Ghosts of Hogwarts: Hufflepuff Ghost
"Can you believe there are actually ghosts at Hogwarts?!" a small sandy-haired boy, named Lucas, asked a group of students. "They interact with you and everything!! I hope they're nice."
A second year passing by the cabin slowed down to listen.
"Well, of course!" a snarky dark-haired girl called Izzy retorted. "It is Hogwarts, after all."
Lucas bowed his head and turned to look out the window as the countryside rushed past. The second-year stopped at the compartment and leaned against the door.
"Hey, that was uncalled for," a girl with bright green eyes and fiery red hair responded. "He's excited about the ghosts, let him be. It's better than being scared as he should be. You're first years, right?"
Everyone in the cabin nodded. A mischievous glint flashed in the redhead's eyes.
"Ohh, so you don't know the stories," she said, stepping into the cabin.
"What stories?" a small voice opposite of Lucas asked.
"The ghost stories, of course. The ones involving the House ghosts." Six pairs of interested eyes stared back at her. She could tell she had their full attention.
"I have to go meet my friends, but I think I have time to let you in on one of the secrets. It was my brothers' favorite. They loved reminding me of this story before my first year. Let me warn you about the Fat Friar."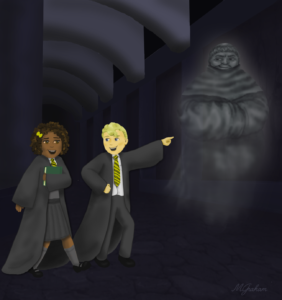 She surveyed her audience before she continued.
"First rule of thumb, never wander the corridors alone. Over the last several years, more and more students have gone missing. Courtesy of the Fat Friar, of course."
"What do you mean? They disappear?" Lucas inquired.
"No trace. Poof, they are gone. One minute they are walking to class, the next they are never seen again."
Six jaws dropped in front of her.
"He seems harmless at first. Asking you questions, making sure you are okay. Then volunteers to fix your problems with a potion," she said, gauging the reaction of the first years around her. "Love potions, luck potions, memory potions. Any potion that your heart could desire. They are his specialty, after all."
"He gets you to trust him. Then he lures you back to his sanctuary, where he hands you a vial containing the potion that he promised. You feel good for a little bit. The next thing you know, you are staring at your body on the floor as you are floating above it."
"How does he get rid of the body? He's a ghost. He can't lift it," Izzy asked.
"That's part of the mystery. No one knows. There are rumors that Filch is involved, though," the redhead retorted.
"What does he do with the students?" another inquired.
"His ultimate goal is to build his cult up with young bodies to take over Hogwarts. After that, he wants to control the entire ghosting community. He has big plans, the Fat Friar does. Anyway, I have to go. My friends are waiting for me. You might want to change into your robes. The ghosts don't like it when you are unprepared."
She got up and left the cabin as the first years scurried to put on their robes. As she shut the compartment door, she ran into two tall boys with matching red hair standing outside the cabin.
"We heard the last bit of that story. The Filch rumor was a nice touch," one of the boys said, nodding with approval.
"You did us proud in there. Happy to see our stories are continuing," the other boy said, with a wink.
The girl laughed, "Well, someone has to do it."
With that, she glanced back at the cabin where the first years were whispering, turned on her heel, and headed to meet her friends.