Handwritten Copy of "Beedle the Bard" Set to Be Auctioned
UPDATE 12/14/16:
ABC is reporting that the copy sold for £368,750 ($467,965), slightly less than anticipated.
Congratulations to the lucky buyer – who now owns a piece of Potter history!
Original article:
Those of you with £500,000 to spare are in luck; Sotheby's is set to auction off one of only seven handwritten copies of The Tales of Beedle the Bard next month.
As for the rest of us, well, we can feel free to admire it from afar, with perhaps just a hint of jealousy.
According to the Guardian, J.K. Rowling initially penned six copies as a special way of thanking "those most closely connected to the Harry Potter books," while the seventh was auctioned by Sotheby's in 2007, raising £1.95 million for Rowling's charity, Lumos.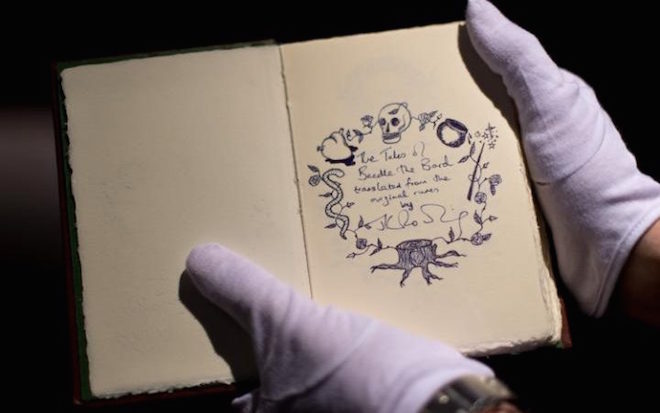 The manuscript due to be auctioned was originally gifted to Barry Cunningham, the publisher who signed Harry Potter and the Philosopher's Stone to Bloomsbury. Along with the book, there is a handwritten note from Rowling herself, thanking Cunningham for being
the man who thought an overlong novel about a boy-wizard in glasses might just sell…
And sell it did – just as we're sure the manuscript will when Sotheby's auctions it on December 13.
The director of Sotheby's books and manuscripts department, Dr. Philip W. Errington, is particularly enthusiastic about the auction, noting that
The personal resonance of this book makes this both an exceptional and highly desirable object to come to auction.
Of course, there are still options for those of us who can't make the auction, including this edition of the text, costing you quite a bit less than that being sold at Sotheby's.
Would you be willing to pay £500,000 for a handwritten novel, courtesy of Rowling?