Join MinaLima for a "Fantastic Beasts" Midnight Opening Party
Last week we revealed that MinaLima's brand new range of Fantastic Beasts and Where to Find Them prints and stationery was available to pre-order online. This week, we've had some more exciting news from MinaLima!
To celebrate the launch of their new Fantastic Beasts exhibition, MinaLima has announced that they will be throwing a special midnight launch party, next Friday, November 18, at 12:01 a.m. GMT, which will coincide with the release of the film in theaters in the UK.
The launch party will take place at MinaLima's London exhibition, the House of MinaLima. Here's some more of what the evening will entail:
Expect unveilings, prints, books, prizes, signings, props and surprises! The event begins at 00:01am on 18th November and runs into the early hours…
You can pre-order from the Fantastic Beasts collection here, as well as browse more of MinaLima's Potter collection of work.
—
UPDATE November 11
MinaLima has also announced that they will unveiling The Case of Beasts, which is due to be published on November 18 by HarperCollins, at the midnight opening. MinaLima designed the book and will be signing copies.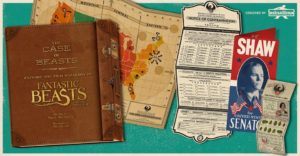 They will also be
releasing J.K Rowling's 'Fantastic Beasts and Where to Find Them: An Original Screenplay' (both designed by MinaLima) at 00:01 18th November. Mira and Eduardo will be signing copies of the books.
—
If you live near London, then make sure to head down to the House of MinaLima next Thursday night. Are you planning on attending? Let us know in the comments!