J.K. Rowling Contributes to "Love Is Love" Orlando Tribute Anthology
Over the years, J.K. Rowling has gone out of her way to make a difference to her fans and support them during some of the most difficult times and through tough experiences. This year has been no exception, and although it's nearly over, that doesn't mean that our favorite author is ready to stop.
It was revealed earlier today that Rowling has contributed to a comic anthology, Love Is Love, put together in response to the shooting at the Orlando Pulse nightclub earlier this year.
The comic industry comes together in honor of those killed in Orlando. Co-published by two of the premiere publishers in comics—DC and IDW, this oversize comic contains moving and heartfelt material from some of the greatest talent in comics, mourning the victims, supporting the survivors, celebrating the LGBTQ community, and examining love in today's world. All material has been kindly donated by the writers, artists, and editors with all proceeds going to victims, survivors, and their families.
Rowling's connection to the anthology was revealed when it was announced that the author had allowed some of her Harry Potter characters (the trio and Dumbledore), as well a Dumbledore quote from Harry Potter and the Goblet of Fire, to be used in the anthology. The quote has been illustrated by Jim Lee.
You can see the image below in full.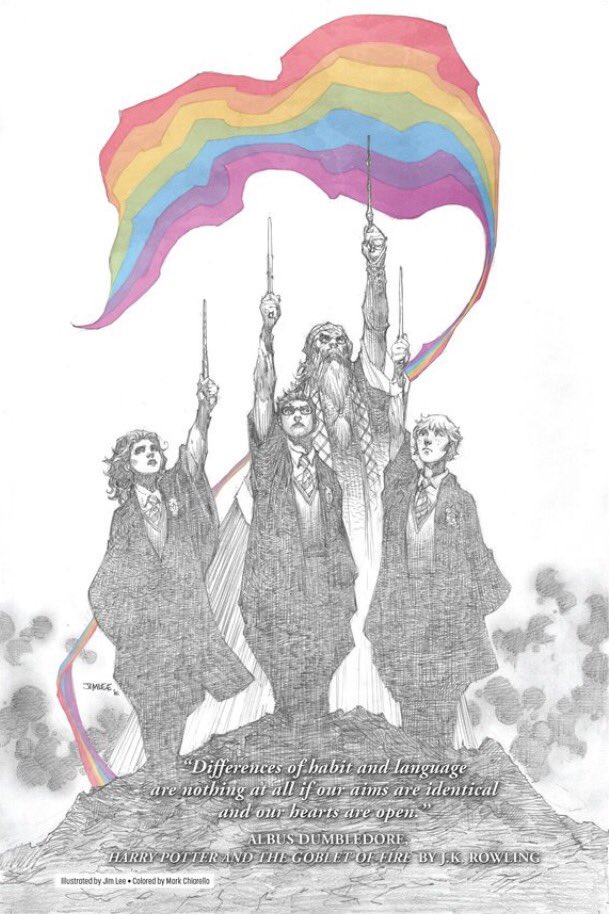 The digital anthology can be pre-ordered for $9.99 here and will be available on December 28. All proceeds will go to Equality Florida and will benefit victims, survivors, and their families.