J.K. Rowling's Twitter Header: The Mystery Continues
J.K. Rowling is proving once again that she is a master of mystery. She has recently changed her Twitter header and sent out this cryptic tweet.
It's hard to find a header that sums up everything I'm working on at the moment, but this painting comes close! It's by Harmen Steenwyck.

— J.K. Rowling (@jk_rowling) January 5, 2017
She changed her header to this painting by Harmen Steenwyck.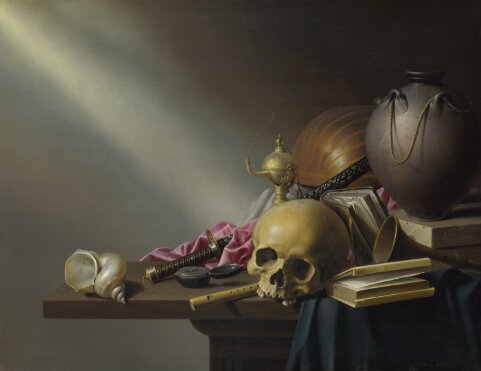 It is titled Still Life: An Allegory of the Vanities of Human Life. This style of painting is called a "vanitas," after a quote from the Old Testament book of Ecclesiastes (1:2). The quote is, "Vanitas vanitatum, et omnia vanitas," which translates to, "Vanity of vanities, all is vanity."
The skull is the first thing that draws your attention, which, no matter how you spin it, almost always represents death. Which prompted one of my MuggleNet co-workers, Lizzie Sudlow, to say, "Looks like JKR's DEATH STICK RETURNS!" The question is, for what, though. This painting could be directed to expanding the wizarding universe as a whole, but also could be aimed toward the writing she is working on under her pseudonym, Robert Galbraith.
You can always expect Rowling to do her research, so I did a little digging of my own. Nowadays, we primarily associate the skull with evil, and death. However, that hasn't always been the case. There were some ancient societies that believed it symbolized the exact opposite. Objects such as crystal skulls were representative of life and an embodiment of humanity and consciousness. Maybe this time she won't be taking life away from us. I personally would enjoy a novel from her with a character with an elevated level of consciousness. Possibly a further elaboration of Queenie and her abilities.
Along similar lines are the chronometer and expiring lamp. A chronometer is a timepiece that negates motion or variations in temperature, humidity, and air pressure to provide the most accurate time. The expiring lamp paired with the chronometer implies that time is almost up. This leads me to believe that someone indeed is going to be losing their life in at least one of her books to be.
The rest of the items in the still life represent the vanities that surround human life. The three that it focuses on are knowledge, the pleasures of the senses, and wealth. Knowledge is represented through the books, wealth is represented by the shell and sword (both are collector's items), and the senses are represented through the musical instruments.
The actual vanity references make me think this header is directed more toward Cormoran Strike and the genre of crime novels. Someone got a little too greedy and ended up in a sticky situation that didn't end too well. Who knows?
We can speculate all we want. Only time will tell. Maybe we get a whole new world from Rowling herself.