UPDATED: New Info and Cover for Updated "Fantastic Beasts" Textbook Revealed!
The updated versions of two of the books from the Hogwarts Library, Quidditch Through the Ages and The Tales of Beedle the Bard, are due to be released by Bloomsbury UK on January 12, with the long-awaited updated edition of Fantastic Beasts and Where to Find Them scheduled for March 14, 2017.
The new covers are designed by Jonny Duddle, who also designed a set of covers for the series back in 2014. Today, the cover for the new Fantastic Beasts has been released, following the release of the first two last year. Below you can see the digital e-book cover, designed by Olly Moss,; the Scholastic US edition, and the Jonny Duddle-designed Bloomsbury UK edition.
The updated version of the book will contain a new foreword and content from J.K. Rowling, but Pottermore also revealed that the book will contain six new beasts.
Six new magical creatures will feature in this up[-]to[-]date edition, out on 14 March, as well as a brand[-]new foreword from Magizoologist Newt Scamander and some beautiful line illustrations by artist Tomislav Tomic.
Bloomsbury further added,
This immensely collectible hardback has been revised and updated by J.K. Rowling, bringing the original classic book up to date with new content that reflects the exciting developments in J.K. Rowling's [w]izarding [w]orld and the blockbuster film release of Fantastic Beasts and Where to Find Them.

New beasts lurk within the pages of this edition and eagle-eyed readers will have fun spotting them among the much-loved favourites. J.K. Rowling's new introduction, written from the viewpoint of Newt Scamander, offers tantalising hints about the Magizoologist's adventures and relationships, and Tomislav Tomic's beautiful line illustrations bring many of the beasts to roaring, stomping, growling life.
The updated textbook, available in a beautiful hardcover with the new cover design by Jonny Duddle, will be released in the UK by Bloomsbury on March 14, priced at £12.99. More details are available here, including how to pre-order. Proceeds from the sales of the book will go to Comic Relief and Lumos.
---
UPDATE (February 16):
Details of a box set featuring all three newly recovered Hogwarts Library books has been revealed. Using the cover of the new Fantastic Beasts textbook, the box set features all three textbooks in hardback with new covers by Jonny Duddle and illustrations by Tomislav Tomic. Check it out below.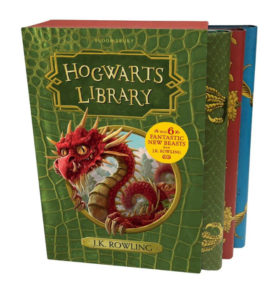 Details about a Scholastic version of the box set are yet to be released. The box set from Bloomsbury will be released on June 1, 2017, and you can pre-order it here – perfect if you're looking to own all three of the newly redesigned textbooks!
—
What do you think the beasts might be? Do you like the new cover? Let us know in the comments!