Stage and Screen Legend Sir John Hurt Has Passed Away at 77
It is with immense sadness that we report that the talented star of stage and screen who brought to life on film the iconic Harry Potter character Garrick Ollivander, Sir John Hurt, has died just five days after his 77th birthday.
While not much is known at this time, we do know that in 2015, the actor suffered from pancreatic cancer and was very positive after receiving treatment.
I am overjoyed, I am thrilled. It all looks great for the future, it's fantastic.
He did not appear to fear death.
I can't say I worry about mortality, but it's impossible to get to my age and not have a little contemplation of it. We're all just passing time, and occupy our chair very briefly.
He was slated to work alongside his Potter co-star, Sir Kenneth Branagh, in a West End production of The Entertainer last year, but left the play after receiving advice from his physician. No statement has yet been made from anyone related to or representing Hurt other than to confirm his passing. He is survived by his wife, Anwen Rees-Myers, and his two sons, Alexander "Sacha" and Nick, from a previous marriage to Joan Dalton.
Only a little over a year ago, Harry Potter fans were mourning the death of Alan Rickman, and so far, it appears that 2017 is not likely to be kind to the Potter fandom, either. The news of Hurt's death was reported first by the Mirror and then spread quickly across the Internet from media outlets to fans throughout the world before trending on Twitter with tags for the actor, Mr. Ollivander, and even the War Doctor.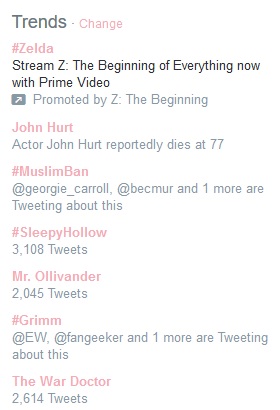 Take a look at some of the reactions from Potter stars and other actors before reading further about Hurt's illustrious career.
So very sad to hear that the immensely talented and deeply beloved John Hurt has died. My thoughts are with his family and friends.

— J.K. Rowling (@jk_rowling) January 28, 2017
John Hurt. What an acting legend. Rest in peace dear Sir. Wand shopping won't be the same without you ⚡️ pic.twitter.com/jRrRCX8PZv

— Bonnie Wright (@thisisbwright) January 28, 2017
We are deeply saddened to hear of the passing of John Hurt, who played Mr. Ollivander. Harry Potter fans will miss him very much. pic.twitter.com/xgSjePd4aV

— Harry Potter Film (@HarryPotterFilm) January 28, 2017
Oh no. What terrible news. We've lost #JohnHurt as great on the stage, small screen and big. A great man & great friend of Norfolk & #NCFC

— Stephen Fry (@stephenfry) January 28, 2017
We're hugely saddened to hear about the passing of John Hurt. Thoughts are with his friends and family. pic.twitter.com/O1moIDitvS

— Pottermore (@pottermore) January 28, 2017
RIP John Hurt. You were our War Doctor, Ollivander, Broom, Kane, Sutler, & so many other beloved characters & you will be dearly missed. ❤️ pic.twitter.com/Y41KpDMoij

— Loot Crate (@lootcrate) January 28, 2017
Woke up to the news that Sir John Hurt has died. A great loss; his performance in Elephant Man will transfix me forever

— Rohan Gotobed (@Rohan_Gotobed) January 28, 2017
John Hurt was an extraordinary man. Generous to a fault. Always interested (even in the most inarticulate writers). Beautiful inside & out.

— Jack Thorne (@jackthorne) January 28, 2017
John Hurt was always on my actors-I-wish-I-could-be-more-like list. And he will continue to always be. Wonderful work & a phenomenal career

— Darren Criss (@DarrenCriss) January 28, 2017
So sad for the loss of #JohnHurt – one of the greats.

— TOBY STEPHENS (@TobyStephensInV) January 28, 2017
So sad that John Hurt has died. Here's my tribute from a few years ago….. pic.twitter.com/VD2i1JEw5G

— Neil Blair (@NeilBlairTBP) January 28, 2017
— Lee Ingleby (@leeingleby) January 28, 2017
The crumpled grandeur of John Hurt was always a joy to behold. That voice, those eyes – an almost painful sensitivity. So many wonders. RIP.

— Mark Gatiss (@Markgatiss) January 28, 2017
We are so sad to hear about the death of the great John Hurt. Director Pablo Larraín says "John was invincible. Unflinching. Eternal" pic.twitter.com/VDy7l2u3Fc

— Jackie (@JackieFilmUK) January 28, 2017
Dance until your feet hurt. laugh until your face hurts.

Act until your John Hurt. #RIPJohnHurt

— Dominic Monaghan. (@DomsWildThings) January 28, 2017
RIP. Great man. Great friend. Great heart. Our photo shoots punctuated my career highlights. He championed me and never said no. #JohnHurt pic.twitter.com/3RN2Q7YhbJ

— Andy Gotts (@DrGotts) January 28, 2017
Perhaps best known to fans of the Potter films as the actor who brought the skillful wand-maker Garrick Ollivander to life, Hurt was a well-known and respected acting legend within the entertainment community. He was nominated for two Academy Awards, one for the 1978 film Midnight Express and the other for the 1980 film The Elephant Man, for which he had to undergo seven hours of prosthetic makeup application. He also received a Golden Globe for his work on Midnight Express and four BAFTAs, including a Lifetime Achievement BAFTA. In 2004, he received his Commander of the Order of the British Empire (CBE) and was knighted in 2015 for his services to drama, receiving his medal from Queen Elizabeth II in July at the investiture ceremony at Windsor Castle.
In addition to his lifelong dedication to acting, Sir John Hurt was a patron to a number of charity organizations, including the Proteus Syndrome Foundation, after he starred in The Elephant Man. Proteus Syndrome is believed to have been the disease his character in the film, John Merrick (based on real-life sufferer Joseph Merrick), suffered from.
Hurt continued to act up until his death, recently finishing work on a number of films that are set to be released in 2017, including Darkest Hour with another Potter co-star, Gary Oldman, and My Name is Lenny with Nick Moran, who played Scabior in Deathly Hallows. He can also be seen now in the new film, Jackie.
Beyond all of the wonderful acting credits to his name, Potter fans will never forget his role in the series as Ollivander. One of the most memorable and perhaps most-played scenes from the films is that of Ollivander meeting Harry for the first time. As we remember and honor the man who gave us all a bewitching introduction to Ollivander, take a look at the magical scene between Daniel Radcliffe and the legendary Sir John Hurt.
A quote from a Potter fan, which was posted on Twitter and went viral around this time last year when we were mourning Alan Rickman, comes to mind at this time.
Thinking about how we mourn artists we've never met. We don't cry because we knew them, we cry because they helped us know ourselves.

— Juliette (@ElusiveJ) January 11, 2016
For those who grew up reading the Potter books and watching the Potter films, Hurt will forever be a part of our lives. Our hearts and thoughts are with his family and friends, as well as fans all across the world who mourn the loss of a talented man.