"Fantastic Beasts" Cast, Crew Tease Sequel in Exclusive Interview!
In anticipation of the Fantastic Beasts Blu-Ray/DVD release, Dan Fogler and Eddie Redmayne treated fans to a surprise appearance at Warner Bros. Studio Tour London a couple of weeks ago. While the exciting event unfolded, Dan, David Yates, and Eddie took a moment to sit down with MuggleNet for an interview!
With 2017 well underway and a new Fantastic Beasts film expected in 2018, anticipation is already growing for sneak peeks into what the second Fantastic Beasts film will be like. We will soon once again be longing for peeks around filming barriers and grasping at pixelated cell phone shots of extras on set.
With such anticipation growing, it was inevitable that the next Fantastic Beasts film would come up in our discussion with Dan, David, and Eddie. Though filming is expected to start soon, it appears that the cast has yet to see the script for the second film! Chop-chop, J.K. Rowling!
Claire: And how are you preparing, without giving anything away, for the second one? Anything character-wise that you're thinking about that you want to maybe work on from the current film?

Eddie: Well, it's tricky for us because we haven't seen the script yet, so…

Dan: I'm just excited to dive in again because the first one… there was such a tremendous amount of pressure to get it right. And… at least this is how I feel. Going into this one, I feel like, 'Okay, they get us. They get the characters. Now we can just have fun.'

Eddie: But also, some of the things that David and Jo… we spoke about before this one. Character traits that were sort of gently peeled back. You could see qualities, but I think there's so much more of that to do. And now that the characters are established, hopefully we'll be able to see the layers in the film.
As exciting as it is to learn even more about the Fantastic Beasts quartet (how could we possibly love them even more than we already do?), we expect that many fans are also already fantasizing about what amazing costumes could appear in the next installment of the wizarding world series. Winning an Oscar for the first film, Colleen Atwood set the bar pretty darn high – especially with those coats! Eddie joked about wearing such outerwear in summer, while David assured us that there are, indeed, going to be some amazing costumes!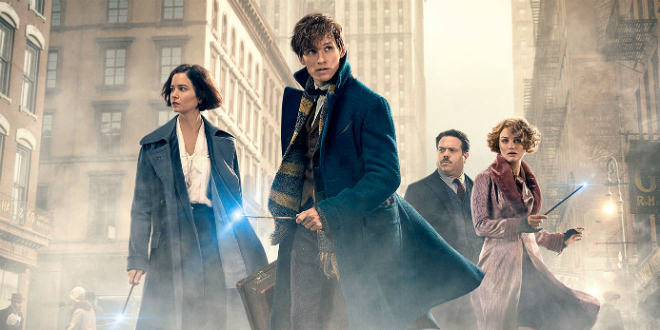 Claire: Yeah, everyone is slightly worried that the next film is going to be set in the summer, and there's not going to be decent outerwear. We need to maintain the coats.

Eddie: And that's also never stopped them. In fact, if it's set in the summer… or if we shoot it in the summer, [that] does not mean that they're like, 'Oh, we won't put you in 76 layers.'

David: There [are] going to be some amazing costumes in the next one.

Eddie: I was really keen on the idea that it should be both his suit and… for example, his boots and stuff and his suit – when he tucks the things in the… all of this wear could become quite workaday as well as looking smart, but… and also all the pockets of the coat, which we didn't see a huge amount of, but she had come up with this extraordinarily intricate world of pockets and…

David: That's a great opportunity for the next film.
It's only March 2017, and we already cannot wait to see what the next Fantastic Beasts film has in store for us! The full transcripts of our interviews with Dan Fogler, David Yates, and Eddie Redmayne, as well as our conversations with Alison Sudol and Katherine Waterston, can be read here. Tell us, what is your vision of 1928 Parisian wizarding fashion?