Role Call: Big Bad Woolf
Welcome back to MuggleNet's weekly Casting News column! This week, we get a sneak peak at the upcoming Love Actually reunion, look further into Zoë Kravitz's newest television series, and fawn over Imelda Staunton in her newest theater production! All that and more in this week's Role Call!
Natalia Tena (Nymphadora Tonks) has booked a series role opposite Jake Matthews in the upcoming Wisdom of the Crowd. The series is written by writer/producer of CBS's hit The Good Wife Ted Humphrey and directed by Adam Davidson, who helmed the Fear the Walking Dead pilot, and is based on the Israeli format. Wisdom of the Crowd follows the following plot:
Inspired by the notion that a million minds are better than one, it centers on a charismatic tech innovator who creates a cutting-edge crowd-sourcing hub to solve his own daughter's murder, as well as revolutionizing crime-solving in San Francisco.
Tena will play the female lead role of Sara, who runs the show at CrowdSolver, where she is working to launch and operate a new app. As to when the shooting will begin, we will let you know as the news unfolds!
The first trailer for Tom Felton's (Draco Malfoy) war drama Megan Leavey was recently released. The film, which tells the true story of a young Marine and her relationship with her military dog, stars Felton as veteran dog handler Andrew Dean.
Megan Leavey is set for release on June 9! You can watch the new trailer below!
Zoë Kravitz, who made a short cameo in Fantastic Beasts and Where to Find Them as Leta Lestrange, appears weekly in the seven-episode HBO series Big Little Lies. Based on the book by Liane Moriarty, the television show also stars Reese Witherspoon, Nicole Kidman, and Shailene Woodley.
Set in the tranquil seaside town of Monterey, California, where nothing is quite as it seems, the story follows Madeline (Reese Witherspoon), Celeste (Nicole Kidman) and Jane (Shailene Woodley), and their lives and friendships, as rumors, conflicts, secrets and betrayals threaten to compromise everything between husbands and wives, parents and children, and friends and neighbors.
Kravitz stars as Bonnie, a sensitive, moral character who is married to Madeline's ex-husband. In a recent one-on-one interview with Collider, she tells us that her character might not be all she seems.
She is [normal], in a lot of ways. You'll see what happens towards the end, and she obviously has her own demons, but I felt for her. All of these characters are written and presented in a way where the audience thinks they know who they are, when they first meet them, but the beauty of the story is that you learn about these characters and they unravel in ways where you realize that you're judging them.
In this new role, Kravitz has found herself in the middle of outspoken, strong women and hopes that one day she will be described as such.
Having Bruna [Papandrea], Reese and Nicole, and being around these powerhouse women, not only starring in it, but producing it, being asked to be a part of this was a shock and an honor to me… There's so much grace there, which is great because women have to fight so hard to get into that position and sometimes that can result in us being controlling or letting people know that we're in charge. So, it was nice to see them in charge, but also just thankful and pleasant and kind.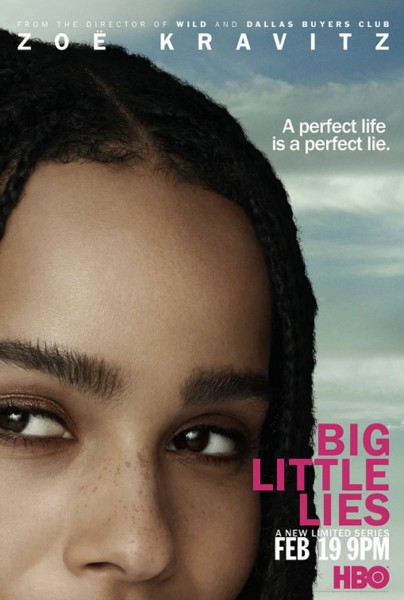 To read more from Zoë Kravitz's interview with Collider, visit this link. Kravitz also let slip that she will begin filming for the next Fantastic Beasts installment this summer with a much bigger role. Until then, you can catch Big Little Lies on HBO Sundays at 9:00 p.m.
David Tennant's (Barty Crouch Jr.) latest film, Mad to Be Normal, will be making its North American debut this April at the Newport Beach Film Festival. The R.D. Laing biopic has been in the works for a long time and stars Tennant as the lead.
David Tennant stars as R.D. Laing, the famous psychiatrist and one of Scotland's greatest ever minds. Working out of Kingsley Hall in East London throughout the 1960s and 1970s, Laing performed various daring experiments on people who were diagnosed as mentally disturbed. His revolutionary methods involved experimenting with LSD on his patients and practicing a form of self-­healing known as metanoia, causing outrage and controversy in the medical profession and radically changing attitudes and perceptions of mental health around the world.
The specific date and time have yet to be confirmed, but the festival will take place from April 20 to 27 in Orange County, California.
Imelda Staunton's (Dolores Umbridge) latest theater undertaking, Who's Afraid of Virginia Woolf?, will be broadcast in cinemas throughout the UK. On top of this, director James Macdonald announced on March 17 that the production will also be a part of National Theatre Live.
In the play, which is set in the early hours of the morning on the campus of an American college, Martha, much to her husband George's displeasure, has invited the new professor Nick and his wife Honey to their home for some after-party drinks. As the alcohol flows and dawn approaches, the young couple are drawn into George and Martha's toxic games until the evening reaches its climax in a moment of devastating truth-telling.
Who's Afraid of Virginia Woolf? continues at the Harold Pinter Theatre until May 27. Catch the broadcast in your nearest cinema on May 18 at 7:30 p.m. Visit your local cinema for more information!
We've known for several months about Alfonso Cuarón's (director of Prisoner of Azkaban) upcoming film based in Mexico, but we have only recently learned the name of the project. The film will be called Roma and has recently wrapped after shooting large sequences in Mexico City. The film will capture the essence of living in Mexico City in the 1970s, including the Corpus Christi Massacre. We don't know yet when the movie is being released, but this is definitely a film to keep on your radar!
The first Love Actually reunion trailer dropped on March 13, flashing back to Andrew Lincoln and his cue cards.
The upcoming reunion, dubbed Red Nose Day Actually, will feature several of the original cast members like Andrew Lincoln, Hugh Grant, Liam Neeson, Keira Knightley, and our very own Bill Nighy (Rufus Scrimgeour); however, we will surely miss Emma Thompson and the late Alan Rickman from the cast. As they were a couple in the original film, Thompson really couldn't see herself returning without him.
Richard [Curtis, the writer] wrote to me and said, 'Darling, we can't write anything for you because of Alan [Rickman].' And I said, 'No, of course, it would be sad, too sad.' We thought and thought but it just seemed wrong, but to revisit the wonderful fun characters of Bill Nighy and Hugh Grant and Liam and all of that, that's fantastic, but obviously what would [Curtis] have done?
The Love Actually BBC Comic Relief special will premiere on March 24!
The first teaser trailer for Eddie Redmayne's (Newt Scamander) most recent animated film, Early Man, dropped this week! It has been a while since we last reported on this latest project, but since then, Timothy Spall (Peter Pettigrew) has joined the cast! While Redmayne will voice the main character, Dug, Spall will lend his to Chief Bobnar! Early Man is due for release in January 2018. Check out the new trailer below!
Fiona Shaw (Petunia Dursley) will attend the Onassis Cultural Center New York in one of the program's signature Let's Walk discussion series. On March 29, she will join philosopher Simon Critchley for a peripatetic conversation in the gallery. For more information on the exhibition, visit this link.
Robbie Coltrane (Rubeus Hagrid) took home the Best Actor award for his newest series, National Treasure, at the Broadcasting Press Guild Awards last Friday. You catch the drama, starring Coltrane opposite Julie Walters (Molly Weasley), on Hulu now!
That's a wrap on this week's Role Call! Join us again next week to see what your favorite stars are up to! Until then, what are you most excited for? Let us know in the comments below!