MuggleNet Interviews Central State Brewing's Head Brewer, Josh Hambright
Yesterday, in celebration of New Beer's Eve, MuggleNet chatted with Jared Saul, the Creative and Beverage Director at Chicago's Emporium Arcade Bar. Emporium had collaborated with Indianapolis' Central State Brewing to create Polyjuice Potion, a Harry Potter-themed sour beer. The collaboration was released with great fanfare on October 21, 2016. (Emporium pulled out all the stops, coordinating things like Quidditch beer pong and handing out special beer glasses that had CSB's Dark Mark-inspired beer label stamped onto them.) 
Today, in celebration of National Beer Day, MuggleNet interviewed Josh Hambright, co-founder and Head Brewer at Central State Brewing. Josh was the one who came up with the "bits and bobbles" idea for the sour beer, which is comprised of plum and elderberries. Josh's vast history in experimenting with funky, wild beers came into great play with Polyjuice Potion since he was able to flex his beer geek tendencies with his admiration for J.K. Rowling's magical world of storytelling.
*Interview has been condensed and edited for readability.
MuggleNet: Hi, Josh! Thank you so much for your time. Can you briefly introduce yourself as well as Central State Brewing? What do you do at Central State Brewing?
MN: Do you exclusively make sour beer?
MN: What is your background with beer?
MN: April 7 is National Beer Day. How do/would you celebrate this day? What is your favorite/go-to beer?
MN: What beer would you recommend drinking on April 7?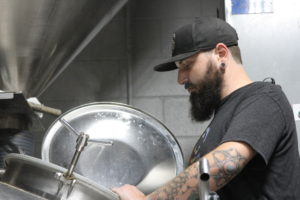 MN: What is your favorite thing about beer?
MN: What's your favorite bar in the city (excepting Koeslchip, obviously)?
MN: How did the collaboration happen between CSB and Emporium? Have you collaborated together before? If not, why Polyjuice Potion?
MN: Who/what introduced you to Harry Potter?
MN: Do you think there's a big Harry Potter community in Indianapolis?
MN: Can you talk a little bit about the Indianapolis beer release?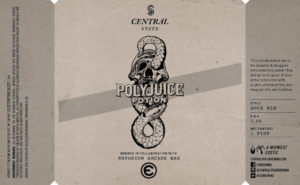 MN: I love the logo for CSB and the design of the Polyjuice Potion label. Can you talk about the design process for both of them?
MN: Do you have another collaboration with Emporium in the works?
MN: What is a food or drink you desperately wish existed in the Muggle/No-Maj world?
MN: Is there anything else you'd like to say?
JH: I'm just glad people got as excited about the beer as we did. That was pretty cool.