"Fantastic Beasts" Film 2 Script Complete! J.K. Rowling Tweets
The Queen of Twitter took a minute to pen a few tweets and answer fans' questions today. Amid all of her current projects (Cormoran Strike Book 4: Lethal White, the Cormoran Strike TV miniseries, the Fantastic Beasts series – just to name a few), J.K. Rowling took some time to answer a few fan tweets.
In doing so, she announced that the script for the second Fantastic Beasts film was finally complete! Just in time for filming to begin this summer.
Yes, I have, but I CAN'T TELL YOU ANYTHING YET, WOMAN. https://t.co/PzpjjL0OiR

— J.K. Rowling (@jk_rowling) May 28, 2017
Immediately, fans began shouting at Jo on Twitter in efforts to affect Newt's destiny and the lives of favored characters. There was a burst of speculation as to what will happen next for Newt and crew. The main quartet of actors may be contracted for at least four out of the five movies, but even if they're saved from physical peril, J.K. Rowling does have a history of pulling on heartstrings.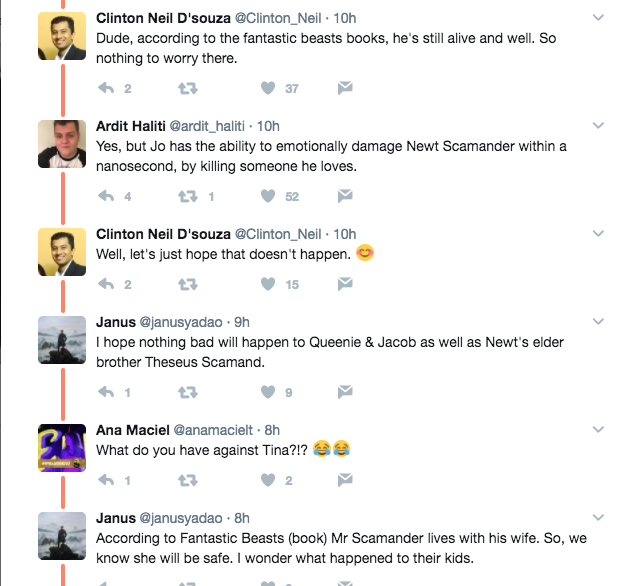 Filming has yet to begin, though rumor (and logic) has it that it will begin this summer. With the completed script, what do we know so far?
What We Know So Far:
During all of the press events for the first film, news outlets began clamoring for questions about future films. Totally unashamed, we were one of these news outlets.
1. Paris, 1928
Shortly after some confusion and misinformation about the next film from a Fantastic Beasts and Where to Find Them red carpet question, J.K. Rowling tweeted that the second Fantastic Beasts film will be taking place in spring/summer 1928 (two years after Newt's trip to New York). A different season and a different city. One can only imagine the costumes Oscar-winning designer Colleen Atwood can dream up for a Parisian spring in the 1920s. No fabulous coats, sadly.
2. Johnny Depp as Grindelwald; Jude Law as Dumbledore
Fantastic Beasts and Where to Find Them ended with a dramatic reveal that Grindelwald was really who everyone thought Graves was, and he was up to normal villainous evil stuff. It was also leaked and revealed that this infamous wizard was played by Johnny Depp. Then Jude Law was cast as Dumbledore. We know from press tours that Fantastic Beasts will be stretched into five movies, roughly following the Grindelwald-Dumbledore conflict, and ending the year of their epic battle. The second Fantastic Beasts movie will feature these two famous wizarding faces more prominently.
3. Credence survived… and Modesty was left crying in a destroyed house with a dead, evil adoptive mother
In the deleted scenes and on the red carpet, David Yates talked about the fate of Credence and Modesty. In a deleted scene, Credence was getting on a boat just like Newt. After a lot of questions about the fate of the two children, David Yates admitted needing to at least address the two in the beginnings of the next film. We shall see.
4. The main quartet comes back together
We know from the author bio in the back of the Fantastic Beasts Hogwarts textbook that Newt and Tina are alive and well and married. We want the same for Queenie and Jacob! Actor contracts are hopefully a guarantee that the lives of our new favorite fab four (sorry, Fantastic Four was already taken) are safe, but what about their hearts? J.K. Rowling left us sniffling as they all said goodbye. And then Queenie and Jacob gave us a glimmer of hope. How do they all come back together in two years and across the world? What is their role in the global fight against Grindelwald?
5. Leta Lestrange
Tina and Newt do get married eventually, but right now their relationship isn't solid. Newt still has feelings for a certain Leta Lestrange. Newt sacrificed his Hogwarts education and got expelled for her, he loved her so much. We have been assured that Leta will make a significant appearance in the next film.
IMDb posted but then removed a possible plot summary for Fantastic Beasts Film 2:
Newt tries to move on, but Leta keeps turning up when he least expects it. After a while, he realizes she is only there to tell him about Dumbledore, who needs to defeat Grindelwald.
We'll eventually see if Rowling's finished script follows suit.
6. New beasts!
Where would Fantastic Beasts be without its title characters? Obviously, there are going to be new amazing creatures from J.K. Rowling's imagination. How they are incorporated into the story, we have no idea. Neither did David Heyman when asked during the first film's press events. They won't be escaping Newt's case again. And what do they have to do with the Grindelwald situation? Both Davids Heyman and Yates did mention that beasts may be taking a back seat plotline to make room for the Grindelwald showdown, but we still can't wait to see them!
Filming hasn't even started yet… 2018 seems eons away. What are we to do until then!? (J.K. Rowling tweeted about that too: Watch the Cormoran Strike miniseries!)
The TV series won't be too long now and I think/hope you'll love it. I've seen all but one episode and I'm delighted! https://t.co/T0lJSB6hvj

— J.K. Rowling (@jk_rowling) May 28, 2017