It's Not a Party Until It's a Triwizard Tournament Party
Harry's birthday is just around the corner and guess what that means! Super fans Anianne and Caitlyn's annual Harry Potter Weekend!
MuggleNet had interviewed the two hosts last year about the event. That had been their biggest bash yet, so this year, they decided on…
*drumroll please*
The Triwizard Tournament!
Usually, the beginning of the new year means planning for that year's celebration. However, this year was a bit more insane than usual.
Anianne and Caitlyn have had quite the Potter-studded year. The two traveled to London for "the most epic trip that ever was" to embark upon a Potter walking tour of their own design, watch Cursed Child (twice), and drool over Matthew Lewis in the unexpectedly raunchy stage play Unfaithful. They even ran into Lewis at a bar after seeing him strip on stage — which prompted the usually booze-abstaining Anianne to gulp down multiple bottles of ice cold cider.
In November, the two ladies spent the entire opening weekend watching Fantastic Beasts and Where to Find Them in theaters. After the third viewing, Anianne bought them Newt Scamander's briefcase-themed notebooks to jot down notes to discuss after the movie ended.
Then in January, the two traveled to Orlando for Universal's A Celebration of Harry Potter. There, Anianne received the shock of her life when her boyfriend, Chad (who had been scheming with her brother (not Caitlyn, whom he knew would've spilled the beans immediately)), proposed to her in front of Hogwarts Castle.
To round out the hoopla, Caitlyn finally moved back to St. Louis after a few years living in Kansas City, and Anianne bought a house. The two best friends — who had spent maybe about six months within driving distance of each other before Caitlyn had to move — were finally back in the same city.
When asked how she felt about being back in St. Louis, Caitlyn laughed and declared, "Holy s#!*, can I just say it's good to be home? I felt like Harry, just desperately wanting to get back to Hogwarts after being at the freakin' Dursleys' each summer. It feels really good to just be back where I belong and start getting a sense of normalcy back in my life."
Obviously, that sense of normalcy includes copious amounts of Potter love and paraphernalia.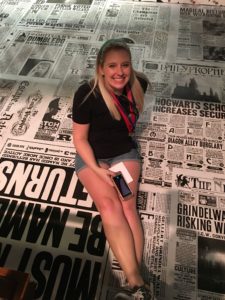 On Anianne's side of things, she bought a house. Her brother, Greg, and her fiancé, Chad, worked 'round the clock, building a theater and library in the basement. Her house will be the setting for this year's Potter party, which the both of them were determined to make bigger and better than last year.
Originally, since this year is their fifth year of Potter celebrations — a very significant milestone — they had hovered around the idea of aligning with Order of the Phoenix. Then they realized that they would have to include Umbridge in the party and no one wants that.
Caitlyn admits that this is a big change "because normally we're not big supporters of physical activity during a Harry Potter marathon session." She and Anianne have planned start/end-of-term feasts, to incorporate more "real" food. (In previous years, the weekend celebration heavily focused on wizarding sweets.)
Anianne explained that "we wanted to stay as true to the books as we could. We weren't able to find a dragon in time (weird, right?), but I think we have a suitable alternative. You'll definitely want to avoid being hit by that fireball! In the second task, you won't have an hour, but you will want to rescue your friend… otherwise, they could be gone forever. [The third task] will require speed, balance, and determination to win."
MuggleNet will be on the scene for this year's party and will take over the MuggleNet Snapchat account.
Be sure to tune in bright and early tomorrow morning since the start-of-term feast begins promptly at 9:00 a.m. CST on Saturday, July 29. The Triwizard Tournament begins at 1:00 p.m CST.
Don't forget! Tickets to MuggleNet Live! 2017: Nineteen Years Later are still available for purchase, and we would LOVE to meet you in Orlando for an amazing Potter fandom experience! Check out our website for details and then get your ticket to have a private, magical evening with MuggleNet and the awesome talent from the Potter films!