James Gannon Talks Rare "Potter" Editions
by Jessica J., Mary Wojcicki · Published · Updated
We posted recently about the breathtaking Harry Potter illustrations currently being sold through Heritage Auctions, and as a special follow-up, we got the opportunity to ask the Director of Rare Books at Heritage Auctions, James Gannon, some of our burning questions about about the auction and rare Potter memorabilia!
Thank you to Mr. Gannon for speaking with us! It's not every day that you get the chance to get a glimpse behind the scenes of the rare book world.
If you've got Galleons to spare, you might want to consider adding some of the rare items mentioned here to your collection. You can find out how here.
Interview with James Gannon of Heritage Auctions
How often are Harry Potter books auctioned through Heritage Auctions?
We have been fortunate to be able to offer various Potter lots over the past several years. Philosopher's Stone turns up less often, maybe once every couple of years. Most of our auctions now have some grouping of Harry Potter titles, often signed by J.K. Rowling and sometimes with original art in the book.
What is vetting process like when someone comes to you and says, "I have a first edition of Harry Potter I want to sell"? What hallmarks do you look for?
We generally seek a listing of what they have, and might ask them to look for certain issue points, especially for Philosopher's Stone and Chamber of Secrets, or ask about the Guardian blurb on the rear jacket panel for the first American [edition] of Sorcerer's Stone. The later titles in the series were published in such large editions that they will never be rare, so unless they have the earlier titles, I don't pay that much attention to them.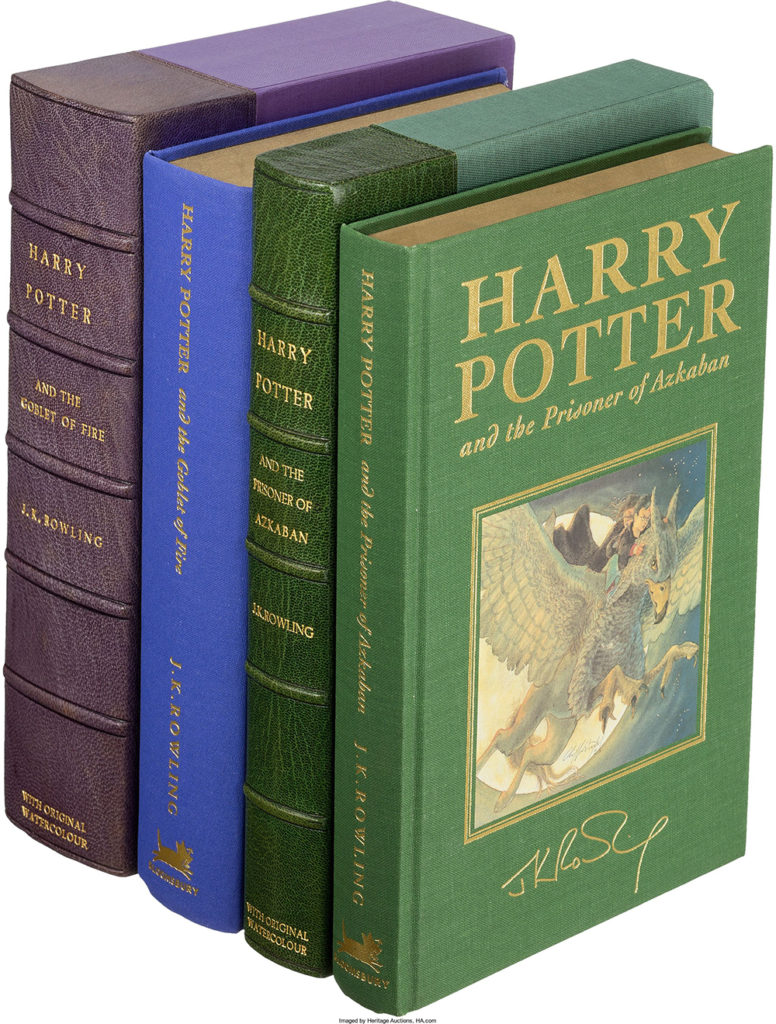 Is there much difference between auctioning Harry Potter books and the other rare books you handle? Do you find you have more bidders or more excitement? Or maybe just a different clientele?
Sometimes the clients for Potter books are not really book collectors in the traditional sense, and sometimes they are serious collectors of other children's books or fantasy and they recognize the importance of these books. Of course we want as many bidders as we can find, to achieve great prices for our consignors, but often the endplayers and winners in the auction are not known to me before the auction. They are new clients who find the books through the amazing marketing campaigns that our PR group executes.
What can you tell us about the provenance of the illustrations being auctioned off? How did these illustrations come to be made, and how were they first acquired?
They are truly breathtaking! The illustrations in the books that you are referencing have come to us from a serious collector in St. Charles, IL (who preferred to remain anonymous). I am not sure about these particular books, but in the past these copies with original art come on the market through a collaboration between an antiquarian bookseller and the artist. In the Harry Potter book world, there is not that much that is rare, because the books were immediately successful and the editions became so large so quickly. Adding original art is a way to make an edition of a title that is unique. Even the deluxe editions were made in open editions, so there is no scarcity there.
How unusual is it to find illustrations like this on the market?
I know that they are around, though we have not handled very many of them. Offering books with unique original art is ideally suited to some of the high-end rare booksellers in American and England, which is where you are most likely to find them. Some of the booksellers have relationships with the artists, and might be able to get in fresh stock from time to time. There is a big distinction in value between the original art that was used to illustrate a classic book, and art that was created "after market" so to speak, as the first is absolutely unique and actually published, while the later drawings and paintings are likely to be made in large numbers over time.
While the Cormoran Strike series hasn't reached the same heights—so to speak—as the Harry Potter series, the new BBC One mini-series based on the Strike series is sure to increase interest in the books. Is that something that you take into consideration when assessing an item like a first printing of the UK edition of The Cuckoo's Calling, signed by J.K. Rowling as "Robert Galbraith"?
Certainly film and TV vehicles influence participation in buying the original book sources, but for us we place items into auctions according to the price history of that book at auction. The series you mention will become more collectible with time, though not nearly in the same way as the Harry Potter books.
A lot of our readers are book lovers, and your job sounds like the perfect one for a bibliophile! Can you tell us a little more about what you do, and how you got into this kind of work?
My role is business-getting, which means that I talk with collectors and dealers in efforts to source material to sell at auction. Sometimes I help estates or families to disperse collections that were formed over many years. I entered the book business accidentally in Los Angeles and spent many years at a very successful shop, coincidentally called Heritage Book Shop, where we handled antiquarian and collectible books in all fields. This has helped me to access many different kinds of collections, as we never know what kinds of books will be presented to us.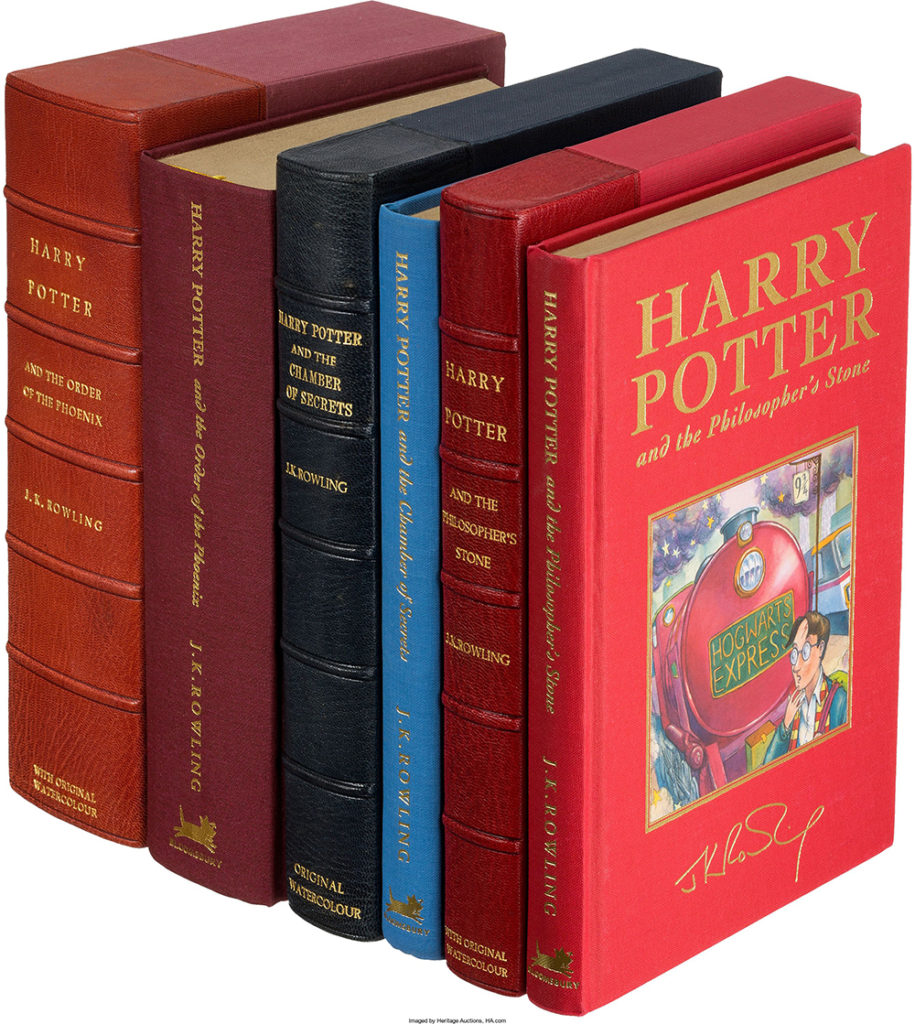 Anything else you'd like to add about these items or the auction on September 14?
This is a nice grouping of items that were lovingly collected by our consignor. When a group like this comes up at auction, it is a good opportunity for other collectors to purchase collectible items where the work of rooting them out has already been accomplished. It would take some time and effort to duplicate a grouping such as this.
What do you think make the Potter series so appealing to readers and collectors?
Personally, I have not finished reading the books, but everyone in my family has read them many times, and we often have conversations about the stories. What appeals to me is how hard J.K. Rowling worked to make the stories interestingly complex and intricate, and made everything fit together so well. She really could have coasted after the first few books, but the titles got bigger and more complex as she went along.
Do you have a favorite Harry Potter book, and what do you like best about it?
I will tell you when I have finished them all!