How Many Wizarding Alumni Have Done Shakespeare?
If you were to ask any person on the street who the most celebrated and famous playwright is, it's very likely that most people will tell you William Shakespeare.
That's why it's not surprising that many, many of the Harry Potter and Fantastic Beasts alumni have starred in some version of Shakespeare's plays throughout their acting careers. Check out the list below for some notable roles.
1. Sir Michael Gambon
The man we know as Albus Percival Wulfric Brian Dumbledore has participated in many a Shakespearean play, getting his start in a 1962 production of Othello.
2. Gary Oldman
Gary Oldman helped bring the beloved Sirius Black to life in the Potter world, but before that, he appeared in the 1990 film adaptation of Rosencrantz and Guildenstern Are Dead, which is a twist on the classic Hamlet. Check out the next one on our list for another familiar face taking on the same role.
3. Daniel Radcliffe
Obviously, we all know Daniel Radcliffe as The Boy Who Lived himself. However, Daniel also is known for his impressive stage work, including portraying Rosencrantz in the stage production of Rosencrantz and Guildenstern are Dead, which is the same role Gary Oldman played in the 1990 film.
4. Sir Kenneth Branagh
Sir Kenneth Branagh (Gilderoy Lockart) has received Oscar nods for his work in two Shakespearean productions, Henry V and Hamlet.
5. Emma Thompson
Emma Thompson (Professor Sybill Trelawney) starred alongside Sir Kenneth Branagh in Much Ado About Nothing (which was also directed by Branagh) as Beatrice and portrayed Viola in Twelfth Night.
6. Alan Rickman
The late great Alan Rickman (Severus Snape) was not only a member of the Royal Shakespeare Company but also involved in productions such as Romeo and Juliet and As You Like It.
7. Benedict Clarke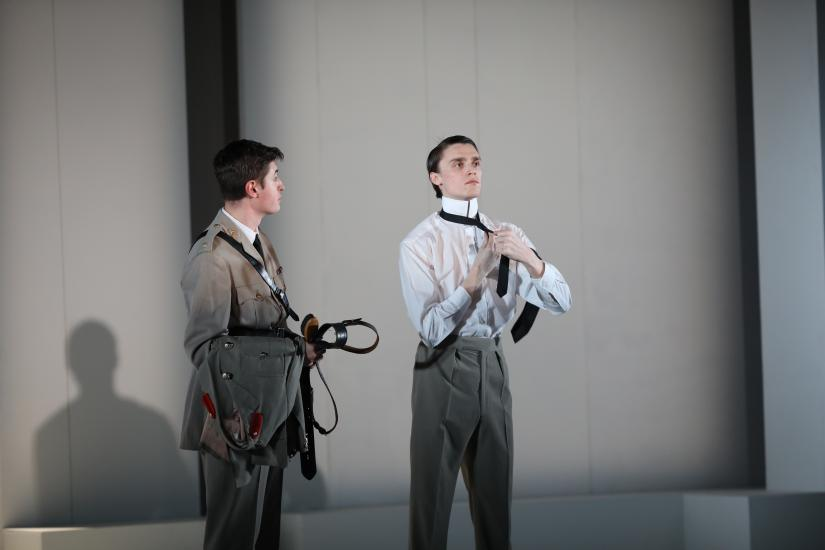 Benedict Clarke (young Severus Snape) was involved in two Shakespearean plays recently: Much Ado About Nothing in 2019 and A Midsummer Night's Dream in 2017 while he was still studying at the University of Cambridge.
8. Ralph Fiennes
Ralph Fiennes has done his fair share of Shakespearean plays, notably by directing Coriolanus, and he even won a Tony for his work on Hamlet.
9. Helena Bonham Carter
Before she was an eccentrically evil Death Eater, Helena took on softer roles, such as Ophelia in Hamlet and Olivia in Twelfth Night.
10. Gemma Jones
Long before healing the students of Hogwarts, Gemma Jones (Madam Pomfrey) was a successful Shakespearean actress, appearing opposite the likes of Sir Patrick Stewart in The Winter's Tale and Kevin Spacey in Richard III.
11. David Tennant
Mr. Tennant (Barty Crouch, Jr.) has quite the impressive list of Shakespeare plays under his belt, most famously Much Ado About Nothing and Hamlet.
12. Helen McCrory
Helen McCrory (Narcissa Malfoy) earned herself a nomination for an Olivier Award for her role as Rosalind in As You Like It and has played the role of Lady Macbeth in Macbeth on two different occasions.
13. Kate Fleetwood
Kate Fleetwood (Mary Cattermole) has been involved in a plethora of Shakespeare. Impressive credits include Viola in Twelfth Night, Juliet in Romeo and Juliet, a role in Two Noble Kinsman, Iris in The Tempest, Helena in A Midsummer Night's Dream, Desdemona in Othello, Hermione in The Winter's Tale, and was nominated for a Tony award for her portrayal of Lady Macbeth in Macbeth.
14. Dame Maggie Smith
In perhaps one of the most extensive Shakespeare backgrounds, Dame Maggie Smith (Professor McGonagall) has been involved in dozens of the productions spanning over a whopping 65 years! Twelfth Night, As You Like It, Othello, Richard II, Antony and Cleopatra, Macbeth, Much Ado About Nothing, and A Midsummer Night's Dream are just some of an extremely amazing collection of roles.
15. Imelda Staunton
Imelda Staunton (Dolores Umbridge) didn't always play such evil roles. She has been a part of Shakespearean plays such as Henry V, Macbeth, and Twelfth Night.
16. Timothy Spall
Timothy Spall (Peter Pettigrew) began his career in the Royal Shakespeare Company, appearing in shows such as The Merry Wives of Windsor, Hamlet, Macbeth, and Othello.
17. Zoë Wanamaker
Zoë Wanamaker (Madam Hooch) also works extensively with the Royal Shakespeare Company, with credits including Much Ado About Nothing and The Taming of the Shrew.
18. Stephen Fry
The voice you hear narrating the Potter audiobooks also had a role as Malvolio in Twelfth Night.
19. Eddie Redmayne
Wrapping up our list is Eddie Redmayne (Newt Scamander). Redmayne's breakout theater role was as Viola in Twelfth Night, and he also played the titular role in Richard II.
It's clear to see that the wizarding world alumni are an extremely talented bunch, as if we didn't know that already.
Which actors would you like to see take on Shakespearean roles next? Let us know in the comments below!
Want more posts like this one? MuggleNet is 99% volunteer-run, and we need your help. With your monthly pledge of $1, you can interact with creators, suggest ideas for future posts, and enter exclusive swag giveaways!
Support us on Patreon