The Cast of "The Carmilla Movie" at New York Comic Con
The Trailer for The Carmilla Movie was released at New York Comic Con this weekend. The movie is a continuation of the hit YouTube series Carmilla and takes place five years after the finale of the series. I had the wonderful opportunity to sit down with Natasha Negovanlis and Elise Bauman, who play Carmilla and Laura in both the series and the film.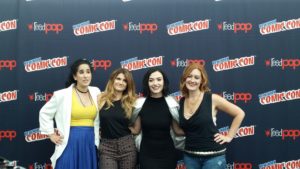 The YouTube series is based on the 19th-century vampire novella Carmilla by Joseph Sheridan Le Fanu. This novella is about a female vampire who preys upon young women. The book is narrated by Laura, a friend of Carmilla's who slowly begins to show the signs of a vampire attack. The YouTube series kept the same idea but thrust the characters into a modern-day setting at Silas University. Laura films vlogs for her journalism class at her new school. Her roommate suddenly goes missing and is replaced by Carmilla, who we end up finding out is a vampire. The two eventually end up dating and fight the evil forces that have taken over Silas University.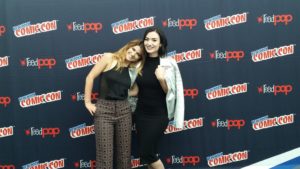 I am a huge fan of the series, so I was very excited to find out what Natasha and Elise had to say about The Carmilla Movie and the YouTube series. Carmilla is filled with pop culture references and especially Harry Potter references. I mentioned my love of Harry Potter and asked Elise what her favorite reference was.
I also love Harry Potter. I will be honest. There were a lot of pop culture references that went way over my head. Things that I have never watched before or never read. But there was this glass that Laura makes when she's stressed out in Season 3. So she's crafting and she makes the heinous Hermione cup, and she's like, 'What would Hermione do?' and she looks at it and it's just the most ridiculous thing ever. Little things like that were really fun.
We here at MuggleNet love hearing about fan encounters. Sometimes they can have a huge impact on the fandom and on the stars themselves. I asked Natasha about her favorite fan encounter and she gave me this lovely response.
It's so difficult for me to just choose one because I am so incredibly lucky that my fan experiences are so positive. It's like 99.9% unbelievably positive. One of my favorites, though, and actually, it's a little bit weird. One of our fans who was quite known in the Creampuff community passed away in December, and she was here at NYCC last year. She was dressed as me, and she gave me like a little fang pin. I still have some of her fan art. She was just such a vibrant young woman. I really hope we dedicate the film to her. I don't know how to make that happen, but I think that would be cool.
The fandom has a huge part in the Carmilla show and film. The fans lovingly call themselves Creampuffs after Carmilla used the word as a pet name in the series. Natasha went on to talk about the amazing fandom that Carmilla has.
But it's been really cool to see how people have become friends through the fandom and how they really support each other even through difficult times like that. New friendships have blossomed. I love seeing it online where people are creating this amazing community. People are just so kind to each other, and it will be people who are all the way in Australia being friends with people in Norway, and it's just so amazing that it's created a brighter space in this world.
As an extra little fun question, I asked Natasha if her character, Carmilla, would enjoy Blood Pops.
I think that she would totally love them because Carmilla is such a huge chocolate fiend, and she was constantly stealing Laura's chocolate all the time, but I feel like it probably tasted a bit off to her because she was a vampire. Then as a human, we see her indulge in a lot of chocolate as well. So I definitely think that combo of the blood and the sweetness would totally be her jam.
Check out the Carmilla Movie trailer below.  The movie will be released in Canadian theaters on October 26, 2017, and will be available for streaming outside of Canada on October 27, 2017, exclusively on Fullscreen.