Dame Julie Walters Finally Rides Hogwarts Express
In an upcoming four-part documentary series, Molly Weasley finally gets to ride the Hogwarts Express. Dame Julie Walters rides the Jacobite, the train used for exterior shots of the iconic scarlet steamer, in the first episode of her new documentary series Coastal Railways with Julie Walters. While working on Potter, Walters never filmed aboard the train – but Coastal Railways allowed her to change that.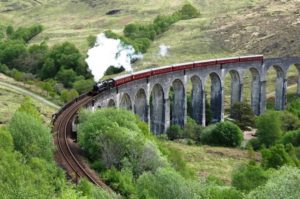 Walters spoke with TV Guide writer Ian MacEwan about her first experience on the Jacobite.
Before we set off, I went up to the footplate and had a bacon roll made with bacon cooked on a shovel over the coals in the engine. I'd heard about that happening on old steam trains, but I'd never seen it and it was a nice treat!
Apparently, Ron gets his appetite from his mother. Walters also said that Potter fans, some of whom were on board while she was filming, still ride the train in costume.
…it did make me feel proud to have been part of the films that reinvigorated interest in this beautiful steam line.
In addition to Coastal Railways, Walters is currently working on Mamma Mia 2. She also features in the upcoming Mary Poppins Returns and Paddington 2.
Coastal Railways with Julie Walters airs Sundays on Channel Four in the UK.