Donate to Lumos for a Chance to Win Autographed "Fantastic Beasts" Prizes
If you're in a giving mood this holiday season, a donation to J.K. Rowling's children's charity, Lumos, could result in a few extra gifts for yourself as well! As an incentive for this year's Christmas campaign, Lumos is giving away an incredible collection of Fantastic Beasts-themed prizes!
One lucky contributor will win three autographed prizes, including a copy of the Fantastic Beasts and Where to Find Them screenplay signed by J.K. Rowling, a "Be the Light" T-shirt signed by Eddie Redmayne, and a print from the Fantastic Beasts and Where to Find Them illustrated edition signed by artist Olivia Lomenech Gill. The winner will also receive a Newt Scamander collectible wand.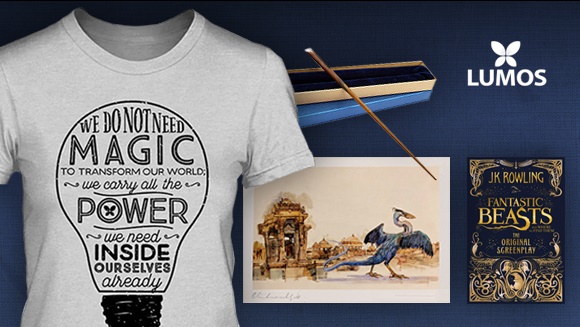 For this year's special Christmas campaign, each $10 donation will count as one entry into the contest. 100% of the proceeds from the campaign go directly toward Lumos Projects that focus on helping children in Haiti.
According to Lumos's CrowdRise page, 30,000 children in Haiti reside in orphanages, and unfortunately, most of them still have family out there. A lot of the children are surrendered to orphanages because their families don't believe they can provide adequate care for their children. However, living in an orphanage can be even more harmful to the child, increasing their risk of health issues and abuse.
Donations to Lumos can help reunite these children with their parents as well as provide funds for food and education that allow them to continue living at home with their family and receive the support they need for a healthy childhood.
J.K. Rowling discussed her long-term goals for the charity with Pottermore:
Lumos has a single, simple goal: to end the institutionalisation of children worldwide by 2050. This is ambitious, but achievable. It is also essential. Eight million voiceless children are currently suffering globally under a system that, according to all credible research, is indefensible. We owe them far, far better. We owe them families.
Dan Fogler, Fantastic Beasts' Jacob Kowalski, encouraged fans to donate to this charitable cause with a special video announcement:
So if you have at least $10 to spare this holiday season and you'd like to contribute to Lumos's efforts to help Haitian children, as well as be entered for a chance to win these magical prizes, you should head on over to CrowdRise and donate today! The campaign ends on December 31, so make sure you donate before it's too late. Full terms and conditions are available here.