Castium Revelio: A Man of Wax!
Castium Revelio! We're back with another week of magical casting updates on our wizarding world alumni! From new films and television series to musicals and even a wax figure, we have all the latest news right here!
First, actor Jim Tavaré (Tom the innkeeper, Prisoner of Azkaban) is making his comeback with an Edinburgh Fringe show titled From Deadpan to Bedpan. Tavaré was in a car crash last year that nearly cost him his life. On his personal Facebook, he wrote about the show and included its poster.
I feel compelled to tell the tale of what happened and to thank everyone who supported me through it all. I'm taking the show to Edinburgh this August and previewing it in the UK in July. Co-incidentally this will mark a 20 year anniversary since my last Edinburgh show in 1998.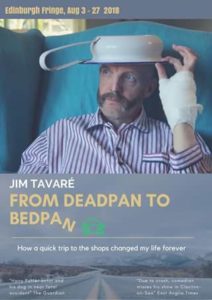 The Hollywood Reporter is reporting that the Flashpoint solo film, starring Ezra Miller (Credence Barebone) as DC Comics superhero the Flash, has a new team of directors: John Francis Daley and Jonathan Goldstein, the screenwriters of Marvel's Spider-Man: Homecoming. The Hollywood Reporter notes that the two aren't the first directors to be involved with the project.
The film will star Ezra Miller, reprising his role as Barry Allen/The Flash from 'Justice League'. The Flash solo film has previously had two other directors attached. 'Dope' filmmaker Rick Famuyiwa left in October 2016 over 'creative differences.' His exit followed that of Seth Grahame-Smith, who had written the script and was attached to helm.
Warwick Davis (Professor Flitwick/Griphook) has hired Star Wars actor Mark Hamill to voice the role of Kevin the Robot in Eugenius! The Musical. As quoted on the website London Theatre One, Warwick said that getting Hamill to make the cameo appearance was possibly the result of a "Jedi mind trick."
I have known Mark as a friend since first working with him in 'Return of the Jedi' in 1981. He's such a talented voice-actor and I feel very lucky he agreed to take a cameo in 'Eugenius!' How did I persuade him to do it, you might ask? Well, it could have been a Jedi mind trick… 'This is the droid you need to voice.'
London Theatre One also provides a description of the musical's plot.
EUGENIUS! tells the story of Eugene, a teenage boy whose nightly dreams of a distant world of heroes and villains may just be the ticket to him creating his very own comic book movie in Hollywood. Joined by his best friends 'Janey' and 'Feris', our comic writing genius must discover the true meaning of growing up, finding the superhero within, saving the world from both earthbound villains and possibly those from distant galaxies, and along the way, falling in love. [sic]
Eugenius! runs until March 3, 2018, at London's The Other Palace.
Speaking of Star Wars, Domhnall Gleeson (Bill Weasley) spoke to Deadline about his latest film, A Futile and Stupid Gesture, and joked that it had taken longer to premiere than Star Wars: The Last Jedi, in which he played General Hux.
You think about the amount of special effects needed in 'Star Wars', and then you think about the two [expletive] years it took them to get this thing out!
Fortunately, Gleeson doesn't have to wait any longer. A Futile and Stupid Gesture is now available to stream on Netflix.
Chris Columbus, the director of the first two Harry Potter films, also has a project in the works with Netflix. Digital Spy reports that Columbus will serve as the executive producer for a Christmas film, currently untitled, which stars actor Kurt Russell.
The 'Overboard' actor will take on the role of the actual Father Christmas in the movie, which follows two siblings who try to prove that Santa is real by catching him on camera.

However, their plan goes horribly awry when they accidentally cause his sleigh to crash in Chicago, and have to find a way to get Christmas back on track.
Columbus is also the producer of I Kill Giants, for which Bloody Disgusting has posted a trailer.
Barbara Thorson is a teenage girl who escapes the realities of school and a troubled family life by retreating into her magical world of fighting evil giants. With the help of her new friend Sophia and her school counselor, Barbara learns to face her fears and battle the giants that threaten her world.
Eddie Redmayne (Newt Scamander) now has his own wax figure at Madame Tussauds in London! The wax museum houses the likenesses of many celebrities, including Daniel Radcliffe and Emma Watson.
Redmayne also appears to have taken some lessons from the Marauders, as he seems to be up to no good in a clip from The Radio 1 Breakfast Show. In a segment with his Early Man costar Maisie Williams, Redmayne tries to get some Game of Thrones spoilers.
Plus, check out a featurette for Early Man, courtesy of the Fan Carpet! UK viewers can catch the film in cinemas now.
Daniel Radcliffe has teamed up with Saturday Night Live creator and producer Lorne Michaels to produce his new series on TBS, Miracle Workers, Hollywood Outbreak writes.
The comedy, based on a book by 'Saturday Night Live' veteran writer Simon Rich, finds Radcliffe hard at work as an administrative-level angel, trying to answer people's prayers.
Daniel spoke about the series, which premieres later this year, in an audio interview, which you can find below.
Timothy Spall (Peter Pettigrew) and Imelda Staunton (Dolores Umbridge) appear in a new trailer for their upcoming film, Finding Your Feet!
When 'Lady' Sandra Abbott (Academy Award nominee Imelda Staunton, 'Maleficent', 'Vera Drake') discovers that her husband of forty years (John Sessions) is having an affair with her best friend (Josie Lawrence) she seeks refuge in London with her estranged, older sister Bif (Celia Imrie, 'The Best Exotic Marigold Hotel', 'Bridget Jones's Baby'). The two could not be more different — Sandra is a fish out of water next to her outspoken, serial dating, free-spirited sibling. But different is just what Sandra needs at the moment, and she reluctantly lets Bif drag her along to a community dance class, where gradually she starts finding her feet and romance as she meets her sister's friends, Charlie (Timothy Spall), Jackie (Joanna Lumley) and Ted (David Hayman). This colorful, defiant and energetic group start to show Sandra that retirement is in fact only the beginning, and that divorce might just give her a whole new lease on love and life.
The film will be released into select theaters on March 30.
Dan Fogler (Jacob Kowalski) appears in the trailer for his film Becks, which stars fellow Tony winner Lena Hall in the title role.
Playbill describes the film, which has already played at film festivals. They note that it will be available for streaming on the same day that it is released to theaters, February 9.
Lena Hall, a Tony winner for her performance in 'Hedwig and the Angry Inch', stars in the title role of Becks, a new film about a musician who, after a sudden breakup, moves back in with her mom (played by Christine Lahti). The film features an original score and several performances by Hall.
Miriam Margolyes (Professor Sprout) has a new television series on BBC One! Miriam's Big American Adventure follows the actress as she travels throughout the United States. iNews writer Bernadette McNulty reviewed the show.
I had assumed this was just an offshoot of the many 'jolly pensioners abroad' documentaries that Margolyes has starred in of late. The reason the fine actress keeps popping up in these programmes is because she is such a self-described 'game girl,' willing to laugh at herself, particularly employing her boobs and bountiful farts as universal ice-breakers.
Rupert Grint appears in new photos from the set of the second season of his television series Snatch in Malaga, Spain! Rupert-Grint.us has included the photos in their image gallery.
Robert Pattinson (Cedric Diggory) can be seen in new stills from Damsel, posted exclusively by the Hollywood Reporter. The film premiered at the Sundance Film Festival earlier this week.
Directed by the Zellner Brothers ('Kumiko', 'The Treasure Hunter'), the movie stars Pattinson as Samuel Alabaster, an affluent pioneer who ventures across the American frontier to marry the love of his life, Penelope (Mia Wasikowska). He traverses the Wild West with a drunkard and a miniature horse named Butterscotch; however, their once-simple journey grows treacherous.
Star Trek: Discovery, in which Jason Isaacs (Lucius Malfoy) plays Captain Lorca, has been nominated for the GLAAD Media Award for Outstanding Drama Series!
The GLAAD Media Awards recognize and honor media for their fair, accurate and inclusive representations of the lesbian, gay, bisexual, transgender and queer community and the issues that affect their lives.
The GLAAD Media Awards will be held April 12.
mxdwn Movies reports that Bleecker Street and 30WEST have acquired the US rights to the film Colette, which stars Kiera Knightley and also features Fiona Shaw (Petunia Dursley).
The biopic – directed by Wash Westmoreland ('Still Alice') – tells the story of the French novelist's career and her tumultuous relationship with her overbearing husband. Dominic West (Showtime's 'The Affair') stars alongside Knightley as the novelist's husband, Henry Gauthier-Villars, who took credit for her 'Claudine' novels under his pen name, 'Willy.' The film follows Colette's endeavors to escape her husband's control early in her literary career as she emerges in Belle Epoque Parisian society.
Sir Kenneth Branagh (Gilderoy Lockhart) has joined the cast of Upstart Crow! Digital Spy reported the news, although they were able to say only that Branagh will be playing a "mysterious stranger" who visits Shakespeare. The actor is certainly no stranger to Shakespeare's works, however, having directed or starred in many Shakespearean adaptations.
The third series of Upstart Crow has begun filming and will premiere on BBC Two later this year.
With that, that's all for this week's Casting News! We'll be back next week with more updates, but until then, let us know your thoughts in the comments below!