What Does This New Merchandise Tell Us About the Future of the Wizarding World?
New merchandise has made it to the shelves of souvenir shops in Universal Orlando theme parks, and it has us questioning the motive behind it. Displays of shirts, travel mugs, pins, and key chains emblazoned with the name "Globus Mundi Travel Agents" popped up sometime around the end of December according to tweets from parkgoers and employees working in the retail shops inside the park. A sign advertising "Globus Mundi" has been hanging in Diagon Alley since the park opened, but why on earth would the powers that be make merch from this random sign?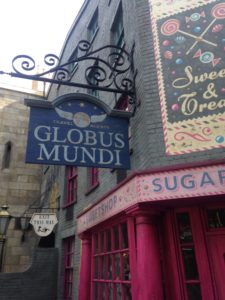 Let's talk about how random this sign really is. The travel agency is not mentioned anywhere in the Harry Potter universe. However, J.K. Rowling mentioned travel agency "TerrorTours" in the Daily Prophet Newsletter 3, published in June 1999. A quick search of Pottermore and the Harry Potter Lexicon also come up empty. "Globus Mundi" doesn't even have a window display. No other decorative signage has its own merch.
Sure, this could just be another ruse to get us to open our wallets, but one has to ask, why would they think we would want to purchase it? It feels like there must be something more to this new J.K. Rowling-approved (according to a park employee) merchandise.
Our first thought is that this could be a hint about the upcoming Fantastic Beasts: The Crimes of Grindelwald. We know that the films will be traveling the world, so could this somehow play into that? Of course, there are problems with this theory, since the park doesn't sell anything related to Fantastic Beasts.
Could this be a hint at a new ride? Since Dragon Challenge closed in September 2017, that section of the park has been left empty. Of course, it would make more sense to have the ride near Diagon Alley since that's where the sign is hanging. We're not ruling it out as an option, whether it's in Islands of Adventure or Universal Studios.
Now, we don't know about you, but in order to shell out money on a thermal sweatshirt, we would need a little more meaning than a sign tucked away behind the sweet shop in Diagon Alley, and let's face it, Universal wouldn't be selling these unless they knew it would make them money.
We had so many questions, we reached out to the "Globus Mundi" Facebook page. This is what a representative from the agency had to say. While we're unaware of the validity of the account, it was an entertaining conversation and we had dug far too deep at that point.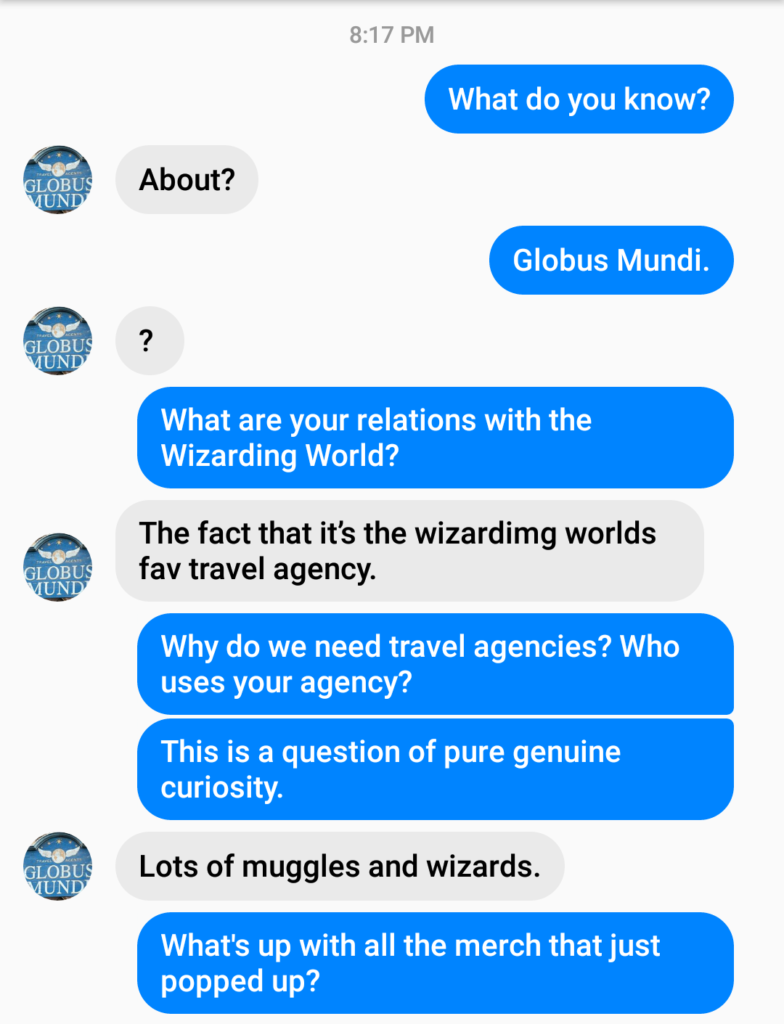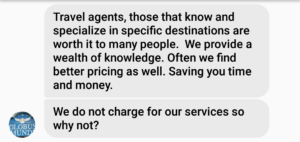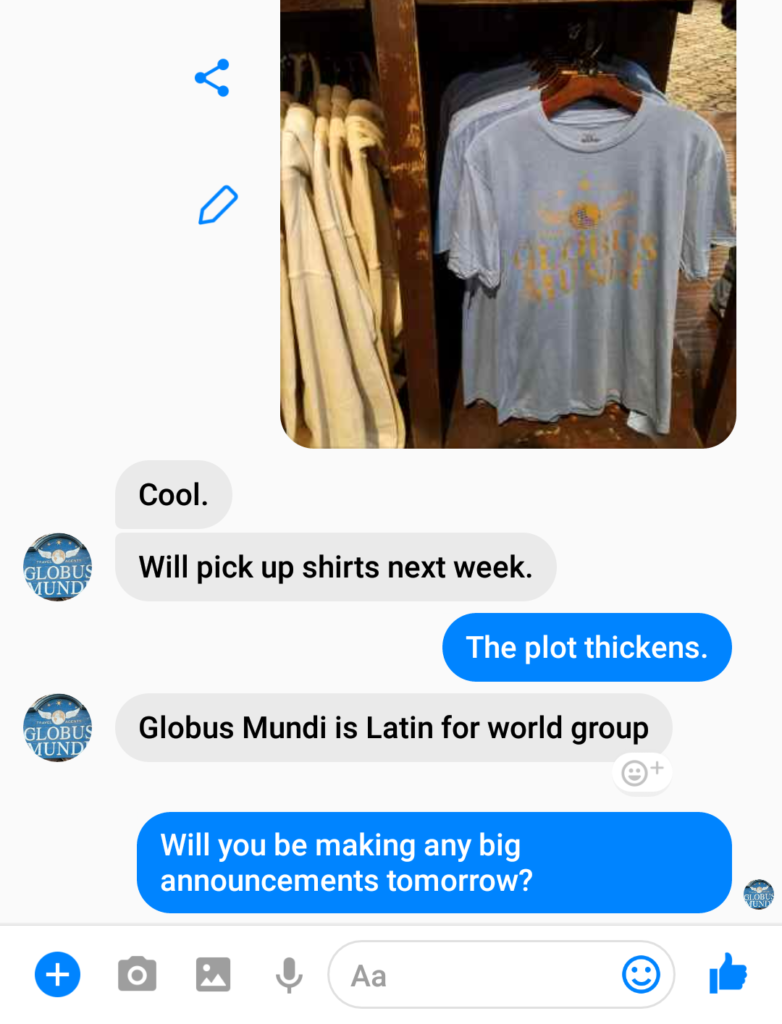 Although that was the last we heard from the account, it's worth noting how they translated the Latin globus mundi as "world group." Most people familiar with Latin roots would assume globus mundi to be "world globe," especially considering their logo, which looks like a cross between just that and a Snitch. While globus can indeed be translated as "group," tracing the etymology of the word back from English (French groupe -> Italian gruppo -> Latin cruppo) doesn't yield the same result. So is it in fact "world group" as we've been told?
We're hoping to get some answers later tonight at the Opening Ceremony for this year's Celebration of Harry Potter. Should this turn out to be nothing, we will have spent hours for nothing. Should it turn out to be something, we'll be sure to update you. Stay on the lookout for more updates from the event throughout the weekend on our social channels.
UPDATE: As we were writing this article, new information came to light as the Globus Mundi Twitter tweeted for the first time and followed several important wizarding world-related accounts, including a PR representative for Universal Orlando, MuggleNet, SpeakBeasty, Inside Universal, and J.K. Rowling.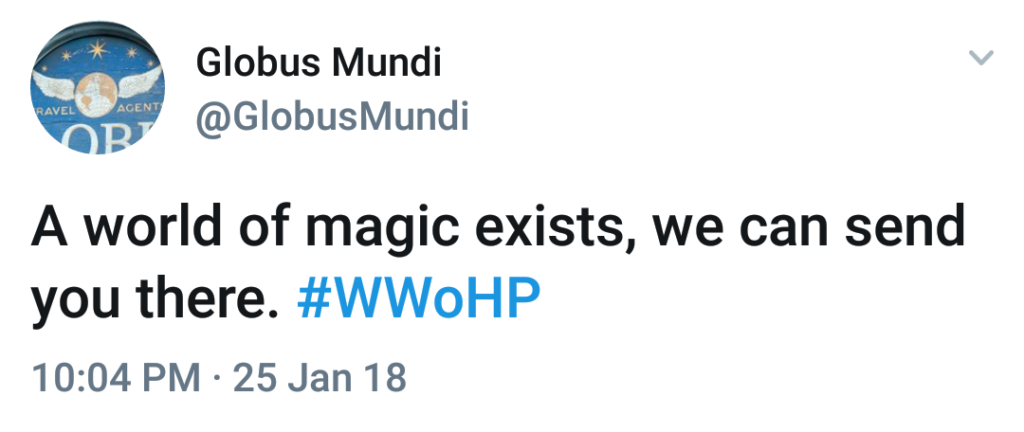 SECOND UPDATE: Globus Mundi has now created an Instagram account.