UPDATED: Universal Studios Japan Announces Enhanced Imagery and Effects on Forbidden Journey
UPDATE (March 1):
Universal Studios Japan is currently running a contest that will give Twitter followers a chance to be one of the first guests to experience the newly enhanced ride this month! All you have to do to be entered to win is retweet the following by March 4. The tweet also includes a new video showing what the enhanced ride will look like!
【RTするだけで応募完了!✨先行体験✨当たる】

\WEB限定、魔法直撃ムービーを「タップして」見よう?❗/
魔法が、直に来る?衝撃のラストまでお見逃しなく❗

ハリー・ポッター™の世界を全身で駆ける体感ライドが更に進化。
新次元の興奮へ。完全版、3/16解禁!https://t.co/Ge2BTvI2sU #USJ pic.twitter.com/2vWuU1ggca

— ユニバーサル・スタジオ・ジャパン公式 (@USJ_Official) February 15, 2018
We have a very rough translation of the tweet, which you can read here:
Registration is complete by just RT! Chance to get the first user experience. Watch the movie, which is only available on the web. Experience the Harry Potter world with all of your senses, it has newly evolved. Full access will be granted from March 16.

Five pairs of people will be given free park entry to experience the upgraded ride!
—
Theme park technology continues to evolve at the Wizarding World of Harry Potter, with Universal Studios Japan just announcing that its Harry Potter and the Forbidden Journey ride will be newly enhanced as of March 16, 2018!
The multidimensional thrill ride will introduce enhanced 4K-HD ride film projecting at 120 frames per second, a huge increase over the previous 60 frames per second, making the imagery much sharper and more realistic. This change will replace the previous 3D component of the ride. These same image enhancements were made to the Forbidden Journey at Universal Studios Hollywood last year.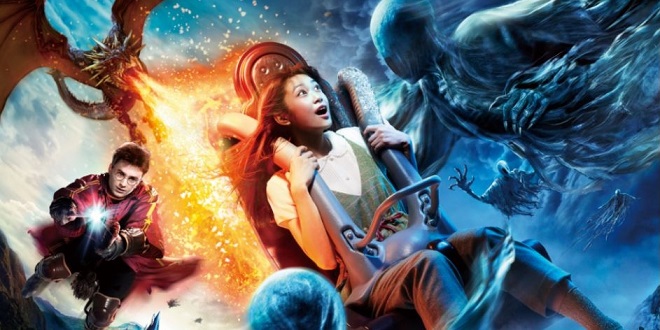 Other elements of the ride will also be upgraded, including more powerful dragon fire effects – the dragon will "breathe fire so hot it'll make guests feel as if they are coming face to face with a Hungarian Horntail." And when the Dementors swoop in, cold air will surround riders, making the experience of a Dementor attack frighteningly realistic.
This announcement comes shortly after Universal Orlando revealed last week that it will have a new projection mapping show, celebrating the Hogwarts Houses, to light up Hogwarts this winter.
All these theme park enhancements and additions sure do keep us coming back for more!