Forbidden Journey at Universal Orlando Resort Has Been Upgraded – Plus, Festive Dates Have Been Announced!
Frequent riders of Harry Potter and the Forbidden Journey at Universal Orlando Resort may have noticed an improvement in their ride experience this month.
Attractions Magazine has reported that Universal Orlando has "quietly made [the ride] even better" by upgrading the in-ride visuals in an attempt to bring them in line with those at Universal Studios Hollywood and Universal Studios Japan.
Frequent riders will notice the simulator sequences are now significantly sharper and smoother than before, with less screen flicker and more detailed textures.The digital visuals are slightly brighter than before (though not so bright as to expose the surrounding sets) and the increased dynamic range reveals more detail in dark images.
Although the upgrade has yet to be officially confirmed by Universal, Attractions Magazine has listed several differences in the new projections, which eagle-eyed riders will be able to spot. These include more Dementors chasing Harry through the Quidditch stadium and the dragon breathing fire on top of Hogwarts Castle at the end of the ride. If you're planning a trip to the theme park soon, be sure to look out for these!
In other Universal Orlando news, it's never too early to start thinking about the holiday season, and this year's Christmas dates have been announced to help guests make this time of year as magical as possible!
From November 17, 2018, to January 6, 2019, fans will be able to experience the magic of the holiday season across both Diagon Alley at Universal Studios and Hogsmeade at Universal's Islands of Adventure.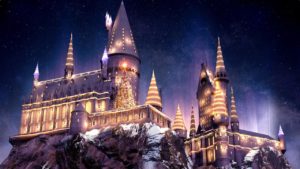 Similar to last year, fans can expect the return of seasonal hot butterbeer to both Diagon Alley and Hogsmeade, as well as holiday treats and "festive decor and lighting." Both locations will also have special holiday entertainment to help spread festive cheer across the parks. Guests of Universal Studios will be able to listen to street performers sing holiday favorites in Muggle London before witnessing a special seasonal Celestina Warbeck and the Banshees show in Diagon Alley.
In Islands of Adventure, Hogsmeade will once again be transformed into a Christmas wonderland. Universal Orlando has announced the return of decorated shop fronts, a Frog Choir seasonal performance, and the amazing "The Magic of Christmas at Hogwarts" light show. It may only be spring, but this news has us excited for winter!
Are you planning to visit the Wizarding World of Harry Potter at Universal Orlando Resort during the holiday season? Have you noticed any of these changes to Harry Potter and the Forbidden Journey?