"Crimes of Grindelwald" Trailer Breakdown as We Count Down to November 16
The first teaser trailer for Warner Bros.' Fantastic Beasts: The Crimes of Grindelwald has finally been released, and we're diving in with the enthusiasm of Newt's Erumpent with this breakdown of the teaser.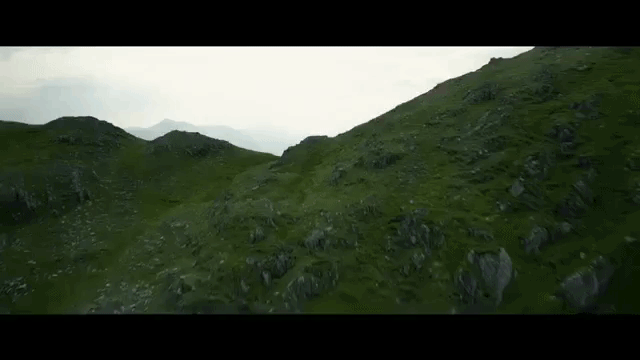 In the opening shot of the teaser, the camera pans over valleyed pastures as we get an aerial view of Hogwarts Castle. The movement of the camera is owl-like, and as the viewer, we're intrigued to see what message the owl is about to deliver.  We're overjoyed to know that we'll be spending time in Hogwarts' comforting halls.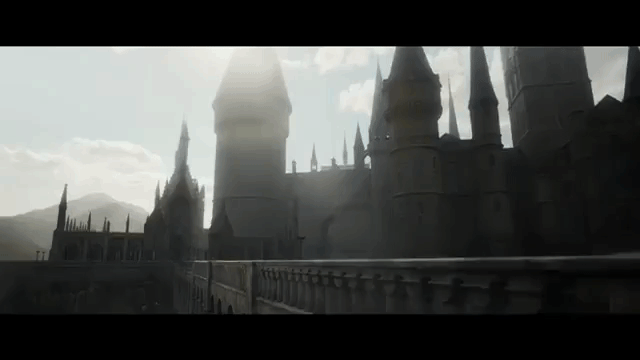 Next, we see three figures, possibly Ministry officials, Apparate onto the Hogwarts bridge. Is the protective magic that prohibits Apparition within Hogwarts grounds not yet in place? Have these figures been given special permission to appear on the bridge, and if so, does this convey a grave purpose? The music is foreboding, and the Ministry official's tone is confrontational. "I have some questions for you, professor," he says, as we see five people walk through the front doors of Hogwarts.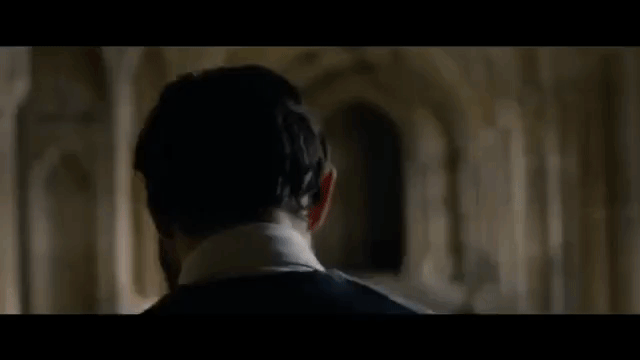 Being interrogated by seven Ministry officials doesn't seem to dampen Dumbledore's confidence. We see him walk, almost with a slight swagger, through the grounds of Hogwarts, his head slightly down, and pondering. As he greets his uninvited guests into his classroom, he has his hands in his pockets and relaxedly sits on the desk. If his classroom looks familiar to you, imagine Neville dangling from that chandelier as the pixies bring that skeleton down, or a Dementor appearing right where Dumbledore is standing.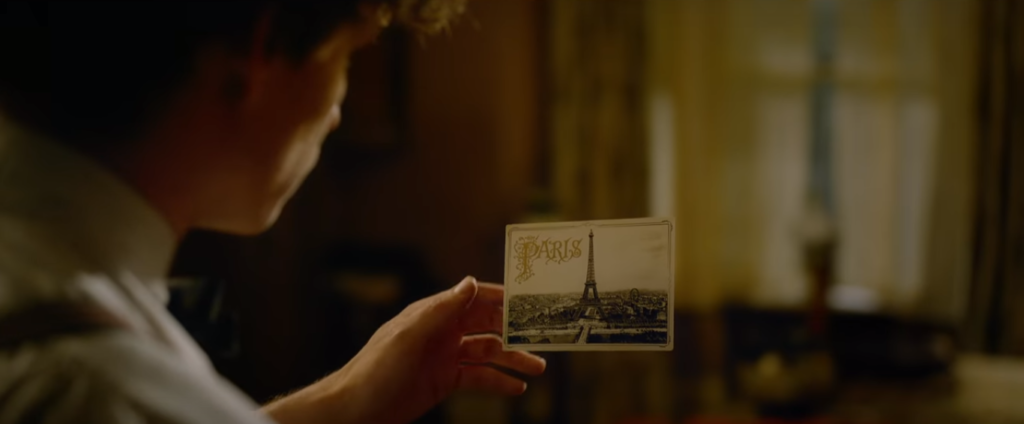 This is our first look at Newt in Crimes of Grindelwald as he quite literally pieces the clues together to form a larger picture. Who wrote this postcard and when? What mysteries are there to be solved in Paris?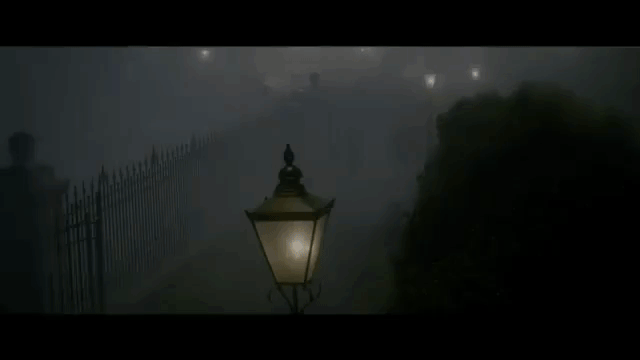 A glimpse of Dumbledore's own invention takes us all the way back to Harry Potter and the Sorcerer's Stone. In that film, Dumbledore didn't want to be overheard by the Muggles of Privet Drive. From whom is he hiding this time around?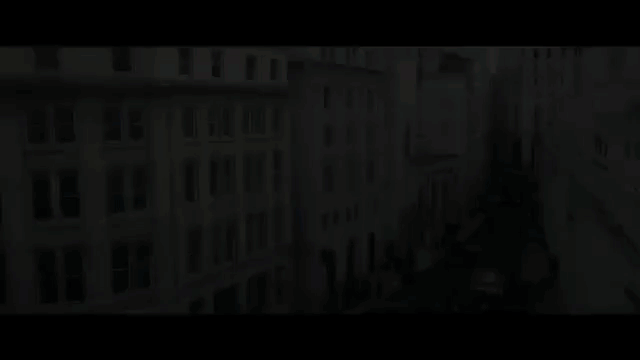 It seems that Newt is back in England, for now, and working under the orders of Dumbledore. We also see a shot of Dumbledore, again from the back. We know Dumbledore has something to hide but does Newt?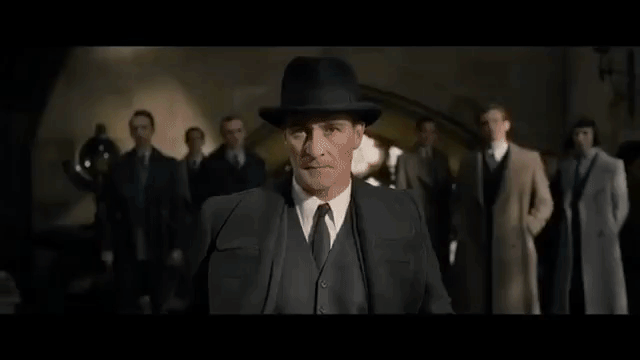 If you'd ever had the pleasure to teach him, you'd know Newt is not a great follower of orders.
Dumbledore would know, seeing as he fought against Newt's expulsion.
Grindelwald is a more politically motivated villain than Voldemort ever was, so it's fitting that our first shot of him shows him standing in the center of an arena, with Vinda Rosier alongside him. Is this a political rally? It wouldn't surprise me to learn that Grindelwald was a great orator.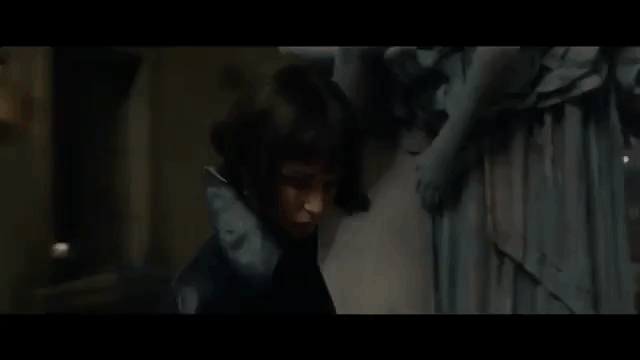 Tina the Auror is clearly in the middle of serious business when we meet her. Jacob, meanwhile, doesn't appear to be nearly as confused as he was in the first movie. Have his memories returned, or is it possible he never lost them in the first place?
The time's coming soon Newt. When you're going to have to pick a side.
I don't like where this is headed. Why are these lines accompanied by a shot of Tina? I'd suspected that Queenie might be tempted by Grindelwald, but not Tina. Well, at least Jacob is still on Newt's side – for now.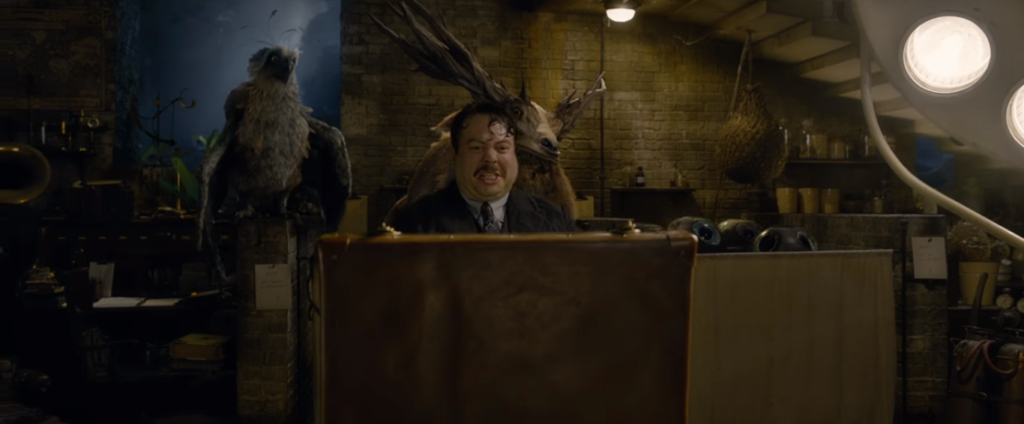 The presence of various creatures, including Mooncalves, around Jacob and Newt suggests that they are standing in some sort of workshop, and not the one inside his case. It's highly unlikely that all the creatures Newt studies are contained in one case, and judging from this scene, it may be that he has some sort of sanctuary where the rest of them reside.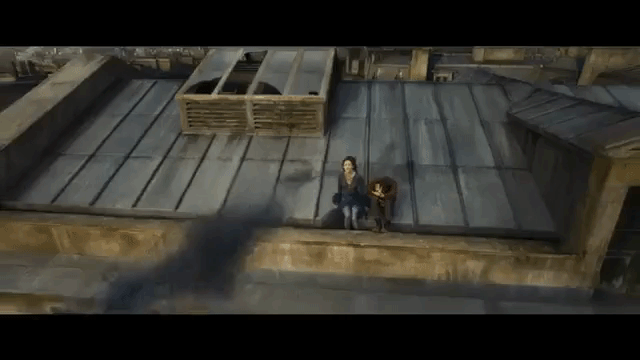 Judging from this shot, it appears that Credence has learned to control his Obscurus. Clearly, Claudia Kim's Maledictus is impressed. However, when we last saw Credence, he was subject to the will of the Obscurus and pulled along with it as it went on a destructive rampage. How is he able to release this magical energy without wreaking the havoc we saw in the last movie?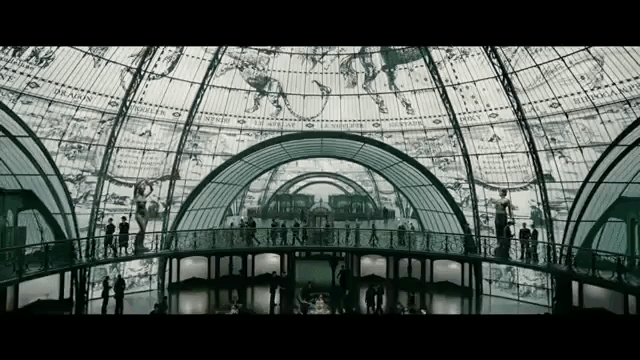 Here we are treated to a brief glimpse of the rest of the characters. We see a man staring at what appears to be the Lestrange family tree drawn on a wall in a sewer. Looking closely, you can see that both Leta Lestrange and Credence Barebone appear on the wall. Who is the man looking at their names?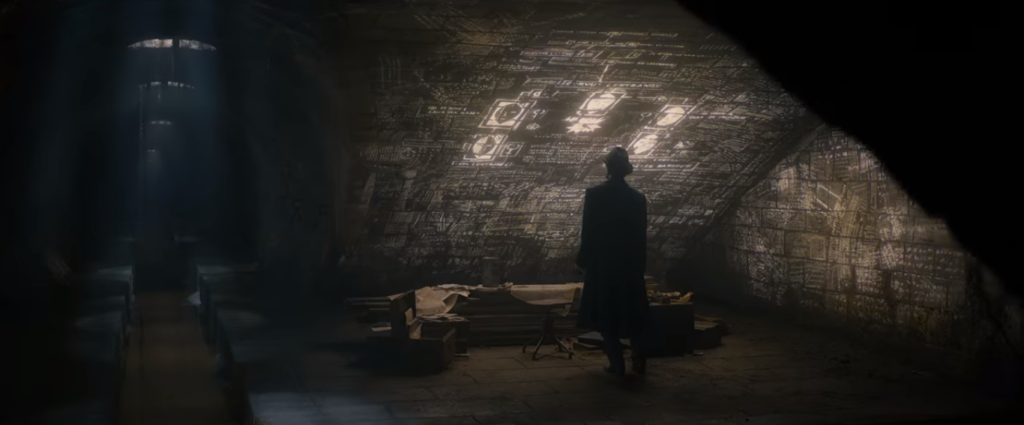 Tina is seen entering what appears to be the same sewer, perhaps in pursuit of that same man. We see what appears to be the French Ministry of Magic, and Queenie surveying the workers with a worried look on her face. This is the only glimpse of Queenie we get, surprisingly. The names of various beasts are written around the bottom of the white-domed ceiling, including the Nundu, Niffler, centaur, Streeler, and Doxy. Perhaps the French government is more partial to magical creatures than the governments of Britain and America?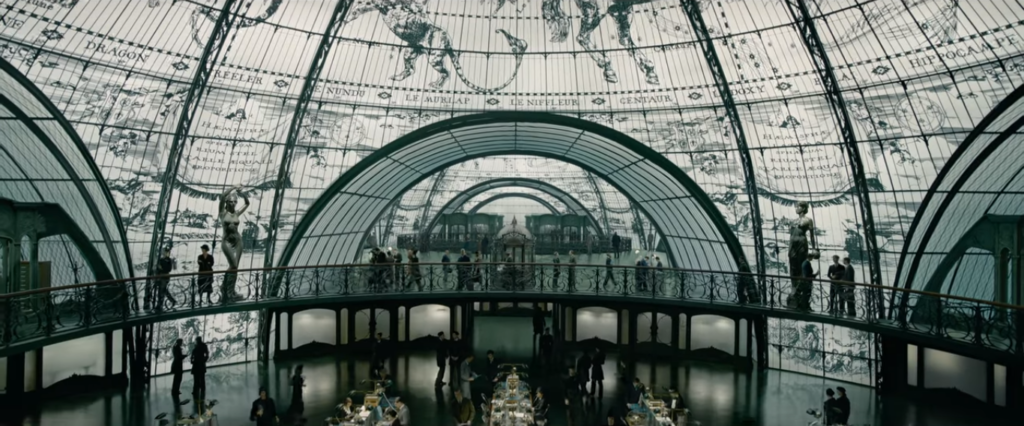 We see a brief glimpse of Leta Lestrange at a fancy party, followed by the white cliffs of Dover. We see a woman, possibly Newt's assistant, riding what appears to be a kelpie. Clearly, this movie will have a lot going on, and the final scenes of the trailer provide mere glimpses into an evidently convoluted and multi-faceted plot.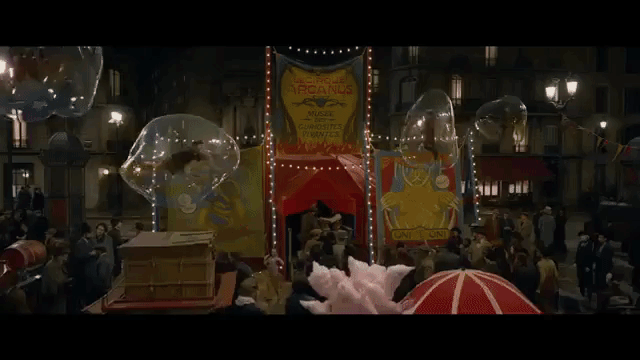 We presumably see the circus that Credence escapes to, and it is here that he meets the Maledictus. Are all the people in this circus magical, or outcasts from the wizarding world? Is Pickett trying to escape before Newt catches him? What makes Credence so angry and upon what object does he take out his rage?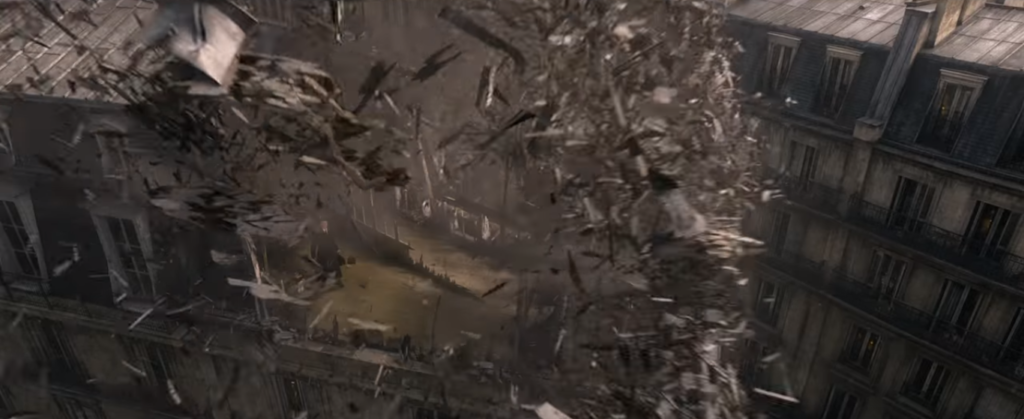 Who is the man in this shot of a building exploding? Is he responsible for the explosion? Could it be Grindelwald himself, whom we saw standing in someone's flat in a recently released clip from the movie?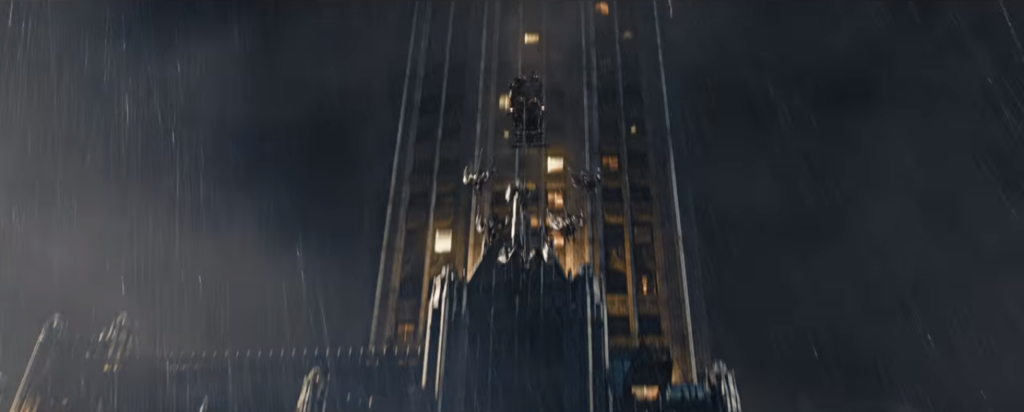 Two men are briefly shown driving what appears to be a carriage drawn by Thestrals and being chased by two figures on broomsticks. It is unclear where they fit into the story, but we later see Grindelwald in the back of a carriage. Perhaps their flight is on his behalf?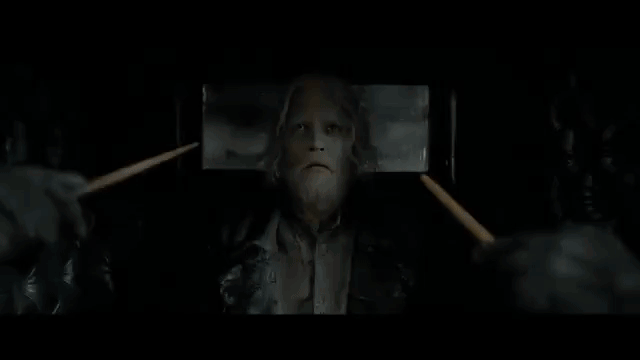 In the final sequence of scenes, we see a haggard Grindelwald apparently cornered in the back of a carriage. Dumbledore tells Newt that he cannot face Grindelwald himself, saying, "It has to be you." Newt and Theseus battle an invisible force side by side in what appears to be a graveyard before casting a powerful spell the likes of which we have never seen before. The conflict between these brothers that was previously hinted at is not apparent in this scene. None of these images is particularly clarifying, and each is accompanied by a thrill of foreboding.
To wrap it up, the Deathly Hallows briefly flashes on-screen, though they were not mentioned once in the trailer. How will the quest for the Hallows figure into this plot? Another face we still haven't seen is Nicolas Flamel, and it is unclear where he fits into this next installment.
As "Hedwig's Theme" plays us out, we are left with at least 20 different plot threads, worrying glimpses of familiar characters, and about a thousand new questions that need answering. November 16 cannot come soon enough.