Scholastic Unveils 20th-Anniversary "Harry Potter" Covers Created by Brian Selznick
Back in January, we learned that award-winning author and illustrator Brian Selznick would create new covers in honor of the 20th anniversary of Harry Potter and the Sorcerer's Stone's US publication. Now, the first images of the covers have been released!
Here's more information about the covers from Scholastic's press release:
Rendered in Selznick's stunning signature black-and-white style with jewel-toned type, the seven covers depict thrilling moments and beloved characters from across the series, including Harry Potter, Hermione Granger, Ron Weasley, Albus Dumbledore, and many more. When placed side by side, the covers form a dazzling single image that tells the overarching story that begins with Harry's arrival at [n]umber [f]our, Privet Drive, through the epic conclusion of the Battle of Hogwarts. Sharp-eyed readers will spot intricate details throughout the artwork, such as Hermione's Time-Turner, Harry's Patronus, the maze from the Triwizard Tournament, and the Hogwarts Express steaming toward a new school year with the next generation on board.
Illustrator Brian Selznick couldn't contain his excitement about being involved with the project:
I'm a huge 'Harry Potter' fan (a proud Hufflepuff!) and to be asked to illustrate the 20th[-]anniversary edition covers was an absolute honor. I knew this project came with so much responsibility to the stories, as well as to the readers. I revisited the books and was especially moved by the relationships between the characters in J.K. Rowling's magical world, so I wanted these covers to reflect that. One of the most challenging and rewarding aspects of the process was drawing seven independent covers that would stand on their own while making sure that they also lined up to create one single satisfying image. It took dozens and dozens of sketches to get it right, and I am thrilled to share my great love for the books with these new illustrations.
But we think it's best to let the covers speak for themselves – have a look below!
Brian Selznick's 20th-anniversary cover for "Harry Potter and the Sorcerer's Stone" features Harry and Hedwig primarily, with baby Harry and Hagrid in the background
Brian Selznick's 20th-anniversary cover "Harry Potter and the Chamber of Secrets" features Harry, Ron and Hermione primarily, next to Ginny holding Riddle's diary, with Dobby and Draco appearing below
Brian Selznick's 20th-anniversary cover "Harry Potter and the Prisoner of Azkaban" features Hermione with a time turner, and Harry's stag patronus surrounded by dementors
Brian Selznick's 20th-anniversary cover "Harry Potter and the Goblet of Fire" features Harry flying on a broomstick in the center, with the other Triwizard champions appearing below
Brian Selznick's 20th-anniversary cover "Harry Potter and the Order of the Phoenix" prominently features Harry, with Umbridge and a centaur appearing in the background
Brian Selznick's 20th-anniversary cover "Harry Potter and the Half-Blood Prince" primarily features Dumbledore, with Snape appearing above and Harry below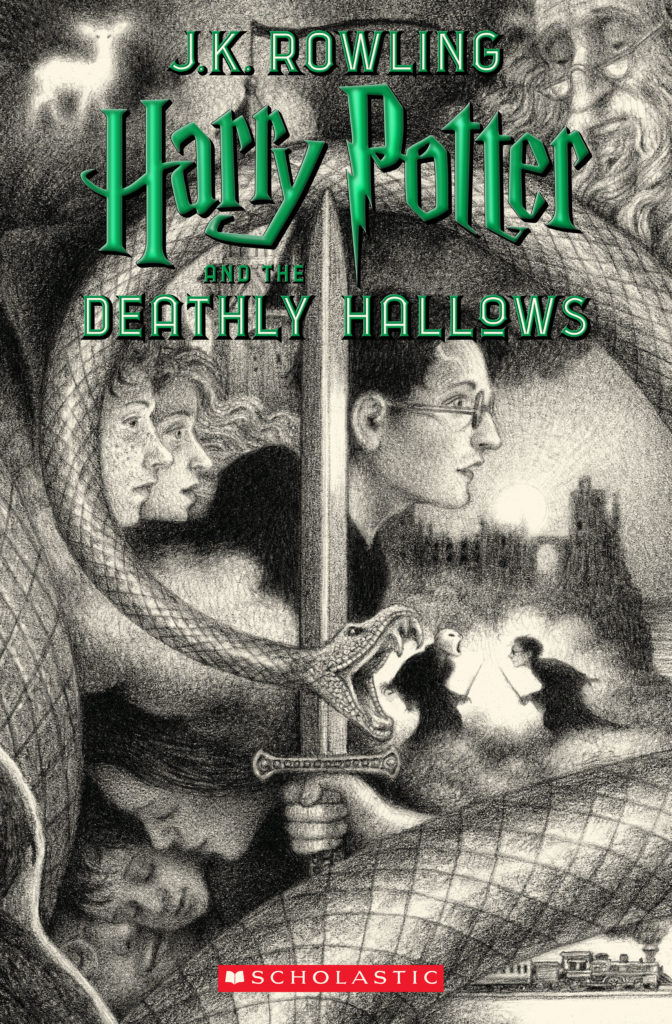 Harry Potter's US editor (and president of Arthur A. Levine Books) Arthur Levine spoke about Selznick's covers:
Twenty years ago we introduced American readers to J.K. Rowling's 'Harry Potter' series, and for this anniversary moment we want to celebrate just how vital and relevant her storytelling is still today. The wonder of Brian Selznick's new cover interpretations is that he makes us see these beloved characters as if we're just meeting them – and indeed we hope a new generation does exactly that.
While it was originally announced that the new covers would be released in July, we now know they'll be available June 26! A boxed set, also designed by Selznick, will follow in September. But you don't have to wait until then to start celebrating 20 years of Harry Potter in the US – you can pick up a Potter-themed item at Independent Bookstore Day later this month!