New Photo: Daniel Radcliffe Filming "Guns Akimbo"
Last month, there were rumors that Daniel Radcliffe's new action comedy Guns Akimbo had started filming in New Zealand – and now there's photo evidence!
In this new photo, Radcliffe is seen filming in Auckland, New Zealand. His character, Miles, is armed, bloody-knuckled, and sporting some pretty outrageous slippers.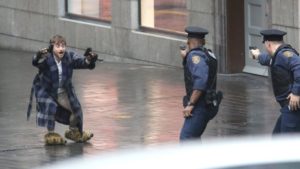 This is really a first look at Guns Akimbo. The release date is still unknown, and little is known about the plot or Radcliffe's character save for a brief description from Variety.
Miles [is] an ordinary guy who suddenly finds himself forced to fight a gladiator-like battle for a dark website that streams the violence for viewers.
Yikes! Are you excited to see Radcliffe as Miles?