Is There a New Nighttime Show Coming to Universal Studios Florida?
It seems that Universal Orlando Resort has accidentally revealed details of a new project, which could be hitting Universal Studios Florida this summer!
While Universal Studios Japan has chosen to celebrate some of movies' greatest moments with a parade, it appears as though its Florida counterpart will be celebrating cinema with a new nighttime light show titled "Universal's Cinematic Celebration – Epic Cinema Under the Stars."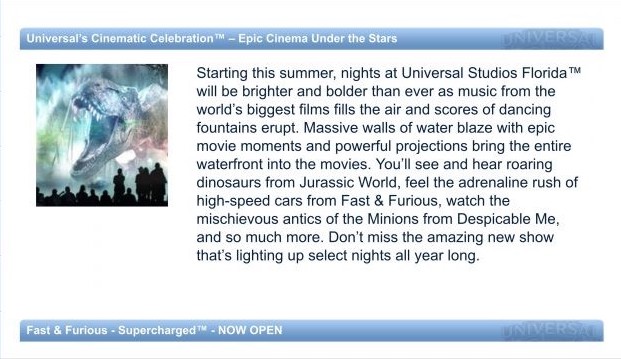 According to Orlando Weekly, the now deleted announcement not only named the new night show but also included details of what would feature as part of the spectacular.
Starting this summer, nights at Universal Studios Florida™ will be brighter and bolder than ever as music from the world's biggest films fills the air and scores of dancing fountains erupt. Massive walls of water blaze with epic movie moments and powerful projections bring the entire waterfront into the movies. You'll see and hear roaring dinosaurs from Jurassic World, feel the adrenaline rush of high-speed cars from Fast & Furious, watch the mischievous antics of the Minions from Despicable Me, and so much more. Don't miss the amazing new show that's lighting up select nights all year long.
Although this description doesn't explicitly make reference to Harry Potter, we're hoping that scenes from the film will make an appearance in this celebration of epic cinema!
Without an official announcement from Universal Orlando Resort, we can't be certain exactly when this new night show will hit the park. Until then, Potter fans visiting Universal Orlando Resort can enjoy the magic of "The Nighttime Lights at Hogwarts Castle" in Hogsmeade at Universal Islands of Adventure.
What would you like to see from a new Universal Studios nighttime show?