New Photos of Ride Coming to Wizarding World Orlando
Our friends over at Attractions Magazine have collected a series of photos updating fans on the new roller coaster ride coming to Hogsmeade at the Wizarding World of Harry Potter in Orlando, Florida. The new ride is replacing Dragon Challenge, which closed last September. While Dragon Challenge was a thrill ride, the new roller coaster is said to be more "family friendly" (fewer dramatic drops and corkscrew flips and easier on kids' stomachs). As usual, Universal is continuing to be super secretive about the coaster.
Through Twitter and contributors, Attractions Magazine collected a series of construction photos that provide some good insight into what the ride may be like. Though the article comes up with a couple of interesting theories, nothing is official – only hypothetical. We don't even have a date for the ride's grand opening, let alone details of what the ride is like.
What we know for sure based on these photos is that the ride will be quite expansive – the construction site is quite large.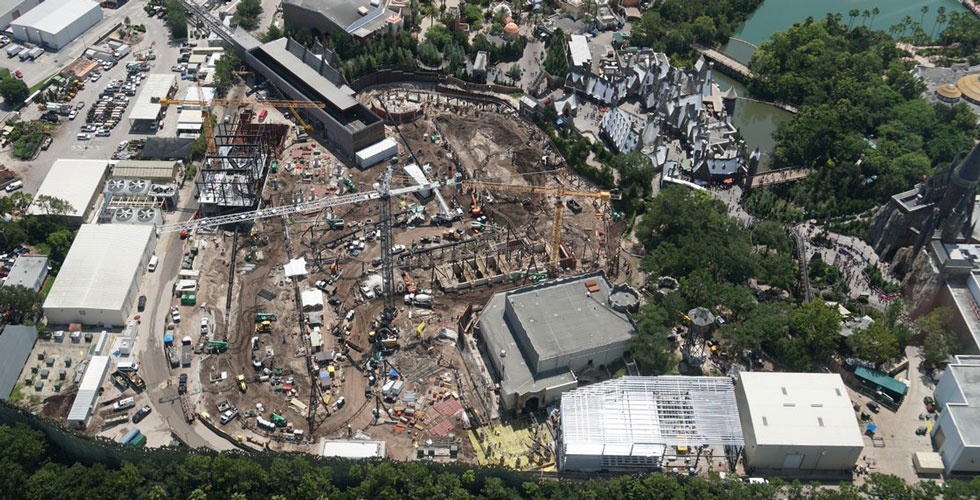 Close-up images reveal a variety of types of tracks – drops, turns, track switches, 270-degree rotations, and more. The ride is rumored to have animatronics and screen components like Harry Potter and the Forbidden Journey but also appears to be outside as well? At least for now.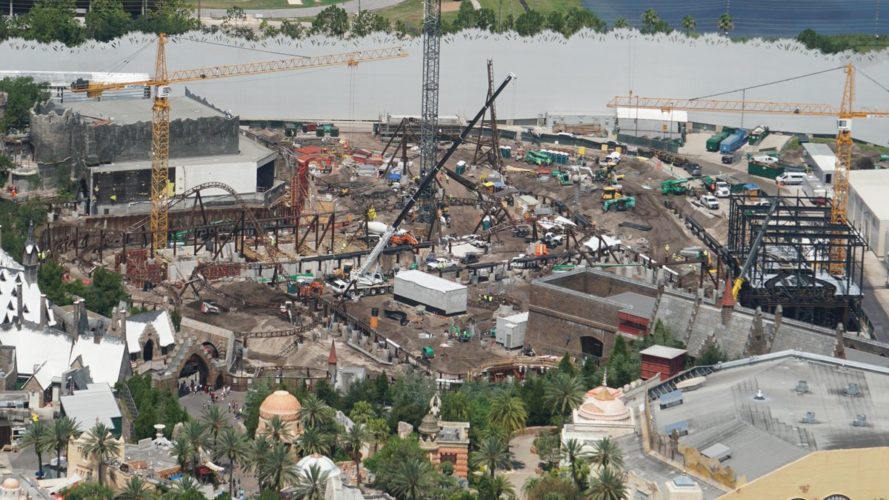 Given how enormous this new project is (see the picture below in reference to the proportions of Hogwarts and Hogsmeade and this new coaster), it is almost impossible to keep the construction of the new coaster completely under wraps. Many fans and roller coaster buffs can theorize about the path of the ride based on the tracking they can see the cranes putting down.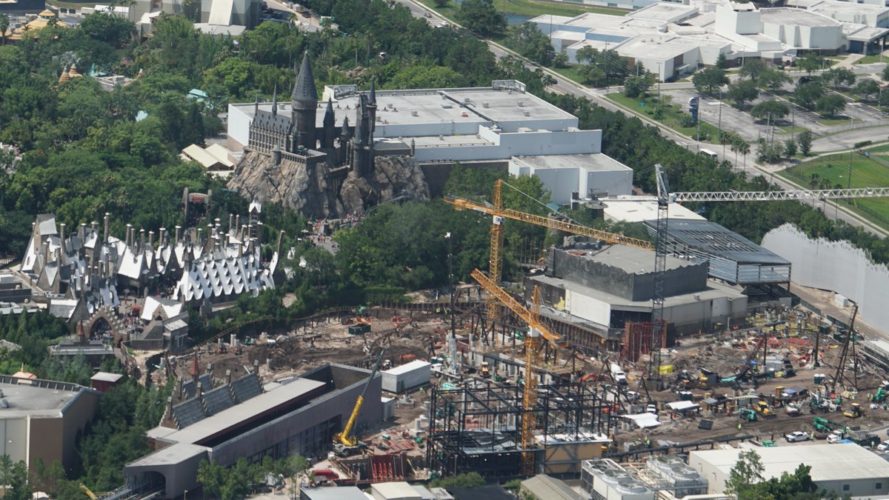 Based on several large drop tracks and other types of track, Attractions Magazine has come up with two theories about the path of the new roller coaster. Both theories are mapped out below; one of the theories includes dropping backward for a portion of the ride. And rumors said this ride would be kid and family friendly… ha!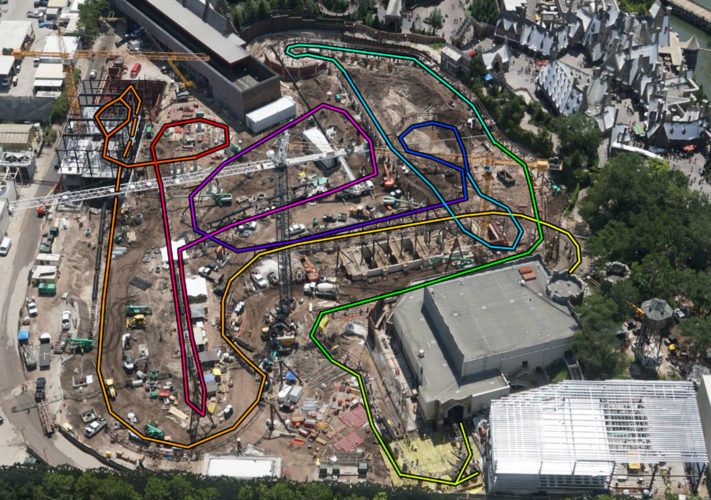 Attractions Magazine explains how to read its map of potential coaster tracks:
Whichever way you believe the ride may go, this is our best guess at the exact layout of the track. The ride could, as this theory proposes, go green-blue-purple first. This would make the large rumored animatronic first and the straight-away [sic] last. Or it could go yellow-orange-red first. This would make the straight-away [sic] the first major ride element outside the show building, and it would mean the ride ends with a few hills next to Hogsmeade, before a turn around the show building.
To read detailed theories of the new Wizarding World roller coaster's path design, head on over to Attractions Magazine. As new photos of and updates on this thrilling new ride emerge – both official and unofficial – we will be the first to bring you the news! As we eagerly await any official word from Universal Orlando Resort, what are your hopes and dreams for this highly anticipated Harry Potter coaster?