Experience the Dark Arts this Fall at Warner Bros. Studio Tour London!
Do you have a Bellatrix costume you'd love to take for a spin? A superior vanishing technique for your nose to go with your Voldemort robes? Will you be in London on the sixth or seventh of October?
You'll want to get a ticket to the Dark Arts costume evenings at Warner Bros. Studio Tour London – The Making of Harry Potter.
Fans can come dressed as their favorite Harry Potter witch, wizard, Muggle or even creature and enjoy unique photo opportunities and giveaways laid on specially to celebrate the costumes of the Dark Arts.
If you aren't into getting dressed up for those two nights in particular, the Dark Arts special feature will go on from September 28 to November 10. Costume evenings are only the two nights in October from 6:45 p.m. onward.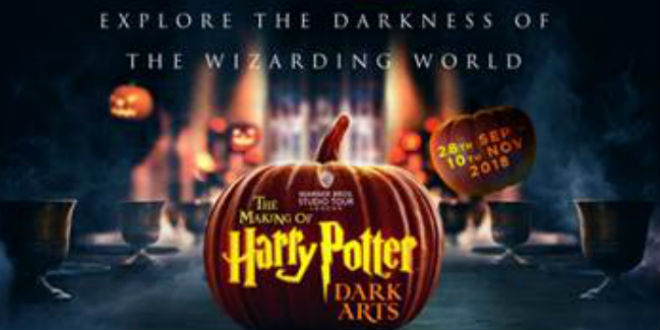 Other things you won't want to miss include over 100 floating pumpkins on the Great Hall set and a "Hallowe'en feast of red apples, pumpkins and cauldrons of lollipops." There's also a hands-on experience with goo of the three-headed dog drool, troll snot, and unicorn blood varieties. Perhaps even more exciting will be the chance to learn combative wand movements and taking part in a group duel against Death Eaters. Not only will you learn a helpful spell or two, but you'll also be able to see how the Battle of Hogwarts scene would have been created.
As icing on the cauldron cake, Diagon Alley itself will be in the Dark Arts spirit with a much creepier vibe while attendees explore its pathways.
Don't forget, you must buy a ticket in advance! All activities, including the costume evenings, are included in the ticket price. Tickets go on sale at 10:00 a.m. on August 14 – you can get them here.