Is Tewt the New Romione?
With the release date of Fantastic Beasts: The Crimes of Grindelwald drawing ever nearer, not to mention the exciting new information from the set, it is time to talk about one of our new favorite ships from the Potterverse: Tewt. Tewt, the adorably short ship name for Newt Scamander and Porpentina "Tina" Goldstein, is a romance that only just started to grow at the very end of Fantastic Beasts and Where to Find Them. Like skipping to the last page of a book, we already know that the duo eventually gets married (and adopts three Kneazles!), but that doesn't mean there is nothing left to learn about the pair.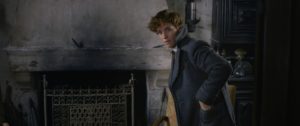 In a recent interview, Eddie Redmayne (Newt Scamander) hints at some of the issues faced by Newt and Tina in the upcoming movie. Redmayne states that "through various miscommunications, there's been a misunderstanding" between Newt and Tina and claims that there is an "inability to communicate what they really feel." Remind you of another Potter ship? This new duo seems to be echoing the Romione ship, the coupling of Hermione Granger and Ron Weasley. Don't believe me? Keep reading to understand why!
For starters, both couples take a bit of time to express their feelings. In Hermione and Ron's case, they do not truly admit their feelings for each other until Book 7, and even then, it is an awkward and slow realization on both of their parts. As for Newt and Tina, we do not yet know when they get together, but it can be assumed that it will not be until the end of the upcoming movie at the earliest. While there is a hint of romance in the ending scenes of Fantastic Beasts and Where to Find Them, I hesitate to call it a declaration of love or the beginning of a relationship. Instead, this mirrors Harry Potter and the Order of the Phoenix and Harry Potter and the Half-Blood Prince where everyone else is aware of the romantic interest quietly growing beneath the surface, but both parties deny it.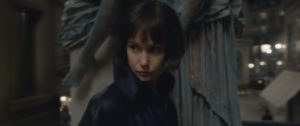 In his interview, Redmayne also hinted that his new secretary, Bunty, may have a bit of a crush on him. Now, I don't know about you, but this is reminding me of Lavender Brown and Ron. True, there is no indication of a love triangle and Redmayne called Bunty "a fan" with "only a scene or two in the film." This would suggest that there is no real relationship between her and Newt, but it can still lend to tension between Newt and Tina. Furthermore, there is the looming question of Leta Lestrange. Who is she? How does she fit into Newt's life? In Fantastic Beasts and Where to Find Them, Queenie suggests that she is certainly important to Newt, for better or for worse. In Hermione and Ron's case, though, Ron did in fact date another girl, although he and Hermione were not a couple at the time. Nevertheless, it certainly stirred up drama as Hermione grew jealous and Ron became angry.
Another eerily similar aspect of the two relationships is the fact that both couples are tested by separation. More specifically, Ron leaves the group after a tense fight over Horcruxes in Harry Potter and the Deathly Hallows. He leaves the trio at a rather crucial time, and when he comes back, Hermione berates him for his actions and refuses to speak to him for days. While we do not currently know the full plot of Crimes of Grindelwald, Redmayne hints that Newt is over in England and desperately working to get back to Tina in America. However, a series of events keeps him from fulfilling his goal – at least for a bit.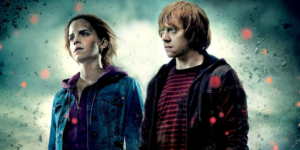 Finally, and perhaps most obviously, their romance develops against the backdrop of a famously powerful wizard growing in power and tyranny, not to mention Dumbledore always seems to pop up at rather important events in one way or another. It was during their search for Voldemort's Horcruxes (a search Dumbledore sent them on) that Hermione and Ron finally became an item. Decades earlier, we know that Newt is running some sort of investigation or quest for Dumbledore. Perhaps these are the aforementioned events that prevent Newt from returning? Now, I'm not saying he has anything to do with either relationship. I'm just noting that that sneaky man is always in the right place at the right time!
What do you think? Do you think Tewt is the new Romione or is it its own, new relationship? And do you trust Dumbledore in all of this? Let us know your opinions below and don't forget to keep checking back here as we get more information and theories about Crimes of Grindelwald!