Book Recommendations for Hermione Granger
She's the only person who has read Hogwarts: A History. Her idea of fun is breaking into the Restricted Section of the library. She carried books in her bag while hunting for Horcruxes. No one reads as much as Hermione Granger, but there must be a few books she hasn't heard of yet. Hermione has spent so much time in the wizarding world that she hasn't had time to read these books by Muggle authors. We've come up with a list of the six books Hermione would most enjoy, and you should check them out as well!
1. Far from the Madding Crowd by Thomas Hardy
Something tells us that Hermione would enjoy reading classic literature, and this story would certainly be worth her time. There's a fiery female protagonist, Bathsheba Everdene, who inherits a farm and basically is the most underrated heroine. She's relatable and she makes mistakes, but she tries to survive through it all. There's a familiar will-they-won't-they relationship with her best guy friend, Gabriel Oak, who is such a lovable character as well. With thrilling scenes, questions about love and selfishness, and witty dialogue, this book is a perfect match for Hermione!
2. The Guernsey Literary and Potato Peel Pie Society by Mary Ann Shaffer and Annie Barrows
This novel is filled with eccentric characters and adventurous tales. I can picture Hermione curling up by the fire in the Gryffindor common room and reading this book! It's the story of an English writer named Juliet who exchanges correspondence with book club members on an island off the coast of Normandy. The format of the book is unusual since it's a series of letters between multiple characters. Yet the personal stories of the characters are rich and emotional and you fall in love with them. You become so invested in the ending! Everything in the story is about how important books are. This novel should immediately be added to Hermione's book list!
3. Mansfield Park by Jane Austen
One of Jane Austen's less-famous works, Mansfield Park is just as impressive as any of her other novels. We had to include at least one Austen story on the list since she created some of the best female characters in all of literature! In Mansfield Park, the heroine is Fanny Price. She's bookish, serious, and determined to become a writer.
Out of all of Austen's characters, Fanny reminds me the most of Hermione. Like Fanny, Hermione is introverted and fiercely loyal. But most of all, Fanny and Hermione both have tough outer shells. It's challenging for Fanny to make friends since she has been teased about her family. Fanny doesn't like to break the rules and she can be intimidating to those around her. I feel that Hermione would see a lot of herself in Fanny and at the same time, enjoy the story of a clever woman who fought for her happiness.
4. Jonathan Strange and Mr. Norrell by Susanna Clarke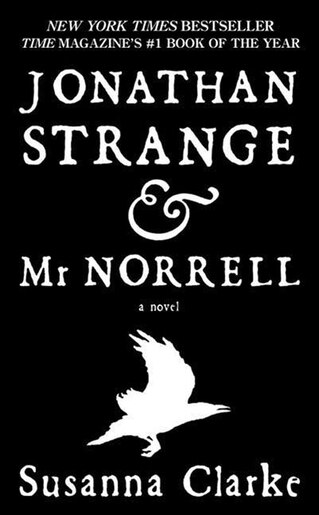 The two reasons that Hermione would enjoy this book are simple. First, this book is heavy, it's humongous, and Hermione loves to carry big, important books around. Secondly, the book is about magic and wizards. It's a complex plot with surprising twists and turns. Politics, history, and mystery blend together in a truly unique story. Basically, this is a book that Hermione could read, enjoy, and then overanalyze!
5. The Eyre Affair by Jasper Fforde
This is a must-read for book lovers. The main character, Thursday Next, can transport herself into a book and then interact with the characters! The plot is intricate, humorous, and widely entertaining. There are so many references to classic literature and books we've all read. Some of the famous book characters that we meet throughout Thursday's journey are the Cheshire Cat, Mr. Rochester, and Miss Havisham, to name a few. The best part is that it's a series that Hermione can read nonstop!
6. Wonder Woman: Warbringer by Leigh Bardugo
This fairly recent publication is all about female empowerment and telling an alternate story of Wonder Woman. We get to see the world from Diana's perspective, a.k.a. Wonder Woman, and she feels like a real person! The story is multi-layered and the dialogue is fast-paced and exciting. When I read this book, I couldn't put it down! You want to be Diana's best friend by the end of the book. If Hermione isn't already a fan of Wonder Woman, she will be after reading this story!