Wands Ready: Nine Giant Wands Soon to Illuminate London
Leading up to the release of Fantastic Beasts: The Crimes of Grindelwald, Warner Bros. Pictures is sponsoring a brilliant new art exhibit to be installed outside of St. Paul's Cathedral in London in order to help raise awareness for Lumos. The charity organization, started by J.K. Rowling, is dedicated to ending the institutionalization of children around the world and returning those with families to their homes.
The centerpiece of the display, titled Fantastic Beasts: Wizarding World Wands Supporting Lumos, will consist of nine 15-foot-tall wand sculptures modeled after those of popular Harry Potter and Fantastic Beasts characters. The wands will illuminate the walkway on Peter's Hill between Millennium Bridge and St. Paul's Cathedral every night at 6:45 p.m. from October 18 to November 12. The image below shows a computer rendering of the proposed exhibit.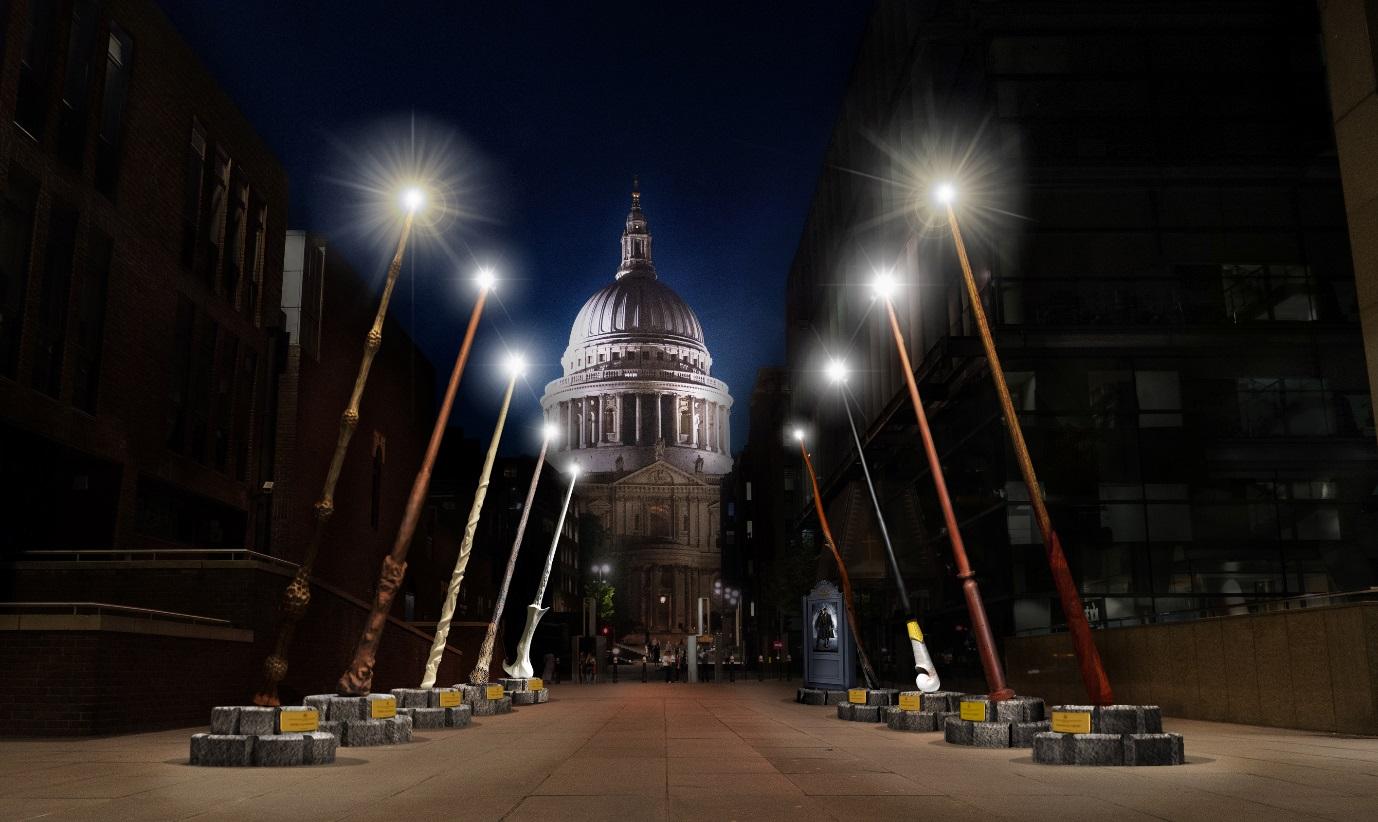 Josh Berger, President and Managing Director of Warner Bros. Entertainment UK, Eire & Spain and President, Harry Potter Global Franchise Development, discussed the partnership with Lumos and the reason for the London location of the art installment.
We are thrilled to partner with Lumos on this landmark installation, which is sure to delight fans and the tens of thousands of commuters and tourists passing through Peter's Hill each day.

London has played a huge role in the on-screen legacy of the [w]izarding [w]orld, from King's Cross [s]tation to Millennium Bridge, not to mention the nearby Warner Bros. Studios Leavesden – which has housed countless iconic sets across all ten films and nearly two decades – providing a major boost to the UK film industry.

Fantastic Beasts: Wizarding World Wands [S]upporting Lumos is emblematic of this unique relationship, celebrating the magic of Harry Potter and Fantastic Beasts here in London while raising awareness for the vital work being done by Lumos on behalf of some of the world's most vulnerable children.
As well as raising awareness for Lumos, the installation is part of London's City Arts Initiative, which aims to expand public art. It will also help kick off a series of Wizarding Wednesday events leading up to the release of Crimes of Grindelwald. Each Wednesday, a new exciting fan event will take place, including wand training and a live performance of the Harry Potter and Fantastic Beasts film scores by a military marching band.
Check out the video below or visit http://www.fantasticbeasts.co.uk/wandsready/ for more information.