"It Truly Has Been a Dream!": LEGO Hogwarts Designer Justin Ramsden Discusses Creating the Castle
We were all amazed when LEGO released the new Hogwarts Castle, a spectacular 6,020-piece set. The set includes minifigures of the four Hogwarts founders, as well as 27 microfigures. It also comes with Hagrid's hut and the Whomping Willow. In short, the set is incredible.
MuggleNet had the chance to talk with Justin Ramsden, a Ravenclaw and the designer of the Hogwarts Castle set, and ask him some questions about creating it, how he got into LEGO design, and what he loves about Harry Potter.
Justin has always been a LEGO fan, and he says he "always wanted to influence, inspire, and excite others" with his work. He first realized he could get a job designing LEGO sets in 2004, when he visited the LEGO Group's Danish headquarters. Justin studied Design at Goldsmiths, University of London and designed, built, and installed LEGO models in LEGOLAND parks around the world before becoming a LEGO model designer.
As for the Hogwarts Castle, Justin said, "It truly has been a dream to construct this iconic castle in LEGO form!" The castle is created in microscale, meaning the models are constructed smaller than the standard minifigure scale. Justin said the most difficult part of designing the castle was converting it into microscale. He worked with a team of LEGO graphic designers, headed by Crystal Fontan, who brought in "an additional layer of magic and storytelling through their amazing illustrations and stickers."
Some fans were disappointed when they realized the castle would be microscale and not minifigure scale, but according to Justin, that was always the plan.
The original sketch model Joel Baker (LEGO Concept Designer) designed was at this size and everyone ultimately fell in love with the initial creation. It's a new scale that we've never done before for a LEGO Hogwarts Castle, thus allowing a new building experience for the fans and a depiction of this stunning location.
Plus, Justin pointed out, LEGO Harry Potter minifigure scale sets already exist, so LEGO lovers can create their own larger castle if they'd like.
Besides the microscale challenge, Justin said the most difficult part of the design was capturing the iconic Hogwarts silhouette, as well as the construction of the main tower. Justin couldn't figure out how to design the tower until he collaborated with fellow designers Mike Psiaki and Carl Merriam, who suggested a recent building technique they'd developed for a LEGO space rocket model. The technique worked and the final result is stunning!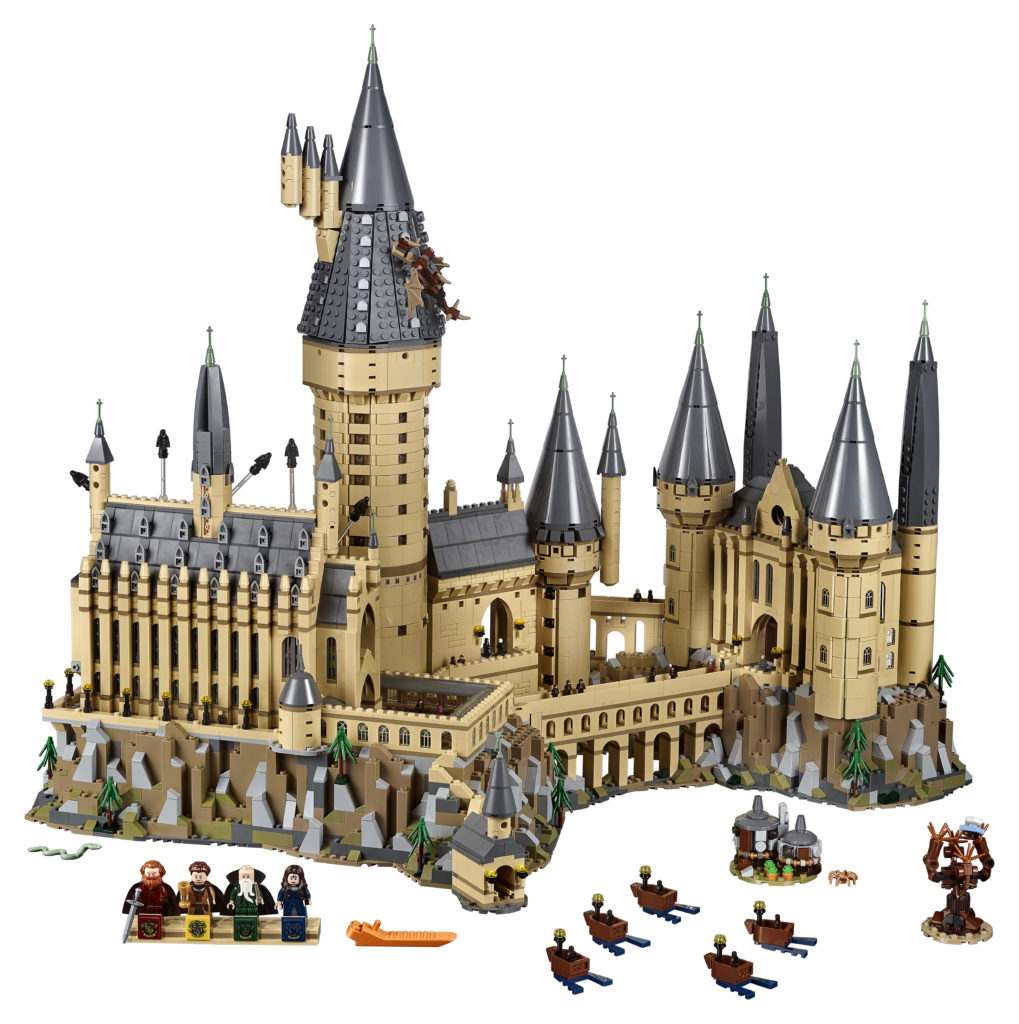 We asked Justin which Harry Potter character he loved creating for, and his answer might surprise you.
I really enjoyed designing for Professor Dolores Umbridge. The pink LEGO bricks acted as a breather from a sea of tan and dark grey in the model, but also, it was great trying to figure out how to capture the important icons of her room such as the cat plates, [the] chandelier, and her desk at this microscale.
Though Justin's favorite film is Harry Potter and the Goblet of Fire, he says he's excited to see Fantastic Beasts: The Crimes of Grindelwald since we'll be returning to Hogwarts.
While you wait for the film's release, you can spend some time assembling the incredible Hogwarts Castle set, available on LEGO's website here. It was such a joy to speak with Justin Ramsden, and you can check out the entire interview below.