Universal Orlando Resort Announces Hagrid's Magical Creatures Motorbike Adventure
Universal Orlando Resort has announced the name of its new Potter attraction!
After many months of speculation by fans, Universal Orlando Resort announced today that the coaster will be named Hagrid's Magical Creatures Motorbike Adventure, confirming many theories that have developed around the ride's construction. The opening date of the attraction was also announced as June 13, 2019.
JUST ANNOUNCED: Take flight on an all-new thrilling roller coaster ride, coming to #WizardingWorldOrlando on June 13, 2019.

Sign up to be among the first to know about new details at https://t.co/M9SiDZCX2S. pic.twitter.com/k2kppYXTMt

— Universal Orlando Resort (@UniversalORL) February 21, 2019
According to Universal Orlando Resort, the ride will see fans embark on a highly themed adventure with Hagrid in which they will come across "some of the wizarding world's rarest magical creatures."  Similar to a previous promotional image, today's announcement shows the Forbidden Forest and a mischievous Cornish pixie, as well as revealing artwork depicting the ride cars, which are confirmed to be motorbikes and sidecars.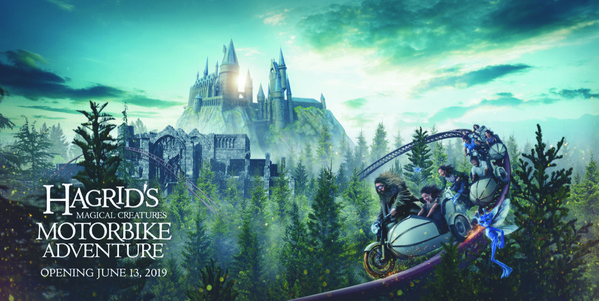 Further information about the attraction will be revealed in March, and we can't wait to find out more!