Rupert Grint Is Coming to Emerald City Comic Con!
After such amazing experiences at previous Emerald City Comic Cons of the past few years, we must admit, we weren't sure how convention organizers intended to go above and beyond for attendees in 2019.
Beyond the fact that ECCC is famous for bringing the Funko booth to Funko collectors and fans every year, allowing a fair lottery system to equitably spread the Funko Pop! love to those dying to get into that booth and snag a convention exclusive, ECCC has potentially solved some of the foot traffic problems of years past. Rather than housing every activity, photo and autograph opportunity, and celebrity, literary, or artist in the same place, the convention overseers have spread the love to three different locations when the 2019 convention kicks off in Seattle on Thursday, March 14 and runs through Sunday, March 17.
Artist Alley and literary guest signings appear to be remaining in the same area in Washington State Convention Center, but those main celebrity panels, as well as photo and autograph opportunities, are now housed at the Hyatt Regency, nearly three blocks away from the actual convention. Picking up your tickets to the convention takes place at the new will call window at the Grand Hyatt, which also happens to be the location of some other panels and podcasts that will be broadcasting live from the convention all weekend long.
MuggleNet's reasons for covering the convention are Potter related since Jason Isaacs will be in attendance Thursday through Saturday for photo ops and autographs, as well as his spotlight panel on Saturday afternoon. While we are definitely looking forward to hearing from Isaacs (especially any scrap of information he is willing to give us on the second season of his Netflix series, The OA), we're pretty much losing our minds over the attendance of a special Potter guest making one of his very first United States convention appearances.
We've got our Weasley sweaters packed in our suitcases for the talented and quirky Rupert Grint, who will be in attendance Friday and Saturday, with a spotlight panel on Friday afternoon!
Make sure to follow our social media accounts as we cover both Potter-related panels and release all those fun tidbits only Isaacs and Grint can reveal to us from their time on the Potter sets.
Other guests of this popular convention will include actors from Stranger Things, Boy Meets World, Wynonna Earp, Game of Thrones, and The Vampire Diaries, just to name a few. This is one convention you don't want to miss if you are in the area this weekend.
We've also got our eyes on the Funko Pop! prize, with planned trips to the Funko booth for the ECCC exclusives, especially after last year's limited-edition green chrome Batman was a huge hit with collectors. We were a tad bit disappointed last year when there were no new Potter Pop! Items, but this year, we get an amazing limited-edition ECCC-exclusive pack featuring Ginny, Fred, and George at the Quidditch World Cup from Harry Potter and the Goblet of Fire! You know we're grabbing a set, for sure!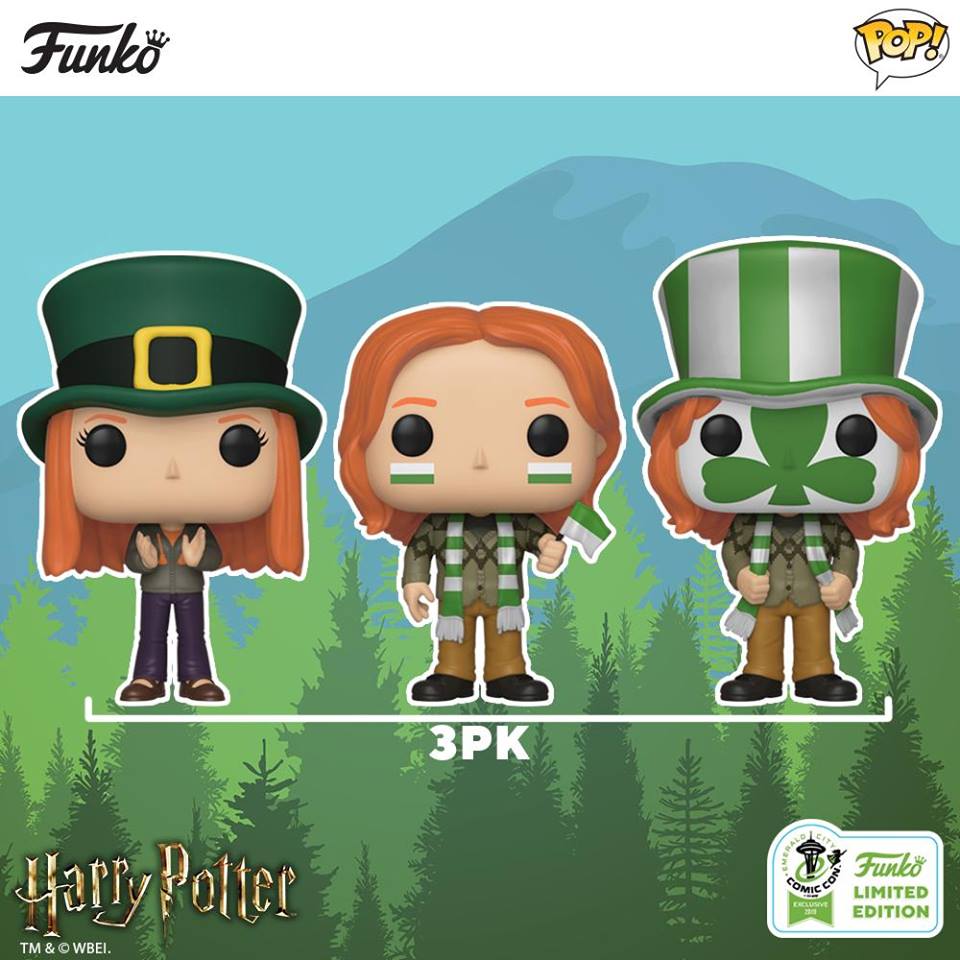 You can check out all of the ECCC Funko exclusives here, and make sure to follow Funko's podcast, Funko Funkast, to hear a special episode recorded live from ECCC on Friday night from 5:15 to 6:45 p.m. – feel free to join us at TCC L3-R3 if you're at the convention!
SyFy Wire will also be live-streaming from the convention all weekend long, so you can catch its stream and the many talented artists and guests as they enjoy their time in the Pacific Northwest at ECCC 2019!
If you haven't purchased your tickets yet, you might be out of luck, since the only tickets currently available are for Thursday's activities or through official badges resold through ECCC's partnership with Lyte. Not to worry. If you can't make it, we're going to cover all the fun to be had and we'll make sure to bring you all the details of our adventures in Seattle when we wrap up our coverage of ECCC 2019!