Illustrated Edition of "Quidditch Through the Ages" Is Coming in 2020
This fall, readers will be able to purchase the illustrated edition of Harry Potter and the Goblet of Fire, which includes Jim Kay's gorgeous color illustrations. Now, in the fall of 2020, we can expect another illustrated novel – Quidditch Through the Ages, which was first published in 2001.
The Hogwarts Library text will be illustrated by Emily Gravett, who will be "using a deft combination of her signature pencil style and ingenious digital techniques."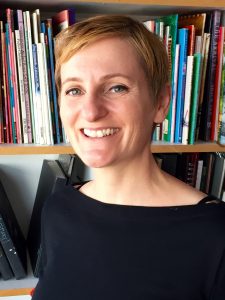 Gravett is a best-selling and award-winning author/illustrator and she is thrilled to be working on this book.
I never in my wildest dreams imagined that I would ever be asked to illustrate anything from the 'Potter' world, but from the minute I sat down at my desk and started jotting down ideas I realised I may have landed myself my dream job. I am waking up each day excited to get to work.
Mandy Archer of Bloomsbury said Gravett was their first choice when they began to consider who would work on Quidditch Through the Ages.
She is a true original. Emily has the courage to take form and content into [sic] exciting and unexpected directions, infusing her work with an infectious sense of playfulness and fun. We cannot wait to see where she is going to take this brand[-]new illustrated edition.
Bloomsbury also released some initial artwork. Seen below is a Holyhead Harpies player, the team's emblem, and a player's trading card.
The hardcover edition of the illustrated Quidditch Through the Ages will be published in October 2020, and its proceeds will benefit Lumos and Comic Relief. We can't wait to see the exciting new illustrations from Gravett!