Unique J.K. Rowling Autograph and Doodle Up for Auction
Potter collectors in the United Kingdom have a chance to get their hands on a unique J.K. Rowling signature and doodle when a large lot of charity autographs goes up for auction tomorrow.
According to the Derby Telegraph, the autographs were originally part of a collection of celebrity doodles curated by Karen Gammon as part of a Millennium Gallery art exhibition. The collection sought to raise money for charities nominated by the celebrities taking part. A button was sent to each participant, with the instruction to design a piece of art around the button in addition to their signature.
Rowling's magical Potter-inspired doodle shows three figures on broomsticks throwing a Quaffle around the button, which has been turned into the Golden Snitch with the addition of two golden wings.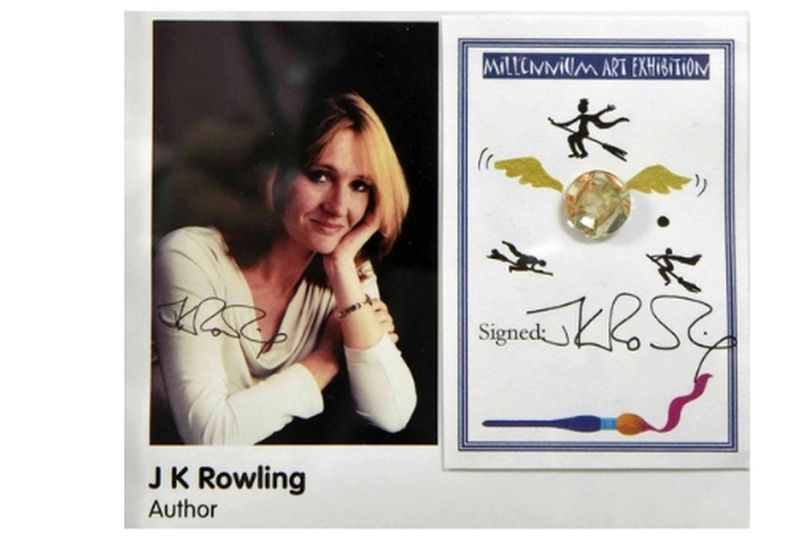 The auction is being held by Hansons Auctioneers and takes place on Thursday, April 11 in Staffordshire, UK. Those thinking of bidding will need to scrape their Galleons together since the entire collection is estimated to sell for between £3,000 and £5,000 (around $3,900 to $6,500).
The cute doodle is not the only J.K. Rowling autograph to make an appearance in the media this week. A signed edition of Harry Potter and the Order of the Phoenix made its way onto the PBS show Antiques Roadshow. The appraiser valuing the signed edition estimated that complete with dust jacket, it would fetch around $2,500 at auction.
You could say our Tulsa event was quite…magical ✨⚡️ #antiquesroadshow @jk_rowling pic.twitter.com/s8KkTV6Isn

— Antiques Roadshow (@RoadshowPBS) April 9, 2019
Would you like to add either of these amazing items to your Potter collection? Make sure to check back in with MuggleNet to see how much the unique J.K. Rowling doodle sells for!