The Harry Potter Alliance Launches Happy Birthday Harry 5K Virtual Race
With Harry Potter's July 31 birthday fast approaching, the Harry Potter Alliance has just announced its latest magical fundraising event, it's fifth virtual race.
The Happy Birthday Harry 5K will bring fans from all over the world together for a 5K virtual race that can be run, walked, or wheeled in each participant's own neighborhood.
For this race, the Harry Potter Alliance is partnering with Potterhead Running Club to distribute race medals faster than ever. Participants will receive a medal and can buy an exclusive event T-shirt styled to pay homage to Harry's iconic 11th birthday cake.
As always, the Harry Potter Alliance advocates fun for a cause. Proceeds from this virtual race will help fund the organization's leadership development programs and fall campaign activities. In the past, virtual races have raised over $200,000 for the Harry Potter Alliance, supporting campaigns like Without Hermione, a campaign for global girls' education, Wizard Rock the Vote, a voter registration and turnout campaign, and Odds in Our Favor, a campaign to tackle economic equality.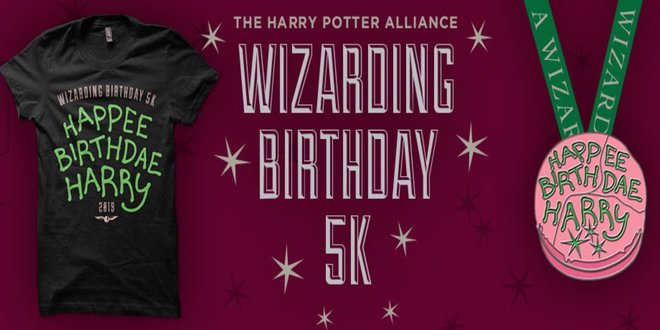 Registration for the event is open from June 18 until the event day on July 31, with those who register before July 22 set to receive their medals on or before July 31. Participants can complete their race anywhere, any time, although July 31 participants earn an extra round of magical applause. Participants are welcome to divide the 5K distance into smaller portions and are encouraged to share their virtual race experience on social media using the hashtag #HappyBirthdayHarry5K.
Race registration costs $25, or $28 for those outside of the United States. This includes an exclusive "Happee Birthdae Harry" medal. Event T-shirts are $27. Additional medals are available for $18 and additional T-shirts are available for $25.
Wizards, assemble: The Harry Potter Alliance is signing up participants now. There's no better way to celebrate the birth of the Boy Who Lived.