"Potter" Magic Has Cast a Spell on Theme Park Attendance
As rave reviews for Hagrid's Magical Creatures Motorbike Adventure continue to roll in, the success of the new coaster isn't the only thing that Universal will be celebrating. A recent report into theme park attendance figures has revealed a magical Potter effect for Universal theme park visitor numbers over the past ten years.
According to Forbes, Universal theme parks in Florida, Hollywood, and Japan have seen dramatic increases in attendance since the addition of the Wizarding World of Harry Potter to each location.
The study by leisure consultancy firm AECOM and the Themed Entertainment Association shows that over the past decade, attendance at Universal Studios Japan, Universal's Islands of Adventure, Universal Studios Florida, and Universal Studios Hollywood has increased by an average of 32.1%. The growth in attendance can be seen year on year in the graph below.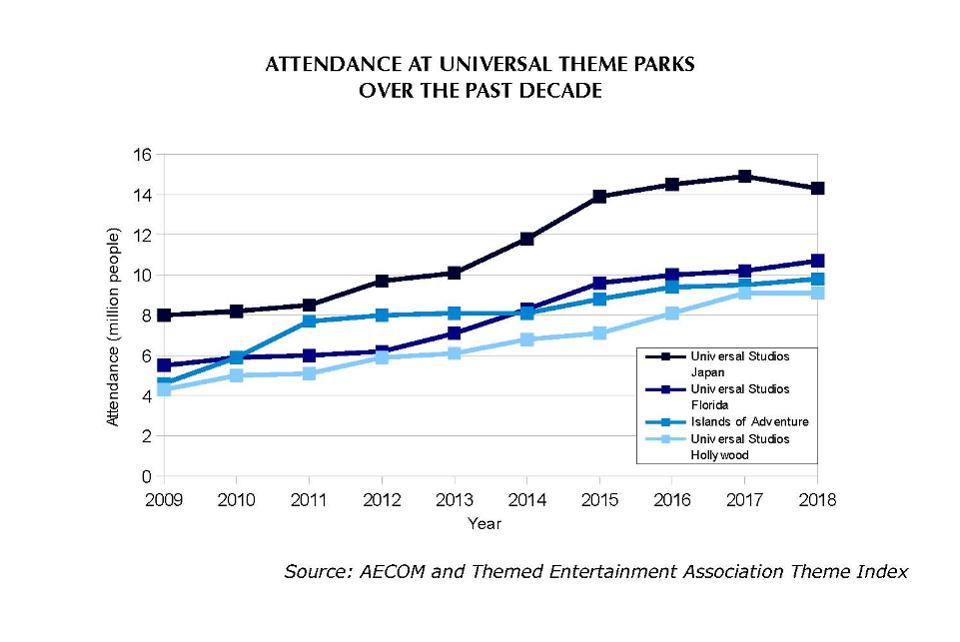 In 2010, Universal's Islands of Adventure in Orlando, Florida, was the first theme park to add a Potter expansion. As the graph shows, the addition of the Wizarding World of Harry Potter – Hogsmeade caused a spike in attendance during the first year of opening, from 6 million to nearly 8 million visitors. Attendance at Islands of Adventure has increased significantly over the decade. As Forbes reports, in 2018, visitor numbers were at 9.8 million, which is an incredible increase of 64.5% from 2009.
There is sure to be another increase in attendance for 2019, now that Dragon Challenge's replacement, Hagrid's Magical Creatures Motorbike Adventure, has opened. However, we will have to wait until the 2020 report to see exactly how much of an effect the new ride has had on footfall in the park.
On June 18, 2010, #WizardingWorldOrlando – Hogsmeade opened at Islands of Adventure. Relive that moment… pic.twitter.com/sqw2WWYt7s

— Universal Orlando Resort (@UniversalORL) June 18, 2017
2014 saw the opening of two more Wizarding World of Harry Potter locations, one at Universal Studios Japan and a second at Universal Orlando Resort, this time at Universal Studios. Since the opening of the Wizarding World of Harry Potter – Diagon Alley in Florida, attendance has been steadily increasing. In 2018, the number of visitors to the theme park totaled 10.7 million, an increase of 29.6% from 2014. Despite this large increase in attendance, fellow 2014 park addition Universal Studios Japan has seen an even bigger surge in visitors.
Universal Studios Japan has seen an incredible boost in attendance since the opening of the Wizarding World of Harry Potter, with Forbes noting that the park has had "the greatest increase in visitor numbers of any theme park worldwide over the past ten years."  In 2009, Universal Studios Japan recorded 8 million visitors, making it the world's ninth most visited park. In 2018, it rose to the fifth-place spot, with a phenomenal 14.3 million visitors experiencing the magic of Hogsmeade.
Finally, despite being the most recent location to welcome Potter, Universal Studios Hollywood appears to be the theme park that has benefited most from a Potter presence.
Opened in 2016, the Wizarding World of Harry Potter – Hollywood is reported to have caused the biggest attendance boost of not only Universal theme parks but also the"top 25 theme parks of the decade," according to Forbes. Although the graph at the beginning of this article shows gradual growth for Universal Studios Hollywood, in terms of percentage increases, attendance rose over the decade by an impressive 112.2% to a total 9.1 million visitors in 2018.
Me & my 'students' backstage at the grand opening of @WizardingWorldUniversal @UniStudios. #SchoolReunion pic.twitter.com/AM360XI604

— Warwick Davis (@WarwickADavis) April 7, 2016
There is no doubt about the magic that Harry Potter has cast on Universal theme park attendance over the past decade. And it seems certain that numbers are only going to increase with the addition of new rides and the expansion of the Wizarding World franchise. Additionally, with Universal Studios Beijing in development at an estimated cost of $6.5 billion (with a rumored "sprawling Potter land"), there is a potential for even more fans to experience the magic of the Potter parks.
Have you visited the Wizarding World of Harry Potter at one of the Universal theme parks?