Review: Puppet Sorting at the Center for Puppetry Arts
Over this past weekend, on July 13, the Center for Puppetry Arts celebrated Harry Potter's birthday early by hosting Puppets and Pints at the Worlds of Puppetry Museum, where they Sorted their very own puppets into Badgers, Lions, Ravens, and Snakes, proxies for the Hogwarts Houses. The Worlds of Puppetry Museum, located in Atlanta, Georgia, is home to iconic Jim Henson characters such as Kermit the Frog.
It was a magical evening as the museum's atrium was transformed into the Great Hall, with the four tables adorned with candles and tokens in colors representing each of the four Houses.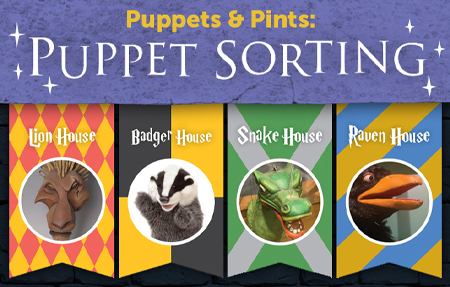 The puppets were Sorted democratically, with attendees depositing the aforementioned tokens into envelopes to cast their votes. To assist attendees in making their decisions, each puppet's display contained a card that listed their likes, dislikes, occupation, characteristics, and personalities, as well as the films that they had been featured in.
After everyone had cast their votes, Jill Nash Malool, the museum director, who served as Headmistress for the evening, sat at a table featuring puppets of a badger, a lion, a raven, and a snake, along with Funko Pop! vinyl figures of Dumbledore and Hermione. Headmistress Malool read each puppet's name before a gruff-sounding Sorting Hat announced whether the puppet had been Sorted as a Badger, a Lion, a Raven, or a Snake. Occasionally, the Sorting Hat exhibited disbelief as though surprised by the results of the attendees' votes for certain puppets.
Red Fraggle of Fraggle Rock, who was described as being stubborn, athletic, and competitive, was Sorted into Lion. The Sorting Hat was particularly confused at this Sorting since it seemed to believe that she should have ended up in Snake. Dr. Teeth, one of the resident musicians of The Muppet Show and The Muppet Movie, was welcomed into Raven, with his likes consisting of playing music, singing, and performing. Kermit the Frog, who was described as being loyal, a natural leader, and committed, was Sorted into Lion. Meanwhile, Robin the Frog, who was listed as being sweet, loving, kind, and innocent, was Sorted into Badger. Miss Piggy, described as being overbearing and self-centered, was Sorted into Snake. Rowlf the Dog, who was described as being loyal and calm and disliked when things went wrong, was Sorted into Badger.
Moving on to Sesame Street, Bert was welcomed into Raven because he was dependable, organized, and fastidious. Ernie, who shares Arthur Weasley's love of rubber ducks, on the other hand, was Sorted into Badger and was described as a cheerful troublemaker with a short attention span. Grover, whose occupation was marked as "superhero" (a nod to Super Grover), and was described as being imaginative and adventurous, was Sorted into Lion. Big Bird was Sorted into Badger, and his qualities included being curious, friendly, sweet, and kind. Big Bird's only dislike was not liking those who do not share. Oscar the Grouch was Sorted into Snake, with his only like being trash, his dislikes being everything else, and his only quality being grouchy. Finally, Scar from The Lion King, whose only qualities were being conniving and manipulative, was Sorted into Snake.
There wasn't a Hatstall during the evening since all the puppets were welcomed into their respective Houses by popular demand. All the attendees were happy since every puppet from Big Bird to Scar and Red Fraggle was Sorted at the Center for Puppetry Arts. Not one of the attendees asked to have the votes recounted, although the Sorting Hat would have liked a revote on some of the decisions given some of the attributes of the puppets being Sorted. As always, the Sorting is final and we will wait to see which puppets gets Sorted where next year.