Hagrid's Magical Creatures Motorbike Adventure Is Making Waves at Universal Orlando Resort
Rubeus Hagrid has easily become one of the most beloved characters of the entire Harry Potter franchise. And what do you do with the most beloved characters of the Harry Potter franchise? You build a roller coaster for them, of course! At least that's what Elaine Hinds, executive producer for Universal Creative, thought.
We saw an opportunity to expand upon the Wizarding World. We began to look through the literature and all the brilliant characters, [and] we all had [a] favorite, and that was Hagrid.
According to Hinds, Hagrid's Magical Creatures Motorbike Adventure has replaced the Dragon Challenge roller coaster, which meant a lot of reconstruction to the ride. Some of the most important pieces were none other than the magical creatures Hagrid himself loves so much. It features Cornish pixies, centaurs, a Blast-Ended Skrewt, and Fluffy.
Along the track of the ride is a life-size replica of Hagrid, played by Robbie Coltrane. Riders will also be able to fly past Hagrid's hut, the Forbidden Forest, and the Black Lake. Every tree that was brought in to create the Forbidden Forest is real, lending some authenticity to the ride.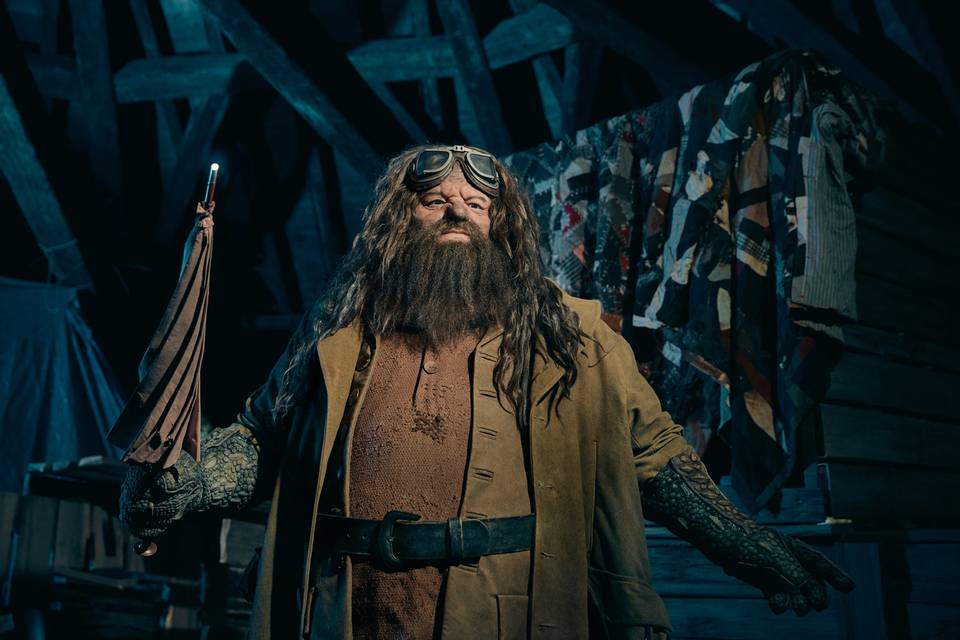 Just before its public opening, cast members from the Harry Potter movies were invited to take a test ride. Actors Tom Felton (Draco Malfoy), Warwick Davis (Professor Flitwick), Evanna Lynch (Luna Lovegood), Oliver Phelps (George Weasley), and James Phelps (Fred Weasley) were seen enjoying the fast-paced thrill ride.
The ride itself has a top speed of 50 mph and runs a distance of just under a mile. Fans have lined up for as long as ten hours to be able to experience it for themselves. Due to the overwhelming enthusiasm for the attraction, Universal had to get creative to make sure those who were waiting in line got their chance. The park decided to close the attraction before the rest of the rides to ensure everyone got a turn. Along with ten-hour wait times, the ride has experienced some above-average maintenance requirements. In order to keep it running smoothly and safely, the park uses the early closing time to ensure the appropriate amount of work is done on the coaster.
With such a high level of popularity, fans probably won't have to worry about the ride closing down or being replaced anytime soon. Still haven't got a chance to ride it yet? You can always read our comprehensive review instead.