Happee Birthdae Cake Popsicles
Got summat fer ya here – I mighta sat on it at some point, but it'll taste alright." (SS 47)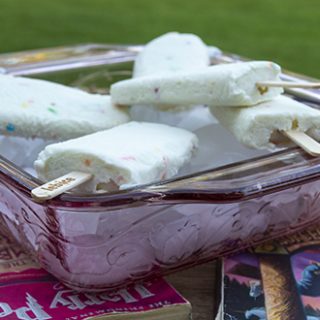 Happee Birthdae Cake Popsicles
Jennifer Fancher
Every summertime Harry Potter-themed birthday party needs to include these popsicles. They use a real Funfetti cake mix. We're not exactly sure that the cake Hagrid made for Harry's 11th birthday in the film was Funfetti, but we also have no evidence to the contrary. Wow your friends with these sweet and creamy treats!
Ingredients
Popsicles
1

cup

cake mix

Funfetti (about 1/2 box)

1

cup

milk

2

Tbsp.

whipped topping
Decorating
white chocolate

food coloring

red, green
Instructions
Popsicles
Whisk together cake mix and milk.

Fold in whipped topping.

Carefully spoon mixture into popsicle molds. Insert popsicle sticks.

Freeze for at least five hours before eating. For best results, freeze overnight.
Decorating
If desired, decorate frozen popsicles by dipping into melted white chocolate. Start by melting chocolate and dividing it into a tall, thin container for dipping and a smaller container (or piping bag) for drizzling.

In the larger container, mix in red food coloring, starting small until the desired pink is achieved.

In the smaller container, mix in green food coloring, starting small until the desired color is achieved.

Dip frozen popsicles in pink chocolate.

Drizzle green chocolate over popsicles.