These Two "Harry Potter" Events are Incredibly Unique and Perfect for Die-Hard Fans
In the aftermath of the success of the Harry Potter books, movies, spin-offs, and merchandise, the love for the narrative has never faltered in the hearts of fans. This has been proven time and time again. Thousands of Harry Potter-oriented activities have been created by fans, and some of them are unquestionably unique in their own ways.
Recently, I had the special opportunity to attend a Harry Potter-themed yoga class near my home in Charleston, South Carolina. The instructor, Erika Schmitt at Barefoot Yoga, is a fan of everything Harry Potter. She shows immense passion and love for the books, and it definitely shows in her classes. The studio is filled with Harry Potter paraphernalia that mixes perfectly with the ambiance of a standard yoga studio. Funko Pop! vinyl figurines line a window sill, and there is a large painted mandala on the wall with the inspirational quote from Albus Dumbledore "Happiness can be found, even in the darkest of times, if one only remembers to turn on the light." All the participants were even given homemade butterbeer! And let me just say that it was a very close, and very delicious, replica to the drink available for purchase at the Universal Studios theme parks. I spoke with Erika about her experience with Harry Potter and the classes.
They talk a lot, throughout the books, about light and love and the power of love. That's something that even [we] Muggles can access. It's something that through this journey of doing Harry Potter yoga that's been something that's come up in my life a lot, and I've noticed how powerful love can be. Also, I really like how there's this recurring theme of the phoenix throughout the story, and it represents Harry in a lot of ways. Because time and time again, these awful things happen to these characters, but every single time, Harry comes back and he comes back fighting. They also talk about how the phoenix has the power to carry a weight that's much heavier than them, and I think that really says a lot about the human spirit.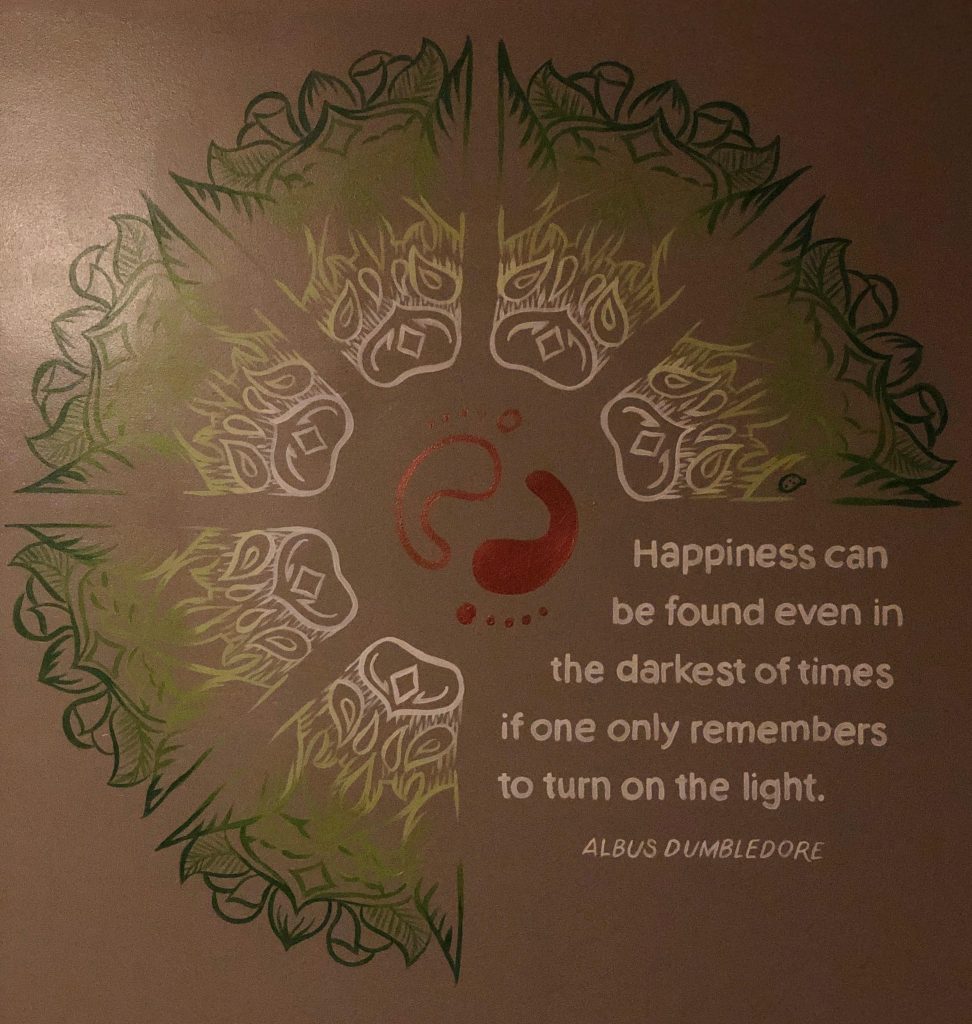 A second, possibly even more unique take on the world of Harry Potter is The Rocky Horror Potter Show. Yes, you heard me right, The Rocky Horror Potter Show! If anyone has ever been to a typical production of The Rocky Horror Picture Show, they know that cast members follow along in live-action as the movie plays on a screen behind them. However, this production features cast members dressed as mixes of characters from The Rocky Horror Picture Show and Harry Potter. Instead of the main characters of Rocky Horror, Janet and Brad, the heroes of The Rocky Horror Potter Show are Harry, Ron, and Hermione. When I spoke with a representative of the Terrace Theater, he said showgoers are always excited to see his cast members playing a wide range of characters.
We did a Disney theme a few months ago, and it was packed. We do a good job of integrating both films together. My cast has some great ideas for the Harry Potter show, and they are excited for it.
They have even incorporated Star Wars and The Wizard of Oz themes into their productions. This is one show that definitively proves that Harry Potter belongs anywhere in pop culture. Tickets are already on sale for the next showing at the Terrace Theater in Charleston, South Carolina, and of course, in the Rocky Horror spirit, the theater encourages audience members to dress up as their favorite characters from either movie.
Whether you prefer to simply read the books, perform a flying phoenix pose in yoga class, or attend a mix themed play, Harry Potter has made its mark in just about every aspect of life. Either way, these events are perfect for any fan willing to try something new.
I would like to extend a special thanks to Erika Schmitt, Barefoot Yoga, and the Terrace Theater.