"Cursed Child", Cosplayers, and Our 20th Anniversary: A 2019 NYCC Recap
As always, MuggleNet had a magical weekend at New York Comic Con! From Harry Potter and the Cursed Child to Percy Jackson to Marvel, we really covered all the fandoms this year. Here are some of our highlights:
We started off our con weekend on Thursday with the cast of Harry Potter and the Cursed Child, who showed us exclusive footage of the play and told us about the art of "cloakography." Later that afternoon, we heard from the cast of The Lightning Thief: The Percy Jackson Musical about their Broadway debut and the tricks of bringing magic and mythology to life while leaving room for the audience's imagination.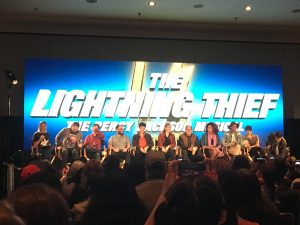 On Friday, writer Luke Lieberman, reporter Kat Rosenfield, and filmmaker Ryan Silbert discussed A Trick of Light and how the Alliances universe was built on the idea of playing with alter egos and people being consumed with virtual reality.
Friday night, MuggleNet staff and readers from throughout the world came to celebrate our 20th anniversary with a variety show filled with Potter Puppet Pals, charades, and nostalgic videos. Dan Fogler, who plays Jacob Kowalski in the Fantastic Beasts movies, made a surprise appearance as the judge of our Erumpent dance contest, and Andy Miller from the play Puffs crushed the competition at charades.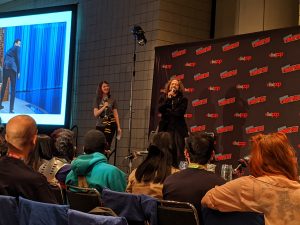 On Saturday afternoon, we saw Todd McFarlane, the creator of Spawn, get inducted into Guinness World Records for the longest-running creator-owned superhero comic book series. He impressed upon us the importance of a team effort in achieving this goal and encouraged us all to work hard for our dreams and volunteer for projects even when we don't think we're the best person for the job.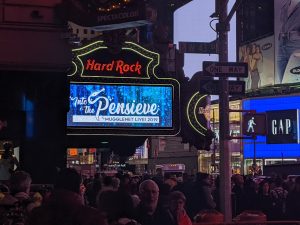 On Saturday night, MuggleNet hosted a party at the Hard Rock Cafe, where we danced away the night to music from 1999–2019 and drank themed drinks. See the photos below of amazing cosplayers from the party and throughout the weekend!
The show floor, as always, was a treasure trove of Harry Potter merchandise. From Loungefly's exclusive Honeydukes-themed bags and pins to plush Harry Potter characters from PopMinded by Hallmark, there were items to add to even the most extensive Harry Potter collection. We also heard from Insight Editions, which makes beautiful Harry Potter-themed pop-up books and mini books (for the full report, check out our NYCC highlight on the MuggleNet Instagram account!).
Were you at New York Comic Con this year? We would love to hear about your favorite part!