UPDATED: Expected Opening Year Revealed for Epic Universe at Universal Orlando Resort
UPDATE (January 24, 2020):
Universal has now confirmed the first of the lands to be included in the Epic Universe park: Super Nintendo World. Comcast executives spoke on a conference call:
Nintendo, based on our research, is the biggest potential driver in attendance you can have in terms of intellectual properties. It's up there with Harry Potter, and in some of our parks, Harry Potter drives incremental attendance of 2 million people.
—
Since the announcement of Universal Orlando Resort's newest theme park, there has been a lot of fan speculation but very little in the way of official information about what the park will contain and when it is expected to open.
Now, a potential opening year for Epic Universe has been revealed, thanks to information disclosed during a Comcast earnings call.
According to Orlando ParkStop, a representative from Comcast (the company that owns Universal) stated in a response to a question about the company's theme parks that Universal's Epic Universe will be opening in 2023:
We recently announced we're doing a fourth gate in Orlando in 2023, so we think the theme park business is a great business for us, and we're going to be making the investments to try to grow cash flow aggressively in the future.
That's just over three years away! This means that Universal's Epic Universe will open after the highly anticipated Universal Beijing Resort, which is set to open in 2021. It will also open two years after the scheduled release date for the third installment in the Fantastic Beasts series, which could mean three movies' worth of inspiration for any potential Fantastic Beasts-themed land in the new park.
Official concept art and previous reporting from Orlando ParkStop has definitely got us speculating about what could be included in a Fantastic Beasts land. We're thinking of anything and everything, from a journey inside Newt's suitcase to a Grindelwald's Thestral escape ride and even a magical creatures petting zoo (which is probably wishful thinking!).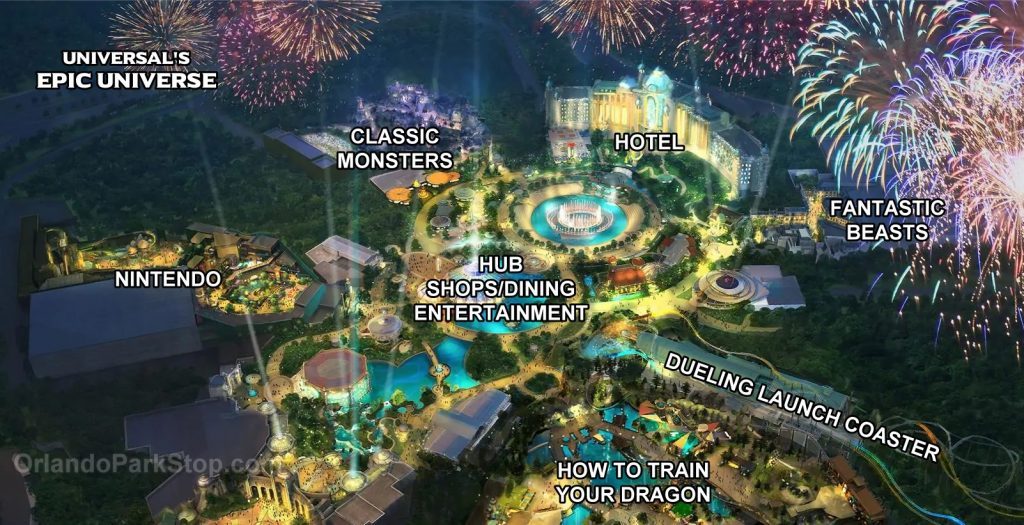 According to Orlando ParkStop, Universal's Epic Universe will be the largest expansion of the Orlando Resort since Universal's Islands of Adventure opened in 1999. As previously mentioned, there is no official word yet on which franchises will call Epic Universe their home, but in a project this big, we're hoping for some Wizarding World presence.
What do you think about Universal's Epic Universe? Is there anything you are hoping to find in the new theme park?