LEGO Wants You to Re-Create Your Favorite Scenes from "Harry Potter"
This year, LEGO released eight new Harry Potter-themed sets, including its first Advent calendar of the same theme. Now, LEGO is turning to its fans this season for their best creations. In a new campaign, LEGO asked fans to submit their best designs of a Harry Potter winter scene. A bundle of all eight sets and $300 worth of LEGO products will go to the winner of the contest!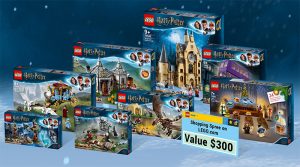 The grand-prize winner will receive the following prizes:
LEGO® Harry Potter™ 75957 The Knight Bus™
LEGO® Harry Potter™ 75948 Hogwarts™ Clock Tower
LEGO® Harry Potter™ 75947 Hagrid's Hut: Buckbeak's Rescue
LEGO® Harry Potter™ 75946 Hungarian Horntail Triwizard Challenge
LEGO® Harry Potter™ 75945 Expecto Patronum
LEGO® Harry Potter™ 75965 The Rise of Voldemort™
LEGO® Harry Potter™ 75958 Beauxbatons' Carriage: Arrival at Hogwarts
LEGO® Harry Potter™ 75964 Advent Calendar
$300 shopping spree on shop.LEGO.com
The contest guidelines were issued in a statement by LEGO.
We're looking for re[-]creations of iconic Harry Potter winter scenes, across any of the films. You may want to re[-]create [t]he Great Hall looking festive or maybe the cobbled streets of Hogsmeade with wreaths on the doors and snow covering the thatched roofs. Whatever your favourite winter scene is, we're looking forward to seeing your creations.
Specific rules and guidelines can be found on the LEGO IDEAS page of its website. The deadline for submissions is October 30 at 6:00 a.m. ET. Submissions are already pouring in, so grab your LEGO blocks and unlock your creative side!