Seven Wizarding Shops I Wish I Could Visit
It's Small Business Saturday here in the United States, a day on which millions shift their holiday shopping toward supporting local businesses. This tradition was started by American Express nearly a decade ago and has become a sort of antithesis to Black Friday. Having grudgingly worked as a seasonal employee for a large department store in college, these days I avoid Black Friday like Spattergroit. It's much more satisfying to patronize mom-and-pop shops where the friendly staff know my name like Tom the barman, who asked, "The usual, Hagrid?" (SS 68).
In thinking about holiday shopping this year, I found myself dreaming of stepping into Diagon Alley to buy goods for my friends, my family, and myself. While I've been fortunate to live out a version of this dream at The Wizarding World of Harry Potter in Orlando, the theme parks don't have it all; in addition to real shopping and dining locations like Weasleys' Wizard Wheezes and the Three Broomsticks, there are several small wizarding businesses I wish I could visit to spend some Galleons, Sickles, and Knuts.
7. Madam Puddifoot's Tea Shop


When embarking on a mission to get some holiday shopping done, I need fuel. A warm, energizing drink like tea or coffee works perfectly. Madam Puddifoot's might not have been Harry's exact cup of tea as a 14-year-old, but it sounds cozy and quaint enough to me. I bet Madam Puddifoot decorates for all holidays, and I can imagine the shop selling some sweet boutique gifts like soaps, candles, and crafts. The storefront exists at the theme parks, but it would be nice to be able to go inside for a treat.
6. Terror Tours
Searching for an adventure this holiday season? As advertised in the Daily Prophet, Terror Tours is a wizarding travel agency located at 59 Diagon Alley. Some travelers prefer vacations with historical value, maybe even at a haunted venue. Through Terror Tours, you can rent a room in a vampire's castle, embark on a trek along an Inferi-lined trail, or set sail on a Bermuda Triangle cruise. It would be fun to visit this location to browse maps, postcards, and brochures for thrilling vacation destinations.
5. Noltie's Botanical Novelties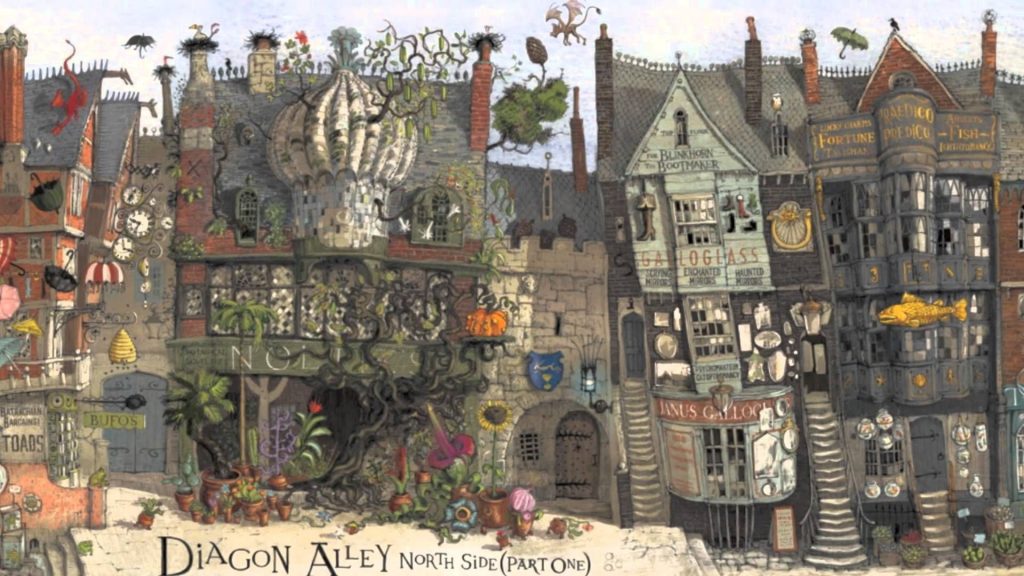 I never felt more like a Hufflepuff than when I started gardening, and lately, unique houseplants are high on my wish list. Neville Longbottom knows that a plant makes a special gift that keeps giving throughout the year, breathing literal fresh air into your home. J.K. Rowling never wrote about Harry visiting a plant shop, but Jim Kay invented Noltie's Botanical Novelties for his illustrated edition of Harry Potter and the Sorcerer's Stone. Just think of the lovely plants that this shop would sell!
4. Stowe & Packers Magical Bags
Ever felt envious of Hermione's beaded bag or Newt's suitcase? Not every witch can perform such impressive Undetectable Extension Charms; even Hermione calls the spell "tricky" in Harry Potter and the Deathly Hallows. It makes sense that someone would seize the opportunity to make a profit from this specialty. Stowe & Packers Magical Bags is a storefront tucked away up some stairs in Carkitt Market off Diagon Alley. I'd love to be able to purchase one of these bags, and they would make a very practical present.
3. Creepy Scrawlers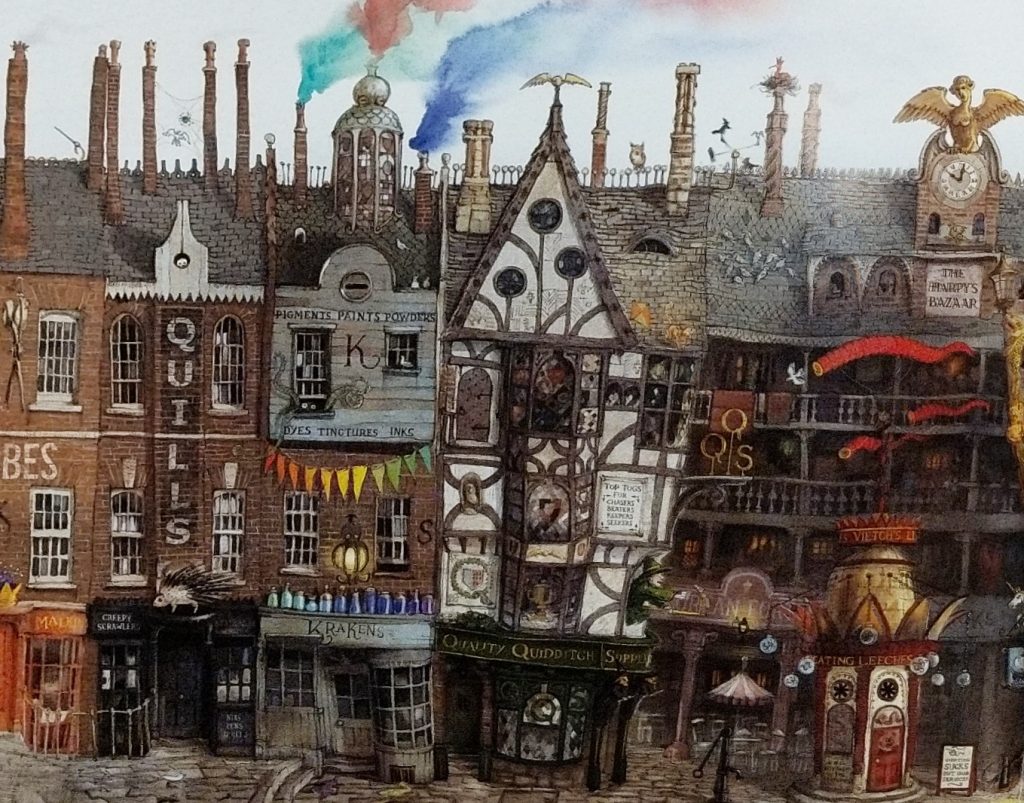 It's no secret that I'm a huge fan of artist Jim Kay. I see his illustrations for the Harry Potter books as having their own magic, so it's fun to imagine that he's secretly a wizard. If you accept his illustrations into your headcanon, he has a location next door to Madame Malkin's in Diagon Alley. I'd love to pop into his studio, check out his works both finished and in progress, and purchase some prints for decorating my home. I would also be overjoyed by the opportunity to chat with him about his ideas.
2. Flourish and Blotts
I'm surprised that the theme parks didn't make Flourish and Blotts into an actual store. It feels like a missed opportunity to put all of the books, scripts, screenplays, and related texts in one location readily available for J.K. Rowling's biggest fans to browse and purchase. I understand that I'm unlikely to ever add such titles as Hogwarts: A History and Powers You Never Knew You Had and What to Do with Them Now You've Wised Up to my home library, but I don't see why they can't sell the books that do exist in a cozy bookstore.
1. Kowalski Quality Baked Goods
If ever they add a Fantastic Beasts-themed section to the theme parks, I demand a New York area with Jacob's bakery. I'm dying to try one of his exquisite paczkis shaped like magical creatures. I also wouldn't mind if the parks shoehorned Kowalski Quality Baked Goods into Diagon Alley. Besides, I like to think that Jacob and Queenie are heading toward a happy ending in which they live in London, their marriage is accepted, and Queenie helps him run his shop.
Let us know in the comments which of these shops you would most like to visit and what you would buy. Remember to support small and local businesses this holiday shopping season.