UPDATED: Wizarding World Gold Has Officially Launched
The time has come! Wizarding World Gold has officially launched. While you might have already subscribed and received your welcome gift, today marks the first day that subscribers will have access to all the additional perks announced last month.
The launch confirms that Gold members will receive the following:
A magical welcome gift: an interactive Keys and Curios journal will arrive personalized with your name, Hogwarts [H]ouse and more; plus, it includes a postcard print of J.K. Rowling's original Hogwarts sketch and an exclusive Enchanted Key emblem pin badge.

Exclusive content: learn about the creative talent and craftspeople who bring you closer to the magic in the first instalment of our new Wizarding World Originals video series, [']The Workshop['], and discover our pick of behind-the-scenes content in [']From the Archive.[']

All 7 Harry Potter eBooks: take the magic of J.K. Rowling wherever you go with all seven eBooks of the original Harry Potter stories.

Collectible pin badges: you'll receive the first pin badge in your welcome gift. Plus, claim collectible pin badges from selected Wizarding World UK and US locations.

Special events: get access to Gold subscriber events throughout the year.

Gold discounts: enjoy discounts from the new Wizarding World shop, the Harry Potter Shop at Platform 9 ¾ in King's Cross [s]tation, London, [and t]he Wizarding World of Harry Potter Exclusive Vacation Package at Universal Orlando Resort as well as Warner Bros. Studio Tour stores in both London & Hollywood.

Priority booking: look forward to priority access to tickets to the most popular Wizarding World events and locations, including Harry Potter and the Cursed Child shows in London, New York and San Francisco as well as Warner Bros. Studio Tour London – The Making of Harry Potter.

Early access: unlock early access to limited[-]edition Wizarding World Gold merchandise ranges and curious collectibles – before they go on general release.

Plus, plenty of perks: including new quizzes and puzzles, chances to win once[-]in-a-lifetime experiences and much, much more!
Wizarding World Digital has provided a sneak peek at the first installment of Wizarding World Originals. "The Workshop" features graphic designers Eduardo Lima and Miraphora Mina, who discuss what it was like to design for the Harry Potter films. Check out the promo for the episode below.
Here's a look at what is included in the Gold subscription.
Are you excited to get these benefits? You can sign up for Wizarding World Gold here.
—
Update (November 23): 
Not sure what to get your favorite Potter fan this holiday season? Now you can give a Wizarding World Gold subscription! The gift subscription is available on the Wizarding World website or through Barnes & Noble. You can purchase the gift at Barnes & Noble stores or on the company's website.
The gift includes a year of Wizarding World Gold, which the receiver can activate through a code. It also includes "four exclusive notelets with special [w]izarding [w]orld designs." The code and notelets come in a gorgeous box so you have something to wrap and place under the tree! Will you be gifting Wizarding World Gold this holiday season?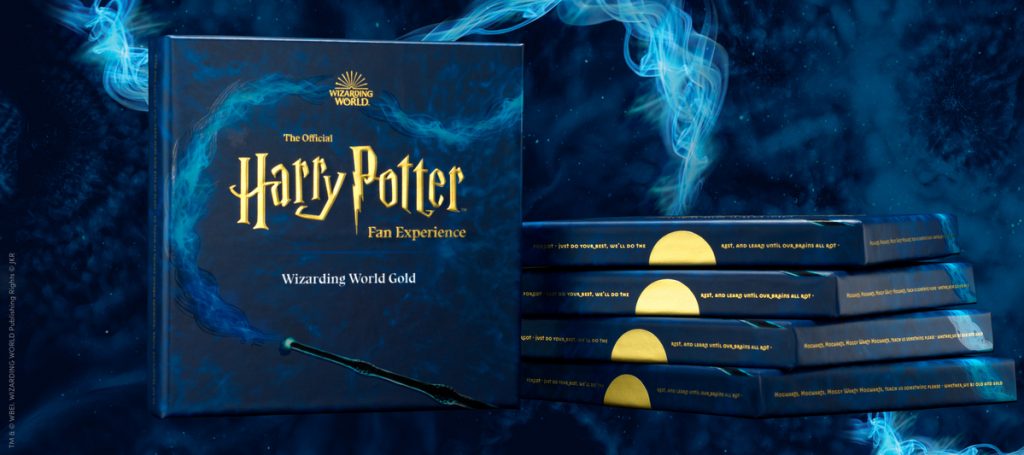 —